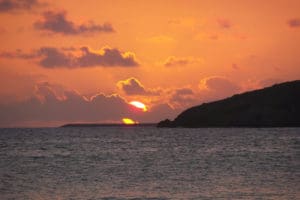 Being a tourist on your own island is a great way to leave behind the daily grind and see things from a new perspective.
Tourism in St. Croix is rebounding quickly from the 2017 hurricane season, and what better way to support the local economy than going to the spa or enjoying a farm-to-table dinner? We've put together a list of some of the best things to do in St. Croix to get you started on your at-home vacation.
Tidal Pools on Annaly Bay
Exploring and relaxing in the four- to five-foot-deep tidal pools on Annaly Bay is perhaps a lesser-known St. Croix tourism activity, but it's one to enjoy nonetheless. Ask a guard at the gate of the Renaissance St. Croix Carambola Beach Resort where the trail begins, and once you've found the path, embark on a stunning two-mile hike to the bay. You'll even get to pass through some of the island's lush rainforest!
Horseback Riding
A horseback ride may be just the thing you need to get away from the monotony of day-to-day life. Paul & Jill's Equestrian Stable and Farm offers rainforest explorations via horseback just north of Frederiksted, off Route 63. If you'd like to recharge through a seaside horseback ride, check out Equus Riding Tours. Want the best of both worlds? Take an adventurous horseback ride with Cruzan Cowgirls.
Explore the Bush
One of the most memorable things to do in St. Croix is to explore the bush and improve your survival skills. The Caribbean Earth Skills program, offered by Mount Victory Camp, includes classes, workshops, and week-long programs for youths and adults alike. Learn how to make a fire using friction, build a primitive shelter, collect and purify water, identify edible and medicinal plants, and so much more.
Farm-to-Table Dinners
Enjoy a Slow Down Dinner at Ridge to Reef Farm. Chefs here are passionate about food, the land it's grown on, and the way it's prepared. If you'd like a lengthier retreat from the day-to-day, you can stay overnight at the farm, get your food from the field, and cook it in the community kitchen.
Go to a Spa
Need we say more? There's nothing like a pedicure, massage, or a facial to release stress and tension. Not sure which spa to go to? Try The Fred.
Break up the monotony of your nine-to-five routine with one of these beloved tourist activities, and create a vacation for yourself without ever leaving home!