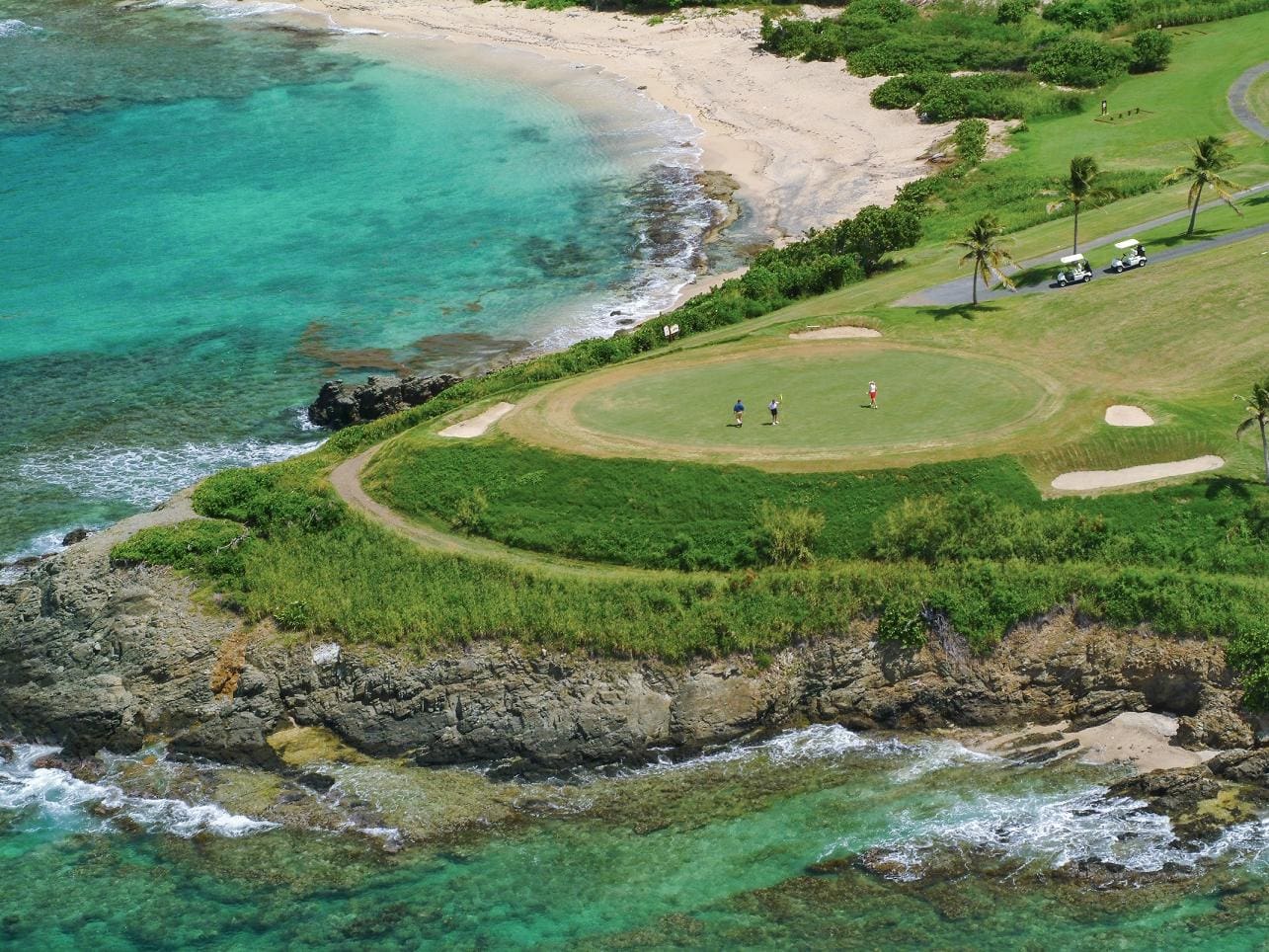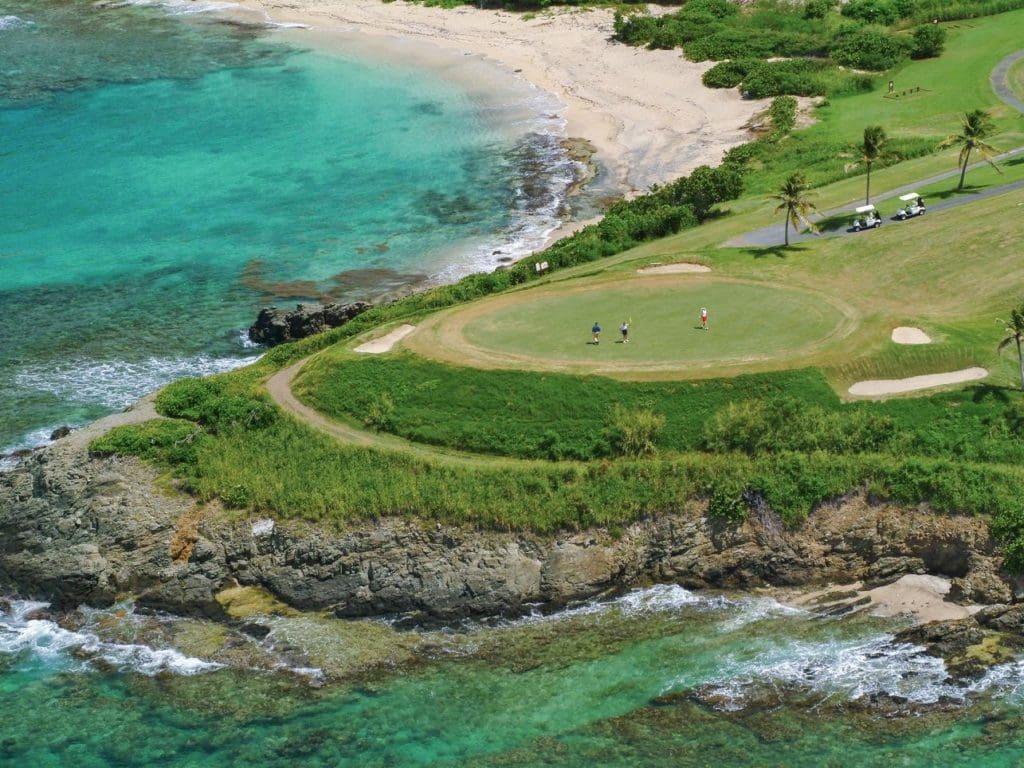 Choices for golfing in the U.S. Virgin Islands are not plentiful, with three playable courses. But with the sun, sand, cool breezes and emerald seas the courses have just about everything that a traveling golfer can want. Teeing off in the U.S. Virgin Islands provides golfers some of the most dramatic settings in all of the Caribbean. The courses on St. Thomas and St. Croix are focused on the golf enthusiast that is looking to get in a round of golf while on vacation.
As some of the restrictions from the coronavirus pandemic have eased, two of the three courses, Buccaneer and Carambola on St. Croix have opened up, and are currently operating with certain restrictions. The Reef on St. Croix does not currently have a website, and information about their restrictions can be found on their Facebook page. The Mahogany Run Golf Course on St. Thomas remains closed due to damage sustained by hurricanes Irma and Maria.
Open with Restrictions
With stunning views of the Caribbean and St. Croix, the Buccaneer Beach & Golf Resort on St. Croix features an 18-hole, par-70 course that tracts 5,668 yards. The course affords players ocean views on 13 holes and is a challenging, yet very playable layout. Designed by Bob Joyce in 1973, it is an ideal resort course for golfers of all skill levels.
The course is currently opened with the following restrictions:
"The Buccaneer is open for visitors with new COVID-19 protocols, effective July 13. Individuals who are residents of, or whose travel to the territory originated in Arizona, Florida or Texas, must present a negative COVID-19 PCR nasal test result or Positive COVID-19 antibodies test result upon arrival into the territory. The test should be taken within 72 hours of arrival. Individuals who are unable to provide test results must go into a 14-day quarantine. After two weeks, the new travel policy will be reassessed to determine whether states need to be added or removed from the list."
Open with Restrictions
Built by Laurance Rockefeller as the centerpiece of a luxury Caribbean resort, the Carambola Golf Course was designed by Robert Trent Jones Sr. The par-72 layout makes its way through a lush, tropical valley located on the northwest side of the island of St. Croix. A Trent Jones signature course, the stunning tract is a Caribbean gem and recently received a four-star rating from GOLF Magazine.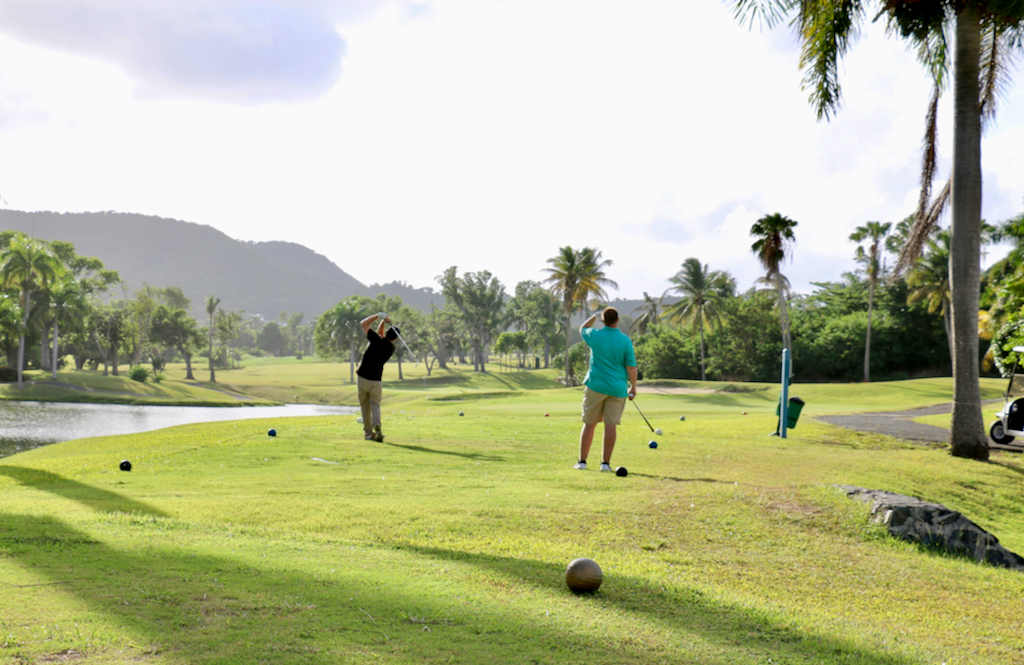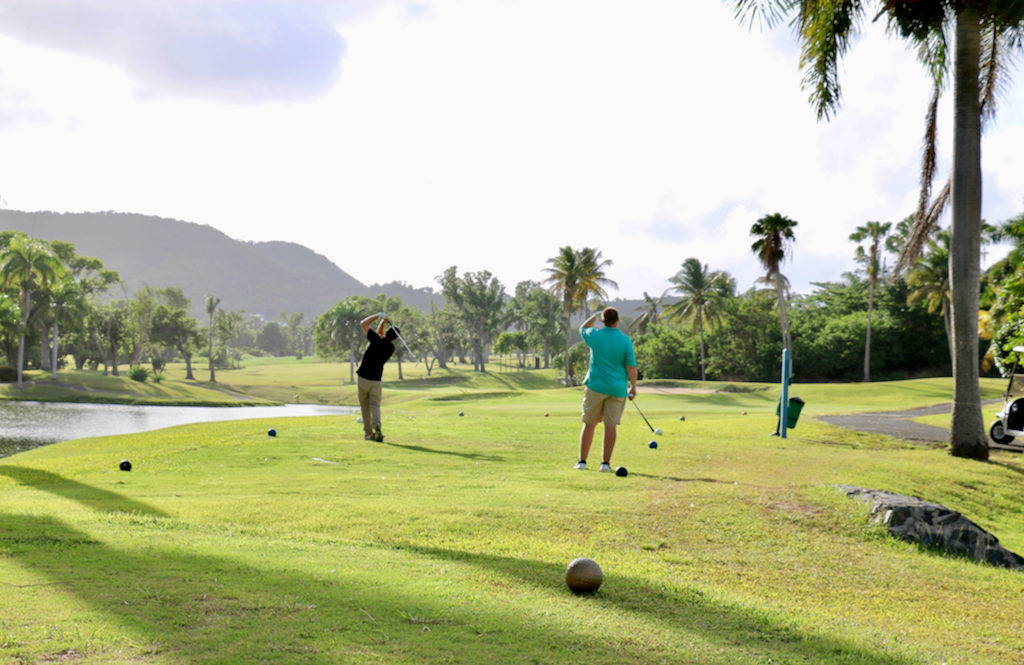 The course is open with restrictions put in place during the COVID-19 pandemic, with the following guidelines in place as of July 10:
"Due to the recent announcements by the governor's office regarding the ongoing COVID-19 pandemic and recent outbreak, Carambola Golf Club is making some changes to our COVID-19 protocols. These changes are effective immediately.
At this time, and until further notice, play and access to the practice facility is restricted to current members of Carambola Golf Club, current members of The Buccaneer Golf Club, current SCGA members, CGC Partners, Home/Villa owners in Carambola and golf course employees only.
In an effort to keep golf course employees and golfers safe during this challenging period, the following protocols will remain in effect until further notice:
Golf course hours of operation are 9 a.m.-5 p.m. Tuesday-Friday, and 8 a.m.-5 p.m. Saturday and Sunday, all golfers must be off the course and leave the facility by 5 p.m., there will be no exceptions.
Golfers must make a tee time in advance, do not show up at the golf course, and expect to play unless you have booked a tee time. We will not accept tee times after 1 p.m.
The bar will not be open for service, refreshments are available for purchase in the Pro Shop. Please bear in mind there are no water coolers on the golf course so plan accordingly.
We are instituting a single rider policy for golf carts; the only exception is if golfers live together. Be advised we have a limited number of golf carts and they are available on a first-come, first-serve basis. Golfers are encouraged and welcome to walk the course if golf carts are not available. All golf carts will be cleaned and sanitized before and after each use.
Golfers are not allowed to go into the cart barn or the bag room for any reason. If you need something from one of these areas, please see one of the staff members.
We are limiting the number of people in the Pro Shop to a maximum of one at a time to ensure we are maintaining adequate social distancing.
We are limiting the number of people in the restrooms to one at a time to ensure we are maintaining adequate social distancing.
Please refrain from congregating for extended periods of time in the gallery areas after your round is finished.
Members clubs will not be cleaned; a self-cleaning kit will be available at the bottom of the stairs in front of the bar area. Please ensure you put all head covers back on your clubs and put away any of your personal golf accessories before you leave.
Please exercise appropriate social distancing at all times while you are at the golf course.
Per the CGC Management Committee, any breach of these protocols will result in you being asked to leave the golf course immediately and not return."
The Reef Golf Course, St. Croix
The Reef is currently open 8 a.m. to 3 p.m. every day but Monday. As at all businesses, masks and social distancing are required. Groups of friends may use the same cart. But golfers are not to remove the pins from the holes and the holes are blocked so that you pick up the ball from on top and everyone is not reaching into the holes.
For nine holes, green fees are $17 and a cart is $15. For 18 holes, green fees are $25 and a cart is $20.
In November, hours are scheduled to return to normal, at 7 a.m. to 5 p.m., seven days a week.  Call (340) 773-8844 for more information.
Tucked into tranquil Teague Bay, the Reef Golf Course features a 9-hole ball and 9-disc golf course, with a par 35. There is also a driving range, with carts and rental clubs available.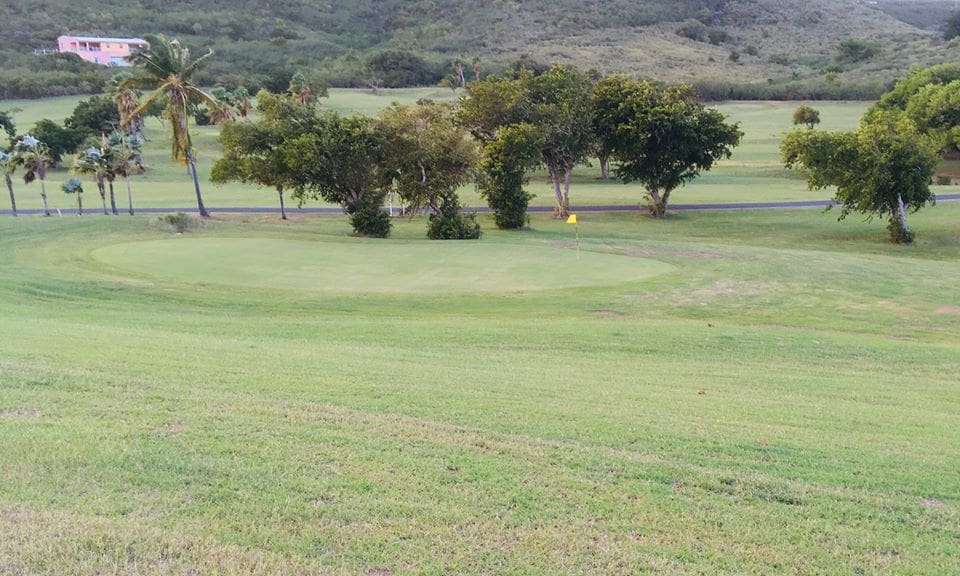 Mahogany Run, St. Thomas 
Closed due to damage from hurricanes Irma and Maria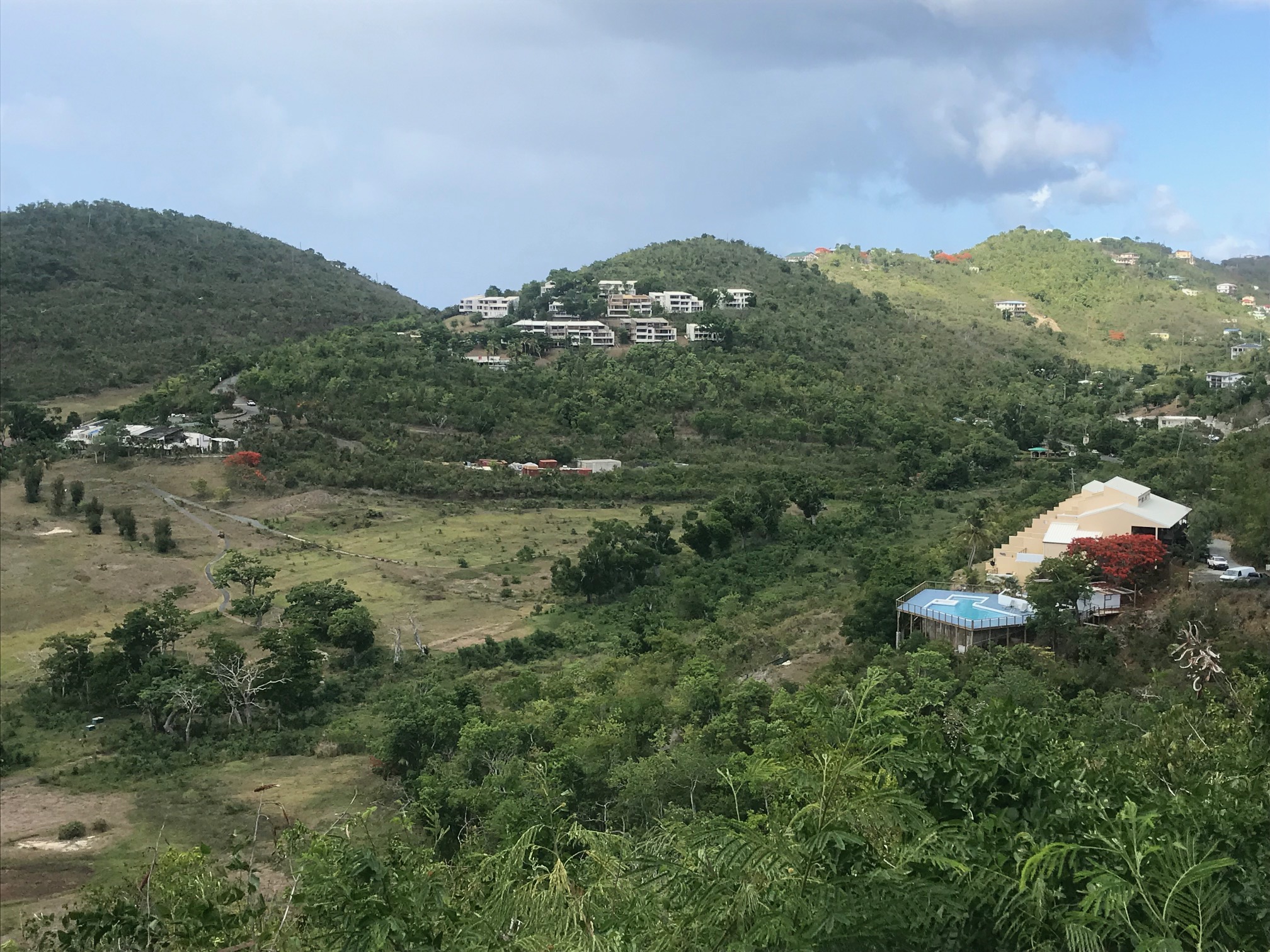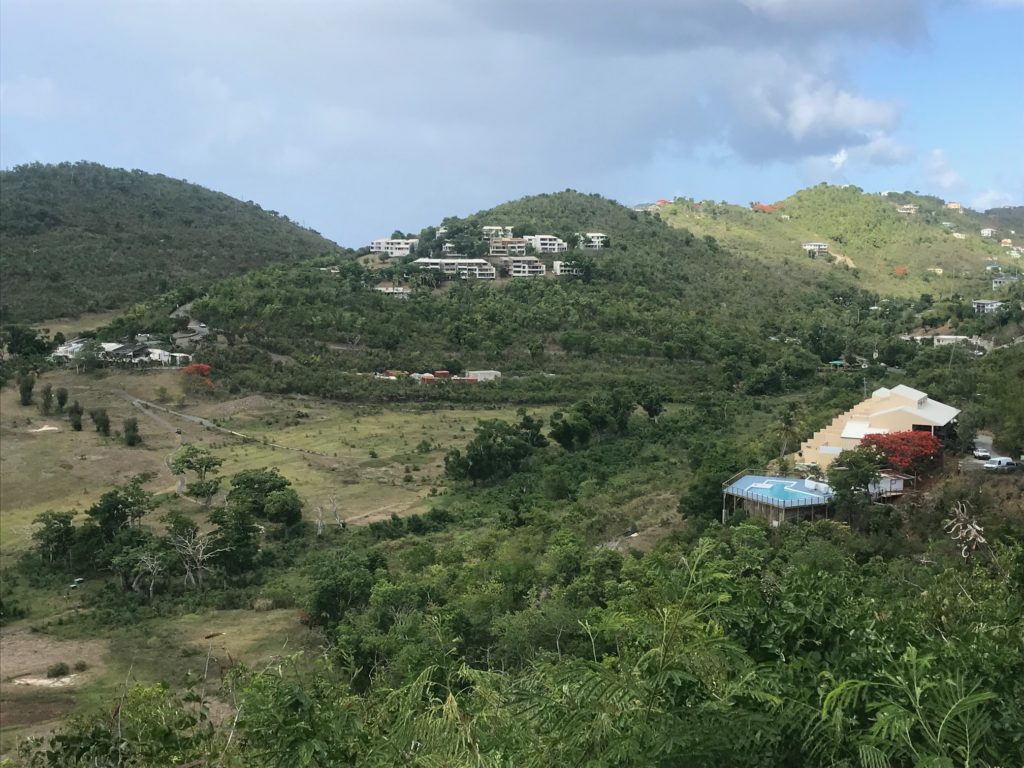 Author bio:
Jordan Fuller is a retired golfer who loves to travel around the world for golf. He also owns an online golf publication, where he shares some tips on how to play golf and improve at the game.