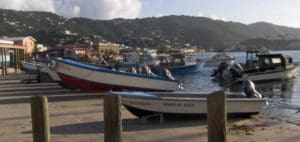 With so many things to do in St. Thomas, why should tourists have all the fun? From spending a Saturday afternoon at your favorite beach to treating yourself to a shopping spree in Charlotte Amalie, there are plenty of ways for locals to shift focus and enjoy the island like tourists for a bit.
After all, St. Thomas isn't just for visitors! Here are some of our favorite places and activities to enjoy as a tourist on your own island:
Phantasea Botanical Garden
Escape your everyday routine with a stroll around the Phantasea Botanical Garden. Enjoy the shade of the palms and the beauty of thousands of tropical flowers, including orchids, bromeliads, gingers, and heliconias.
Crowd-less Beaches
On the weekends or after a long day at work, find refuge from your stressors at Sapphire or Morningstar Beach. These spacious, uncongested beaches are the perfect places to soak up the sun and swim in the turquoise waters.
Water Island
If you really want to get away, board the ferry for a 10-minute ride to Water Island. Here, you can enjoy the crowd-free beaches of Limestone and Honeymoon Bay.
Paddling through the Mangroves
Submerse yourself in nature on a kayak or paddleboard tour through the mangroves. Under the canopy, you can view tropical fish and watch for birds.
Birdwatching
Speaking of which, there are plenty of places to go birding if you enjoy birdwatching.
Charlotte Amalie
Explore the streets of Charlotte Amalie with a fresh perspective. Shop for your wardrobe, your home, or a loved one, and take in the area's rich history. Climb the 99 steps that were the city's original connection points, rather than streets.
Enjoy Local Food
What better way to support the island, and other locals, than dining out? Whether you have a taste for Caribbean cuisine or chicken and waffles, you'll undoubtedly fulfill your cravings at one of these exceptional restaurants.
From exploring among the mangroves to eating local foods and spending time by the sea, St. Thomas tourism isn't just for travelers. Whether you manufacture medical grade refrigerators at a factory on the mainland, work at one of the local resorts, or are a stay-at-home mom, everyone needs a break from time to time. Get away from the grind and enjoy one of the many things to do in St. Thomas today!