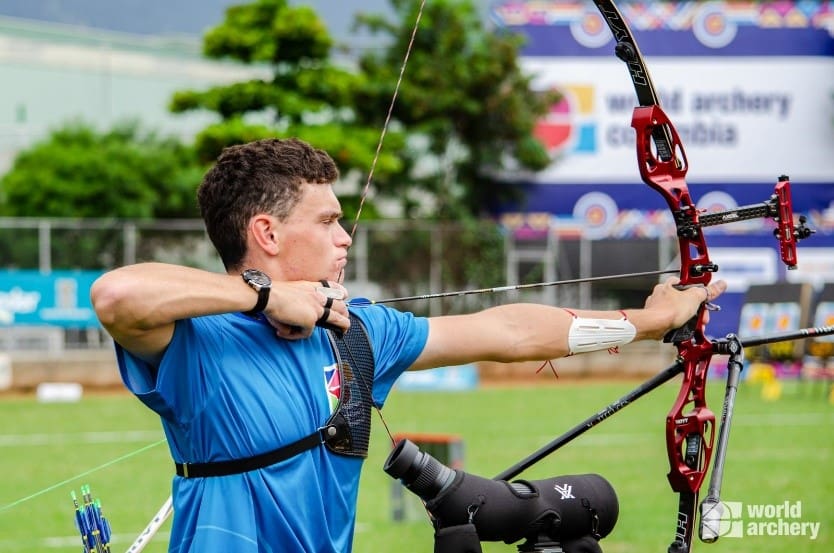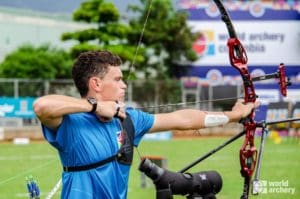 Nicholas D'Amour of St. Thomas took first place in the Junior Pan American Games Qualifier in Medellin, Colombia, on May 8. Earlier in the week, he also finished fifth at the Pan American Championships.
The individual qualifying tournament for the first Cali 2021 Junior Pan American Games concluded in Medellín. The top ten individual positions by gender (one per country) earned spots in the recurve categories. D'Amour secured a berth for the United States Virgin Islands.
"I feel good; I'm glad I was able to come and do my job and get the place for the Virgin Islands," D'Amour said. "During the first elimination round, I shot a 26 and my competitor shot a 27. After the second arrow of my second round of my first match, my lower limb was fractured, so I had to run off the line to get my replacement bow. It was exciting, and I still managed to win that set with 28, so I'm happy that I was able to overcome all the obstacles. I was able to win that match and advance and win a position for Cali," he said.
In addition to the U.S. Virgin Islands, male recurve archers from Costa Rica, Peru, the Dominican Republic, El Salvador, Venezuela, Guatemala, Ecuador, Argentina and Cuba also secured their spots. In the individual female recurve, archers from Guatemala, Cuba, Peru, Costa Rica, Chile, Argentina, Venezuela, El Salvador, Bolivia and Puerto Rico secured spots for Cali.
The Dominican Republic, Costa Rica and Puerto Rico in the male compound, and Peru, Panama and the Dominican Republic in the female compound, also secured their quota.
After qualifying second overall in the Pan Am Championships qualification round, with a score of 659, D'Amour lost in the quarterfinals, but his score was good enough for a fifth place finish.
D'Amour will next compete in the Archery World Cup Stage 2 tournament in Lausanne, Switzerland. He is presently ranked 6th in the World Cup standings.