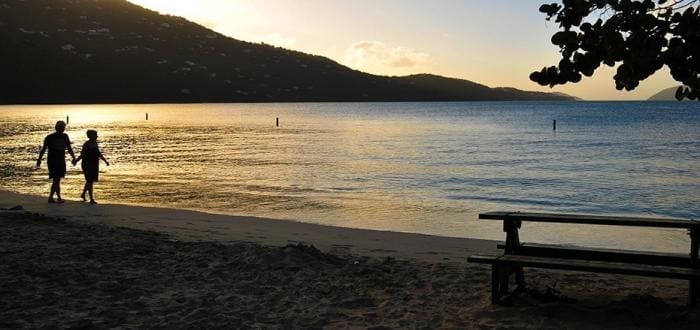 To preserve the natural resources, culture, and beauty of the island, St. Thomas is home to a variety of sustainability initiatives in which residents and tourists alike can participate. These initiatives include eco-accommodations, parks, environmentally friendly car rentals, and restaurants that serve locally-sourced foods.
Eco-Accommodations
For visitors who are concerned about the environment, St. Thomas offers a variety of sustainable tourism options. This includes multiple eco-friendly hotels, as well as privately owned eco-cottages.
Multiple Parks
Another sustainability initiative comes in the form of numerous parks and nature preserves. Magens Bay is a stunning 68-acre nature preserve that includes a mile of gorgeous white sand beaches, six shady acres of tropical trees, a two-acre campground, and 15 acres of wetlands. Visitors can enjoy hiking the nature trail, soaking up the sun on the beach, kayak rentals, and more.
Hassel Island, a national park across the bay from Charlotte Amalie, is also a wonderful place to experience nature and history. Environmentally-conscious travelers can also visit Buck Island, a national wildlife refuge. According to FWS.gov, the refuge was established to "(carry) out the national migratory bird management program." Currently, the purpose of the refuge is to "conserve, enhance, restore and protect native wildlife populations and habitat and to educate and increase awareness regarding the importance of the refuge's natural resources.
Eco-Friendly Car Rentals
When visiting the island, getting around by car is a must for some. For those concerned about the environment, eco-friendly options are available. St. Thomas's sustainability initiatives include green car rentals, as well as scooter and motorcycle rentals.
Locally-Sourced Foods
Restaurants that offer locally-sourced foods are a sustainable tourism choice and a good idea for residents, too. Some restaurants even offer farm-to-table, or sea-to-table, meals. The Fresh Bistro and the Caribbean Fish Market are excellent options.
Volunteer Opportunities
Another way to give back to the island and the environment is to volunteer your time and energy to the land. Cleaning up the beach is a great way to spend time on the island—to find out about beach cleanup events, contact Coral World Ocean Park. There are also plenty of volunteer opportunities at farms, homes, gardens, and more – find further information at Workaway.
From volunteering to visiting a nature preserve, eating a farm-to-table meal, or renting an electric car, there are many sustainable activities in which to partake while in St. Thomas. Help us care for the environment, our island, and its resources by participating in one of our sustainability initiatives today!