"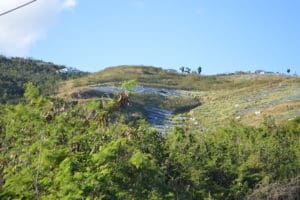 Though fairly uncommon in democracies, dictatorial regimes often declare a state of emergency that is prolonged indefinitely for the life of the regime." – Wikipedia.
The U.S. Virgin Islands has been in a State of Emergency since Sept. 5. If it continues until
April 3, as the governor has said it will, that will be seven months of being in an emergency state.
A terse press release sans explanation with an equally unenlightening attached "proclamation" was sent March 8 saying the governor has the right to extend the state of emergency, but provides no specifics as to why on March 8, this was a necessary or appropriate action.
Without such explanation, we see no reason to extend a state of emergency. The islands have been functional for months. All the FEMA loans and grants have been applied for. Schools are back in session. Power is on (and off, and on, but that's business as usual.) Government employees have long since been back to work and life is relatively normal for those of us who remained to clean up the mess and begin anew to mitigate against the next disaster and rebuild our home and our homes.
What the Virgin Islands is actually in is a State of Disarray.
This administration not only fired all the top officials at every agency except Tourism, it sheared off two or three layers below that. Now, thanks to the absence of the top three layers of officials who had expertise and years of experience in their positions, disaster plans are missing or inadequate, there's a lack of leaders with institutional knowledge, and little has been done to lift us out of the formerly acceptable level of chaos that existed to an alarming degree even before last Sept. 6.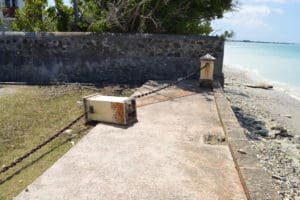 A mishmash of stop lights are working again, while most stop signs are still missing and roads are a disaster for sure. However, before the storms and ensuing prolonged rains you were a fool ever to count on drivers to pay attention those stop signs and street lights. Yes, and also before Sept. 6, 2017, roads were a mess and crumbling down the sides of the hills and still are. The storms made all this and a lot of other things worse, but lack of maintenance, money and a plan have been blowing through our territory long before Irma and Maria made their appearance.
Poverty ridden community members who have lost everything – and we mean those very unfortunate folks without resources off island – still get the crappy end of the stick, just like before the storms. Declaring an ongoing crisis a State of Emergency is unlikely at this point to do anything meaningful to help rebuild the lives and homes of the less fortunate among us.
Getting honest, saying no to corruption and taking action against our apathy that has forged a clear path to this State of Disarray is our only hope.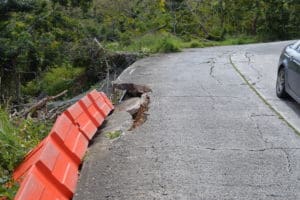 Despite a different state of emergency declared on behalf of mental illness health care in September 2016, nothing at all has changed. While elected officials talk about compassion those men and women are still lost and homeless and invisible.
More people were killed by other people in the month after the storms than had died because of them, not unusual in our "homicide" happy community. And still we have not solved that problem despite the current meaningless state of emergency.
The thing to consider, when musing about why we remain in a state of emergency is this: A state of emergency gives the governor the opportunity to issue contracts without bids and to bypass normal regulatory and oversight mechanisms. In a pressing crisis, to get roads cleared and aid to stranded people, that may be necessary. But with the urgent emergency past, there is no above-board reason to keep on ignoring the established rules for handling the people's money.
For us as journalists it would be nice to be able to chronicle the contracts and back room agreements for our community. But in this state of disarray, where in the best of times, requests for public documents are ignored, it is a daunting task. Short of suing agencies to get information, we're stuck. With heads being lopped of regularly and so many people related to one another, nobody will talk, that's for sure. So we are left with only the disastrous results of self interest, ego and greed to report on after the fact, if at all or only when the physical realities of the what's-in-it-for-mentality has done its worst. In other words: when it's too late.
We suspect if we knew the extent of the shady activities that have occurred during this time when mere survival is what is on most people's agendas, it would boggle the mind.
We all see it though. We all make excuses for it, and even the best of us have taken advantage of the "state of emergency' to skirt the law.
But where does that leave us as a community? When we won't step forward and bravely call people and officials to task for what they are doing to our home, when we are handed excuses instead of action by the people we have elected to represent us, when we each justify our own inappropriate activities by suggesting that the inefficiency of government is a reason to do whatever we want, where will that leave us?
Our guess is: in an extended state of disarray with no end in sight.