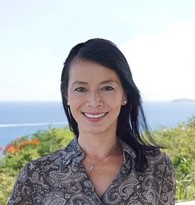 The Forum, a non-profit organization dedicated to bringing world-class artists and events to St. Thomas, has announced the selection of Nga M. Engeman as its new executive director. The selection was made after an extensive search and selection process.
"We are very pleased to announce this appointment," said Neil Prior, the Forum's board chairman. "Nga will bring leadership and creativity to the Forum's programs and a deep sense of commitment to bringing high-caliber live performances and discussions to our community. Nga has a multi-cultural background in event management, fundraising, ownership and leadership that will bring a breadth of perspective and experience to the Forum. We feel very lucky to have her joining us."
Engeman's resume includes owning and running her own businesses in Philadelphia for over 20 years before moving to St. Thomas in 2011. While in Philadelphia, she also started and operated a non-profit that raised awareness and money for many local non-profit organizations.
Since moving to St. Thomas, she has been an enthusiastic supporter of the Forum and its mission, while also acting as the office administrator and special project coordinator for the local office of an international law firm. She was born in Vietnam, raised in Nebraska, graduated from the University of Pennsylvania, and is a life-long opera and classical music aficionado.
"I look forward to this opportunity to serve the community and help make the Forum an even better resource for all Virgin Islanders," said Engeman. "The Forum plays a key role by making an important and unique contribution to the quality of life on St. Thomas."
The Forum is a 501(c)(3) nonprofit organization that, since 1996, has sponsored productions of music, opera, theatre and filmmakers including performances live in HD from the Metropolitan Opera and the National Theatre, London. Performances are usually presented at Prior-Jollek Hall on the Antilles School campus. The Forum is entirely reliant on individual, corporate and foundation support to fulfill its mission.