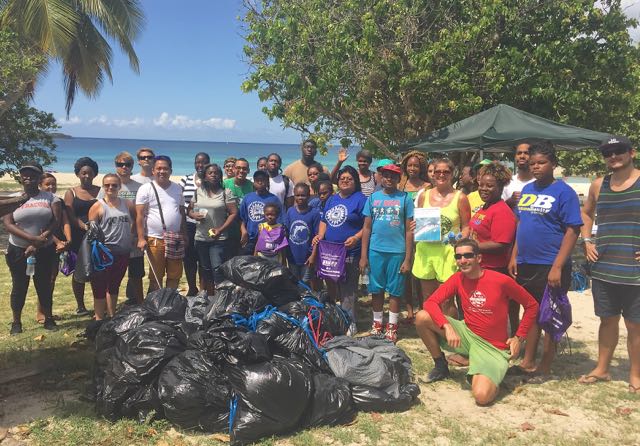 On Saturday morning dozens of environmentally minded volunteers gathered at Brewers Bay on St. Thomas for the first of several beach cleanups that will take place in the territory as a part of the annual Coastweeks initiative.
Running for six weeks from Saturday through Oct. 31, the international initiative focuses on removing litter from beaches and shallow waters around the world with the help of civic groups, students and other volunteers.
Organized through the global Ocean Conservancy and the Virgin Islands Marine Advisory Service at the local level, this year's litter prevention and control efforts were bolstered by a $99,000 Marine Debris Program grant from the National Oceanic and Atmospheric Administration that was given to researchers at the University of the Virgin Islands.
Before the morning cleanup began, about 20 volunteers arrived early for a two-mile run along the road that runs through the UVI campus.
After the run, more than 75 volunteers combed the beach at Brewers Bay picking up litter that was left behind by people or not properly thrown away. Most of the volunteers were UVI and high school students and members and representatives of environmental organizations involved in planning the multisite cleanup initiative.
"Without educating the community, we cannot expect to see any change as cleanups only address the problem in the here and now," said Howard Forbes Jr., VIMAS coordinator for St. Thomas, in a statement.
Forbes continued, "With these combined educational efforts coupled to our annual cleanups, we expect to see a reduction in the amount of trash we find on our coasts. This, in turn, will decrease the frequency at which these beaches will need to be cleaned."
Forbes said Coastweeks events have been taking place on St. Thomas for about 30 years and that there's data on the amount of trash collected each year in the territory going back to 1986.
"We can see trends but it fluctuates every year," Forbes said. "In St. Thomas there were more cleanup events when Coastweeks first started in the territory, but now we concentrate efforts at certain beaches and there are many more volunteers today too."
Food related items like bottle caps, cutlery, wrappers, cans and glass bottles were among the most common types of litter found at Brewers Bay¬ ¬and, in years past, at the territory's other beaches.
Forbes explained that most of that litter is found on land but it can easily make its way to the ocean when there's a tropical storm or hurricane. That trash can damage coral reefs and potentially kill sea turtles if they mistake it for food.
Cigarette butts were widespread too. One group of volunteers reported picking up 326 of them from one small area of the beach.
"We're not really surprised by anything that we find but the drug paraphernalia really shouldn't be there – but it still is," Forbes said.
Cecille Arbour, a regular volunteer for the St. Thomas Association of Roadrunners and the Environmental Association of St. Thomas-St. John (EAST), volunteered for the cleanup and helped out with the run that preceded it.
Arbour said, "EAST is proactive in finding solutions to environmental issues. You, as an individual, have to be the example of change you want to see happen in the world."
For Kitty Edwards, who's a board member of the Caribbean Oceanic Restoration andEducation Foundation, the cleanups are just as much about educational outreach as they are about making beaches more pristine.
"It's important for us to show people how the trash ends up where it does – it goes in the guts and then down into the ocean," Edwards explained, adding that there's a lot of small plastics at Brewers that can harm marine life.
Edwards said that Coki Point and its surrounding beaches are one of the upcoming cleanup sites and that some volunteers at that event will be diving to remove ocean trash from Water Bay. Batteries, boat parts and abandoned fish traps are some of the items that have been removed with the help of divers.
St. Croix also kicked off its beach cleanup events on Saturday at Southgate Beach. Last year during the six-week long initiative, volunteers picked up more than 3,000 pounds of trash from all three of the territory's islands.
For more information or to volunteer for Coastweeks, call Howard Forbes Jr. on St. Thomas at (340) 693-1672; Marcia Taylor on St. Croix at (340) 692-4046; or Karen Jarvis on St. John at (340) 779-4940. For more information, see Related Links.
Upcoming Events on St. Thomas:
– Sept. 25, 9 a.m. – noon (VICS, Blue Flag, Coral World, Eco Schools) Coki Point
– Oct. 1, 9 a.m. – noon (CORE) Fortuna Beach
– Oct. 2, 9 a.m. – noon (EAST, VICS) Red Hook Salt Pond
– Oct. 3, 11 a.m. – 2:30 p.m. (VI Montessori) Sapphire Beach
– Oct. 8, 9 a.m. – noon (VIMAS, UVI Sea Turtle Club) Lindbergh Bay
– Oct. 16, 9 a.m. – noon (EAST, VICS) Vessup Beach
– Oct. 20, 11:15 a.m. – 1:35 p.m. (VI Montessori) Vessup Beach
– Oct. 22, 9 a.m. – noon(VICS, Blue Flag, Coral World, Eco Schools) Smith Bay Ball Field