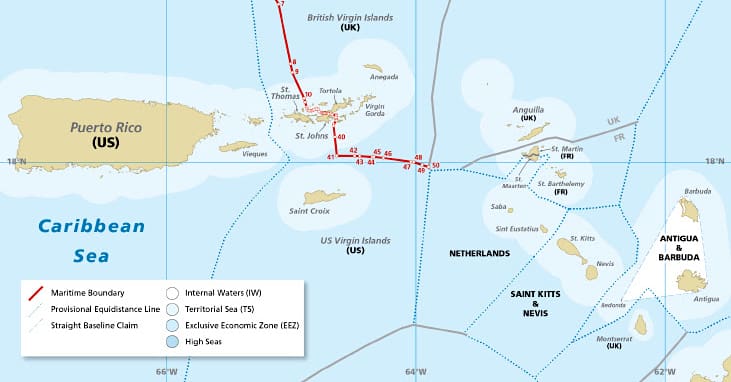 After Carnival Cruise Line's reported lifetime ban of a Texas woman over a pack of CBD gummies, officials reminded would-be customers of soon-to-be legal U.S. Virgin Islands cannabis that the drug remains illegal federally and in many foreign ports.
Once regulations are in place and cannabis is officially legal to buy, sell, and possess in the territory, it will still be illegal to transport across the stretch of water between St. Croix and the rest of the USVI, officials at the Office of Cannabis Regulations said Friday.
"This is because there is a tract of 'non-territory' water between those two districts. That tract is controlled by the Federal Government and as long as cannabis remains illegal federally, cannabis cannot be brought into federal property, including post offices, federal parks, federal courts, all ports, etc. This includes personal transportation, which your example covers, business transportation, etc. except for transportation for testing purposes which is already allowed," cannabis officials said in an email. No such restrictions exist on the water between St. Thomas and St. John.
The cruise passenger was reportedly banned by Carnival for attempting to board their ship with candy containing CBD, which is a non-psychoactive cannabis derivative often promoted to help with sleep. The product is legal federally and in her home state of Texas; however, Carnival and other cruise lines forbid all cannabis products as the ships must comply with drug regulations in the ports they visit.
The cruise lines aren't just picking on pot smokers. Out of consideration for local laws, Carnival Corporation also bans kava, a calm-inducing root controlled by law in Australia, Japan, the United Kingdom and elsewhere. When in countries that ban alcohol consumption, cruise ships wait until they are in international waters — 12 miles out — before opening bars on board.
Sailers with soon-to-be legal U.S. Virgin Islands cannabis will want to avoid the British Virgin Islands. Cannabis is a Class B controlled substance in the U.K., along with codeine, ketamine, and amphetamines. In 2004, cannabis was moved down to a Class C controlled substance, putting it in the same class as nitrous oxide and Xanax, but scheduled back up to Class B in 2018.
The BVI, as a separate legal jurisdiction, has its own set of drug laws apart from the U.K. but subject to U.K. approval. Possession of cannabis in the BVI can be punished by two years imprisonment and a $75,000 fine. Possessing more than 1.76 ounces can lead to a drug trafficking charge.
The BVI government passed a medical marijuana law in 2020 that would have allowed for registered users to have small amounts of therapeutic marijuana in their homes. The law was never enacted, however, having stalled at the governor's desk.