The late Fire and Emergency Services Director Daryl George Sr. was praised in death as a devoted leader, father and community-minded public servant. Hundreds of government officials and first responders converged on the Omar Brown Sr. Fire Station to attend George's funeral service on Saturday morning on St. Thomas.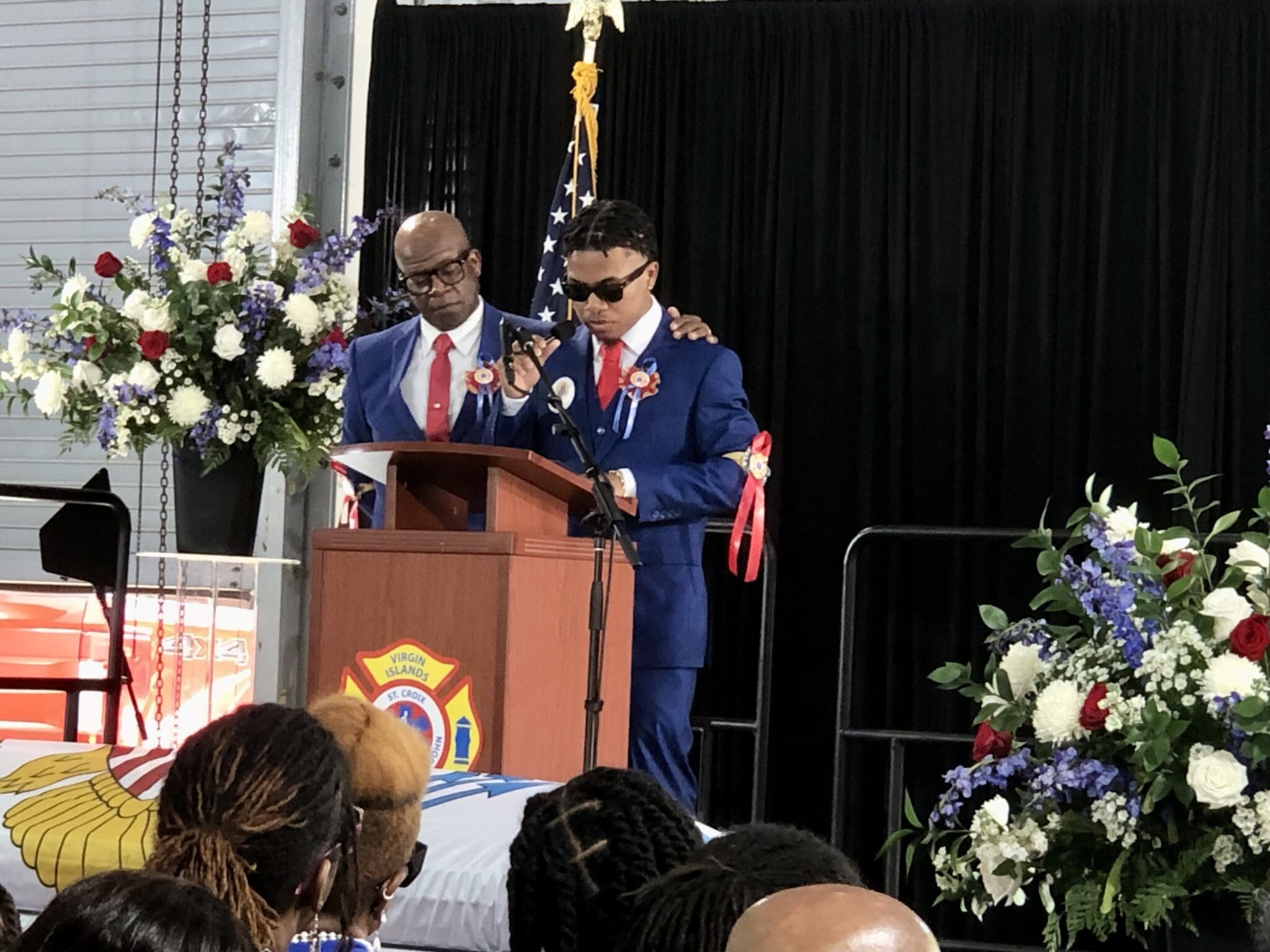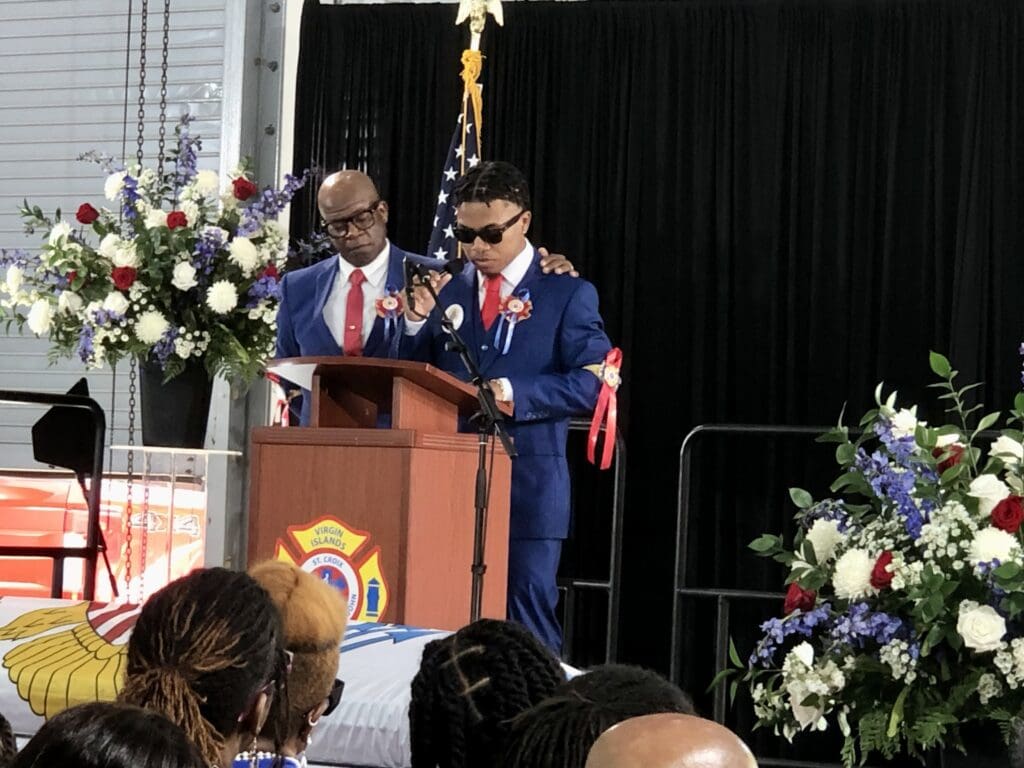 Following the service, his Virgin Islands-flag-draped casket was transported to the Western Cemetery for interment, borne there atop a fire truck. His son D'Andre helped with the transfer from the hearse and rode beside his dad for one last trip together down Main Street in Charlotte Amalie. They were followed by an honor guard led by Gov. Albert Bryan Jr. and other top officials.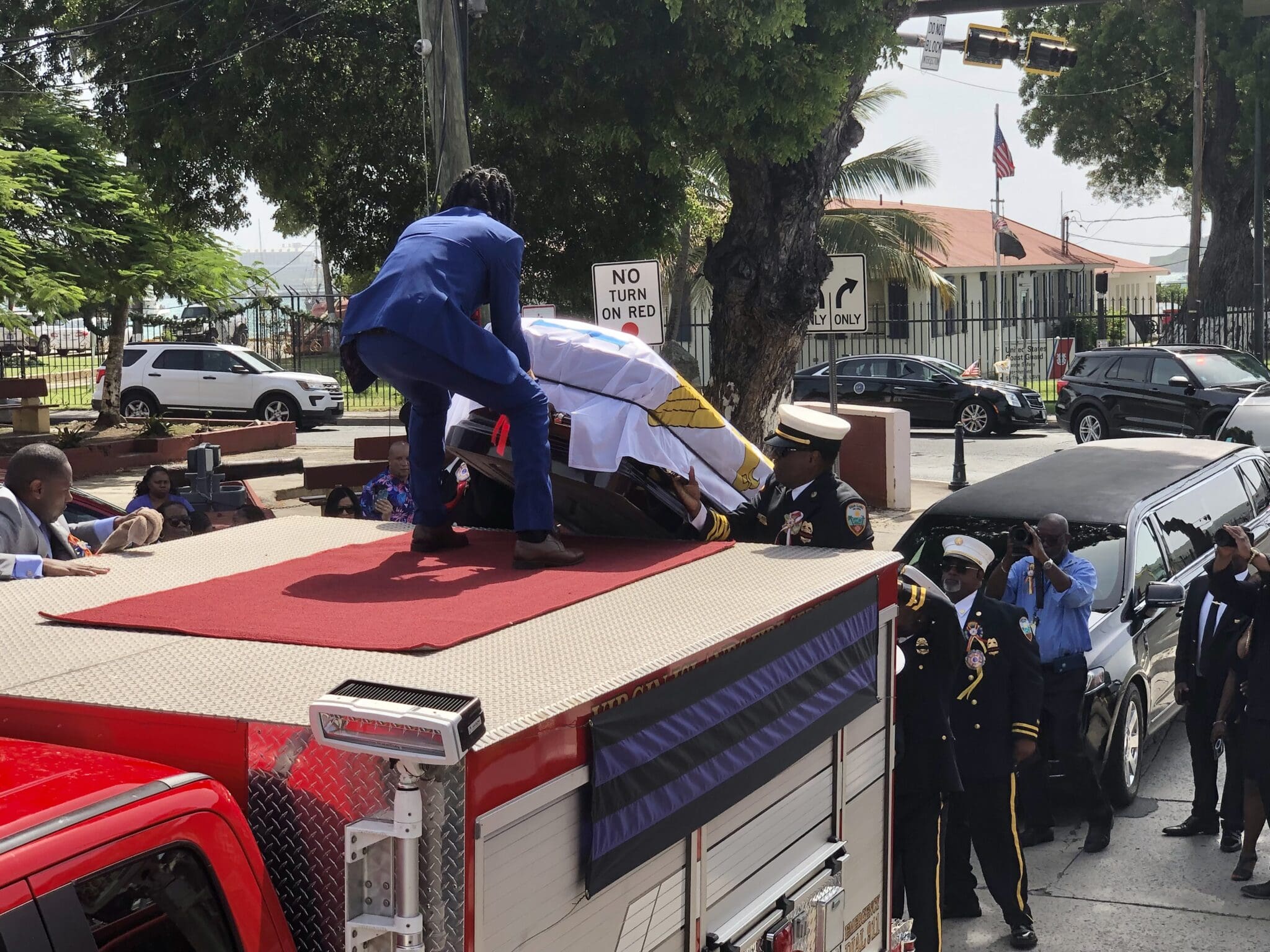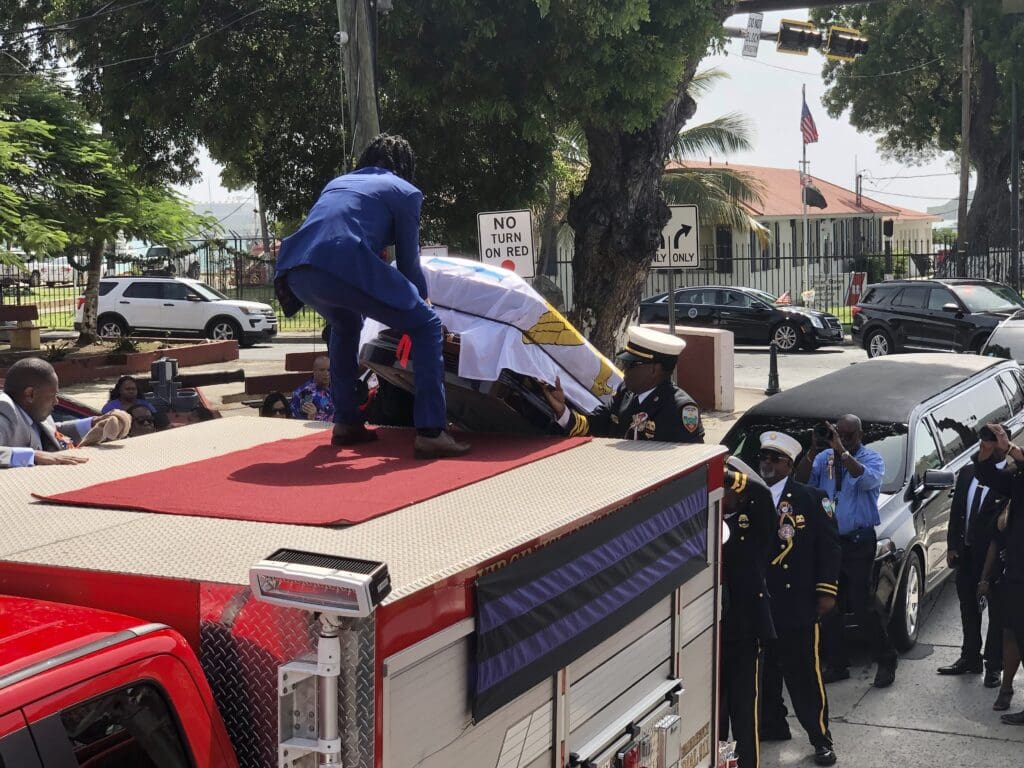 The mood at the service was one of appreciation and sadness. Lt. Gov. Tregenza Roach expressed his appreciation by reading a commendation letter written to firefighters at the end of a 21-day effort to put out the Bovoni Landfill fire.
But Roach said the letter was sent on Oct. 18, and he wasn't sure if George, 55, read it before his death on Oct. 24. The Fire Service director was hospitalized Oct. 22 after suffering a medical emergency. He did not recover.
Senate President Novelle Francis Jr., expressed sympathy to the director's relatives, and to his fellow first responders. "My sympathies are also extended to the men and women of the Virgin Islands Fire and Emergency Services," Francis said.
Bryan ended his remarks on a poignant note. "I miss my friend, and I will miss him for a long time," the governor said.
Acting Fire Service Director Antonio Stevens told the crowd he accepted the duties that George took on while hearing remarks about the big shoes he had to fill.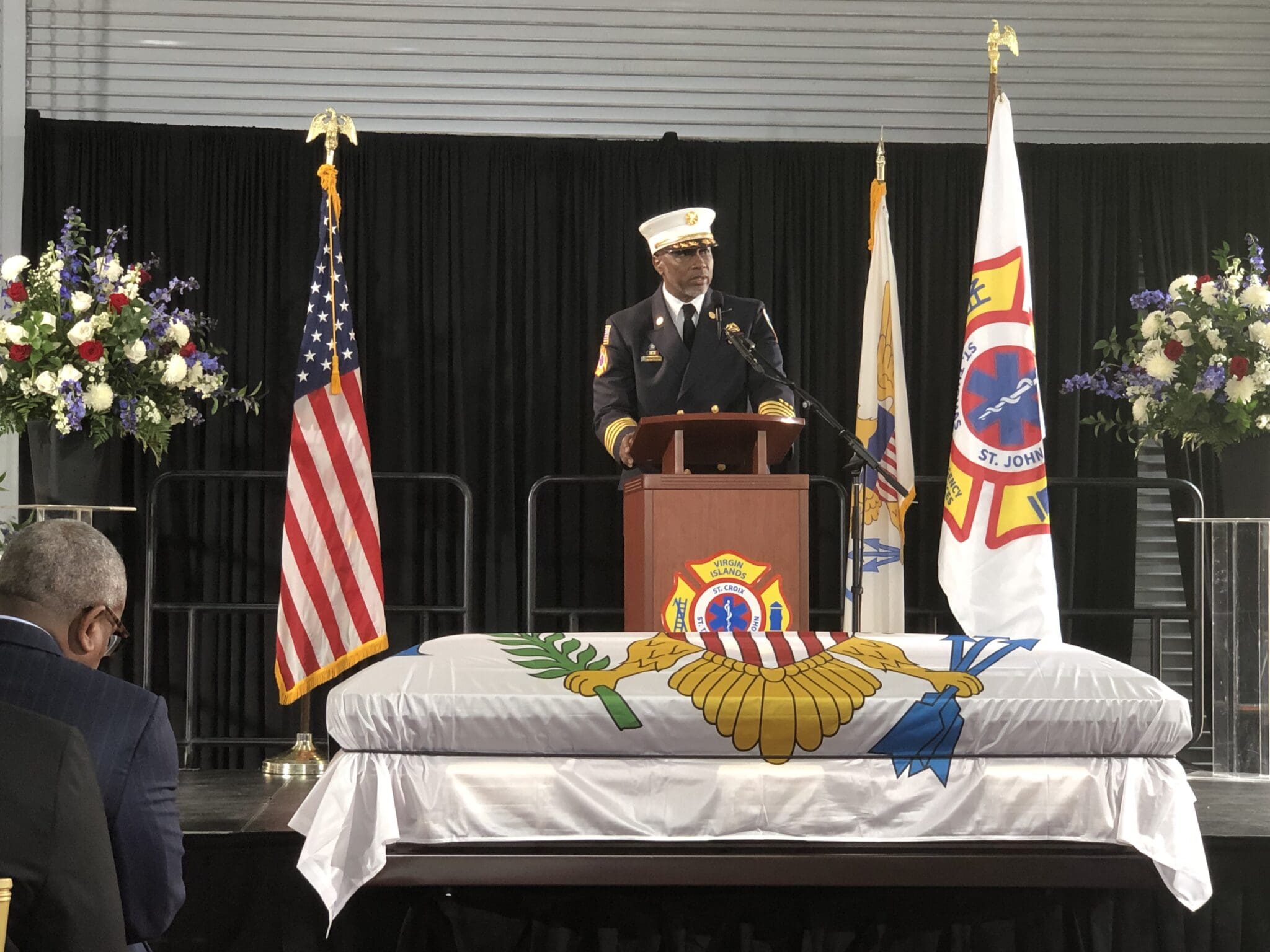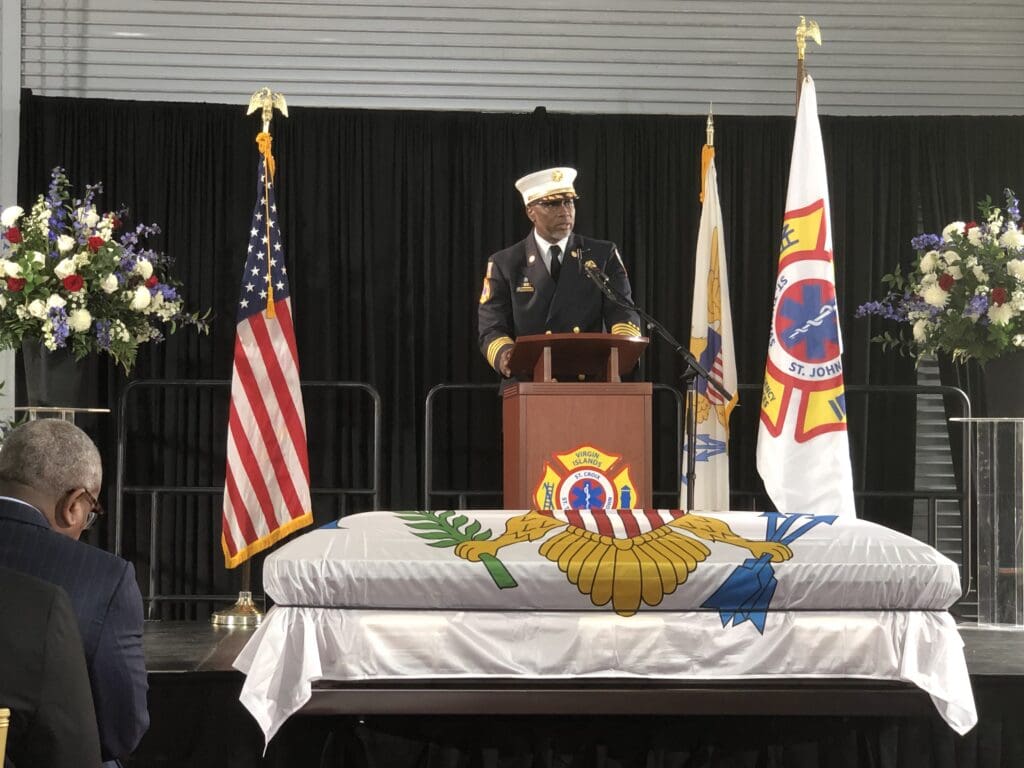 "I said 'I know,'" Stevens said, adding he was encouraged when someone said not to worry because his predecessor would be watching from beyond this life.
"If I can leave any words of encouragement to any one of you, it would be that Daryl George Sr. was establishing a legacy; he provided a path, he had goals. Those goals didn't die," he said.
"We should take on the mantle and work, press on — even hurry — to accomplish those goals. We're grieving today, but I say this: tomorrow is another day. Tomorrow we can pick up just like he would have wanted us to do; pick up that mantle and say Let's go."
Before the service ended the director of the Junior Firefighter's Corps. presented a memento to George's five children — Daryl Jr., D'Andre, DeLani, Darline, and Te-Nae. It was noted that their father began his pre-service career as a member of the junior corps and had inspired and encouraged many along his accomplished path.