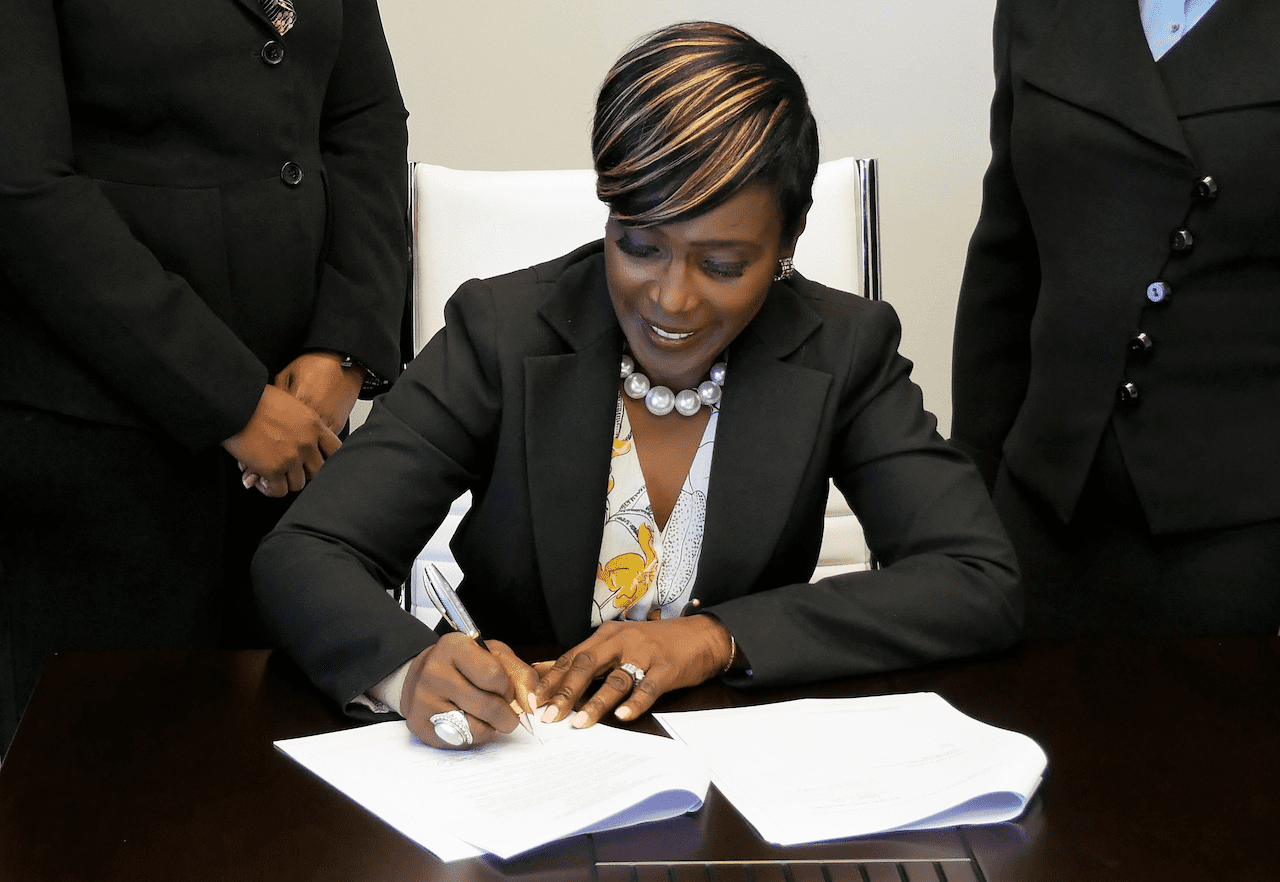 Former V.I. Attorney General Denise George, who successfully sued the estate of Jeffrey Epstein and then was summarily fired by Gov. Albert Bryan Jr. in December, has broken her silence in an interview with Britain's Sunday Times Magazine. In it, she hints that a run for governor may be in her future.
The interview — published Saturday by the Sunday Times, a 600,000-plus circulation newspaper owned by Rupert Murdoch's News Corp. — is the first time George has spoken of her efforts to bring Epstein and his alleged accomplices to account, and the fallout from that endeavor.
George, who was widely lauded when she won a $105 million lawsuit against the Epstein estate in November — believed to be the largest monetary settlement in the history of the territory — subsequently filed suit for $190 million against his onetime bank, JPMorgan Chase, on Dec. 27 in Manhattan federal court, alleging violations of the Trafficking Victims Protection Act.
Bryan fired George four days later, on New Year's Eve, saying nothing at first but later admitting that he was "blindsided" by the lawsuit that has opened V.I. officials to scrutiny for their dealings with Epstein. That includes Bryan himself, who approved Epstein's lucrative Economic Development Authority benefits when he was head of the EDA board and has been deposed by JPMorgan's attorneys, along with a host of other territory officials.
Except for a couple of statements, in which she thanked Bryan for the opportunity to serve, George has remained out of the limelight while the office she once led continues the action against JPMorgan. The case has proved contentious and is set to go to trial on Oct. 23 in Manhattan federal court unless a settlement is reached.
George told the Sunday Times that she was at her father's house on St. Thomas, enjoying a celebratory bowl of callaloo, when Bryan's security detail "came over and delivered me a letter of termination." The governor confirmed the firing two days later.
"The announcement was met with outrage on the islands, in the local press and abroad," the Sunday Times said.
In the interview George is portrayed as a paragon of virtue — the one Virgin Islands official who could not be influenced by Epstein, 66, who died by apparent suicide in August 2019 in a Manhattan jail cell while facing federal sex trafficking charges.

Epstein's primary residence was Little St. James, his private island off St. Thomas where for years he trafficked in girls and young women and ran a complex web of shell companies that were registered in the USVI and enabled his crimes, court documents have alleged.
The wealthy financier, who held some 50 JPMorgan accounts, received lucrative tax benefits for his businesses through the EDA. At the time of his death his estate was valued at more than $577 million, according to court documents.
The V.I. government has alleged in its suit that JPMorgan facilitated Epstein's sex-trafficking scheme in violation of the Trafficking Victims Protection Act, enabling him to pay off numerous young women with ties to Eastern Europe in transactions that should have raised red flags. The bank alleges that the V.I. government is equally complicit for fostering a climate in which Epstein could commit his alleged crimes through his ties to the highest echelons of the USVI governing class.
George told the Sunday Times that she knew little of Epstein prior to his July 2019 arrest on federal charges, but upon his death found her office at the center of an international story filled with lurid accusations about the enigmatic financier whose main company in the USVI, Southern Trust, was for years run by former First Lady Cecile de Jongh.
George was new to the job, having been nominated by Bryan just months earlier in March 2019, and was compelled to pursue the suit against Epstein's estate after conducting heart-wrenching interviews with three of his victims that convinced her that crimes had indeed been committed in the USVI, she told the Sunday Times.
"The detail was so compelling and so credible," she said. George also was inspired by her late mother, whose favorite saying was, "Where there's a will there's a way," she told the newspaper.
"Some people thought it was too big," George said. "It's not like anyone came to my face and said it, but I heard it on the streets. We had dozens of victims. Turning a blind eye was not an option. If I had done that, what would that have made me?"
While territory officials celebrated George's win against Epstein's estate in November 2022, the action against JPMorgan Chase has proved more complex. The bank alleges that V.I. government officials had a quid pro quo with Epstein, who made regular donations to educational, non-profit and political interests in the territory, though often lost in translation is the fact that all EDA companies are required to give minimum amounts to local causes, especially education, as a condition of their tax benefits.
However, JPMorgan has alleged in court documents that Epstein's influence spread to oversight of his sex offender status, which he attempted to manipulate to allow easier travel for himself and his young female companions in and out of the territory, as has now been widely reported.
George tells the paper that she followed the facts and the money, which led her to men such as Leon Black, 72, a billionaire private equity investor who paid $62.5 million to the V.I. government to be released from any claims related to the territory's investigation of Epstein, as first reported by the New York Times in July.
George said talks with him began in September 2022, telling the Sunday Times that "there were significant facts to show that Leon Black had been giving millions and millions of dollars to Epstein." Black, who has been accused of a violent rape by one Epstein victim, has denied any wrongdoing, and a spokesperson has said he paid Epstein for legitimate investment services.
"Consistent with settlements reached by major financial institutions, Mr. Black resolved the USVI's potential claims arising out of the unintended consequences of those payments. There is no suggestion that Mr. Black was aware of any misconduct engaged in by Epstein," Black's reps told the Sunday Times.
The money also led George to JPMorgan Chase, in a lawsuit that has opened the Pandora's box of allegations against V.I. officials, including Cecile de Jongh, Epstein's longtime office manager. De Jongh has denied any wrongdoing, or knowledge of her boss's scheme, and in her deposition testified that she would never knowingly allow young women to come to harm.
George told the Sunday Times that the revelations surrounding the JPMorgan suit have not been a total surprise. "I knew the case might expose things because JPMorgan has a bevy of attorneys. But that's what it's all about," she said. "So let's move on."
George also has been deposed by the bank's attorneys, testifying, the Sunday Times said, "that within weeks of her appointment in 2019, Governor Bryan had asked her to review Epstein's request for his travel requirements to be waived, as they had been since the bill passed. She refused to grant it."
George was reluctant to get into details of her firing, the Sunday Times reported, noting that "St. Thomas is a small place and some of her family are still connected to the public sector here."
But George said that despite the personal price she has paid, she is pleased that the truth is coming out.
"People even say I should run for governor," she told the newspaper.