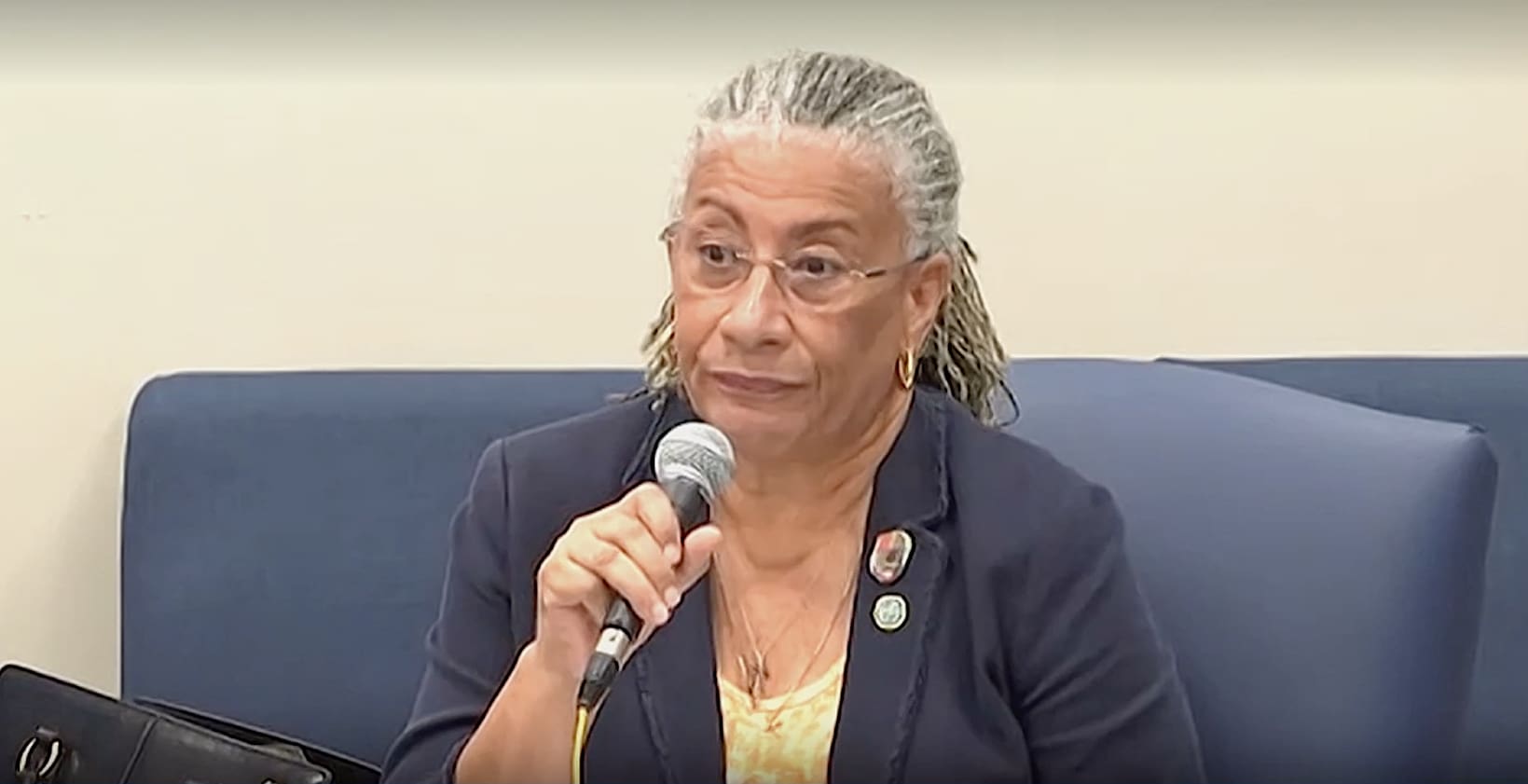 Senators diverged from Rules and Judiciary Committee's agenda Wednesday to voice support for St. Croix teachers who held a walkout to protest their working conditions.
Sen. Franklin D. Johnson said he stopped in at several schools on his way to work and received a long list of grievances from the picketing educators of the American Federation of Teachers.
Temperatures in some classrooms are unbearable as fans don't work and windows don't open.
"It's drastically hot in there," Johnson said. "These are some vexing and serious issues."
Teachers also complained of faulty electrical equipment and plumbing. At the Pearl B. Larsen School, children in pre-kindergarten through eighth grade don't have working faucets, Johnson said.
"So the children them come to school and they don't even have water to drink. Some of the parents send them with water, some don't," he said.
The Education Department stopped providing the bottled water it had supplied at the beginning of the school year, Johnson said.
Educators complained of a lack of copy machines, lack of internet connectivity, lack of general supplies, and more.
"Lack of proper facility maintenance, deplorable working conditions, insufficient school bus, rodents and termites, school security and cameras," he continued. "They talk about repairs, broken freezer and coolers in the kitchen, air quality and sanitization in rooms."
Kitchen equipment recently purchased was left uninstalled and in some cases already falling apart, Johnson said. "Some of these equipment are now gathering rust on them and I'm quite sure when they are installed they won't be operable."
At Juanita Gardine School, a home economics instructor was asked to teach cooking classes without a working refrigerator or stove, he said. "But she has a cooking class trying to teach these children how to cook and prepare meals. This is unacceptable."
There are also staffing shortage concerns. "There's a lot of classrooms that doesn't have teachers. The paraprofessionals are doing full teaching in some classrooms," Johnson said.
Other classrooms have teachers but no teachers' aids. Especially in short supply are special education instructors.
"I do support anyone who stands up for the better cause because these calls are not just for the AFT teachers but for our students. You cannot teach children in this environment," he said.
Committee Chair Sen. Diane T. Capehart concurred.
"I totally agree, that doesn't seem like an environment that's conducive to teaching or learning. So, with that being said, with unity there is strength. So, I support them," Capehart said.
Senate President Novelle Francis Jr. said the most pressing issue was heat in the classrooms but that all the teachers' concerns would be addressed.
"We want to be sure that we are bringing some semblance of order to the Department of Education and not have students be out for any extended period of time," Francis said. "These are all issues that, I believe, are within our purview and with reasonableness we should be able to handle. So, at the appropriate time I know we will be sitting down collectively to try to address these issues as we move forward."
The committee approved a bill funding the Education Department in 2024 but Sen. Marise C. James, chair of the Committee on Education and Workforce Development, worried that students and teachers do not see the full benefit of funds appropriated for schools.
"This affects all of us, socially, economically, culturally in every way. So we have to find solutions to the closure of the schools, the elementary schools on St. Croix," James said. "We need to find solutions as leaders in this community. So, you have to stand up for your rights. So I support anyone who is clearly expressing the conditions under which they work are not suitable and not good for our children. I want to say to the parents out there, the impact on you is tremendous. So, as a Legislature, we need to work with the executive branch that we find solutions to this vexing problem here, especially in the St. Croix district."
Sen. Angel L. Bolques applauded provisions for newly created hardcover Virgin Islands history school books while also acknowledging teachers' plight.
"It is unfortunate that our teachers are having to deal with the environment they are working in and they have a right to exercise their opinions and how they feel about where they are working," Bolques said.
Sen. Kenneth L. Gittens said problems with public education in the territory go beyond the St. Croix teachers' complaints.
"Our problems in this territory are for real and public education funding overall needs a serious overhaul," Gittens said.
Sen. Carla J. Joseph reminded the committee that the schools around the Bovoni landfill fire had been closed for nearly a week, with students now attempting distance learning to avoid smoke from the fire.