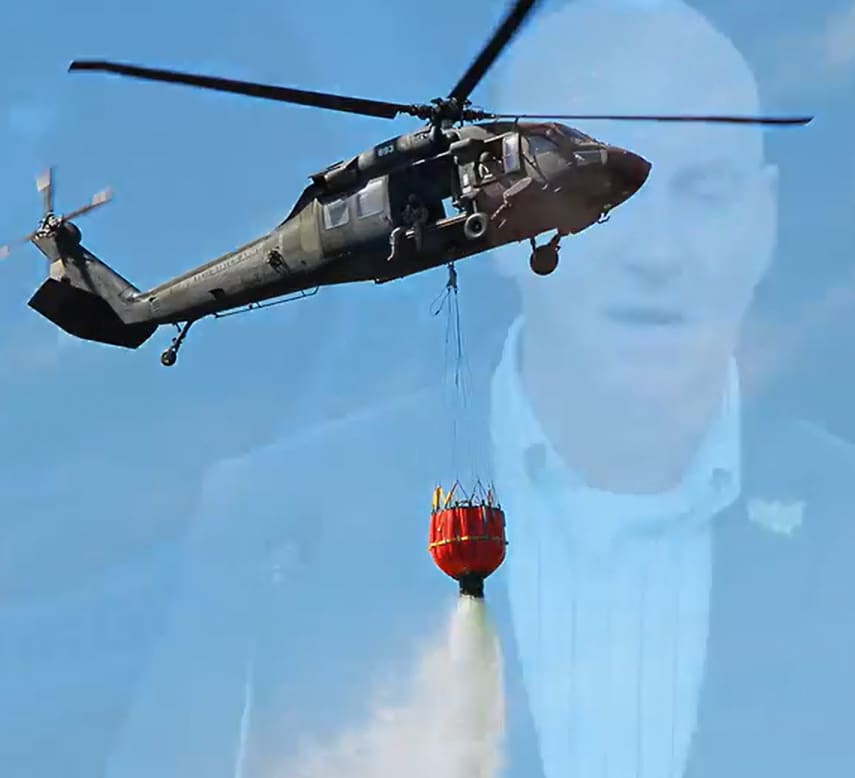 Volunteer firefighters from St. Croix and a helicopter from the Puerto Rico National Guard arrived Wednesday to help extinguish the Bovoni landfill fire, which has been burning since Sept. 14, according to VITEMA Director Daryl Jaschen.
In a late morning press briefing, he said an agreement had been reached with Puerto Rico that would bring the Blackhawk helicopter to St. Thomas. The helicopter will have a Bambi bucket that will pick up to 660 gallons of seawater on each trip to the ocean and drop it on the stubborn landfill fire that, according to Virgin Islands officials, was sparked by green waste from 2017's Hurricane Irma.
Jaschen said the operation (dousing the flames with water) would increase smoke and cautioned drivers to be careful in the area. He also said area residents who are elderly or may have respiratory problems and young children should stay indoors.
Assistant Health Commissioner Reuben Molloy also spoke at the press briefing. He not only told residents to be cautious concerning the irritants in the air but also to bring their pets indoors.
Jaschen pointed out that Gov. Albert Bryan Jr. declared a State of Emergency on Monday because of the fire. He noted that it had caused Bertha C. Boschulte Middle School to be closed for the remainder of the week. The Education Department sent out a press release saying parents can pick up assignments and educational devices on Thursday and Friday, from 9 a.m. to noon both days.
Jaschen added that the landfill would remain closed until the fire is extinguished. He urged residents to be patient. "We should get through this in one or two days," he said.