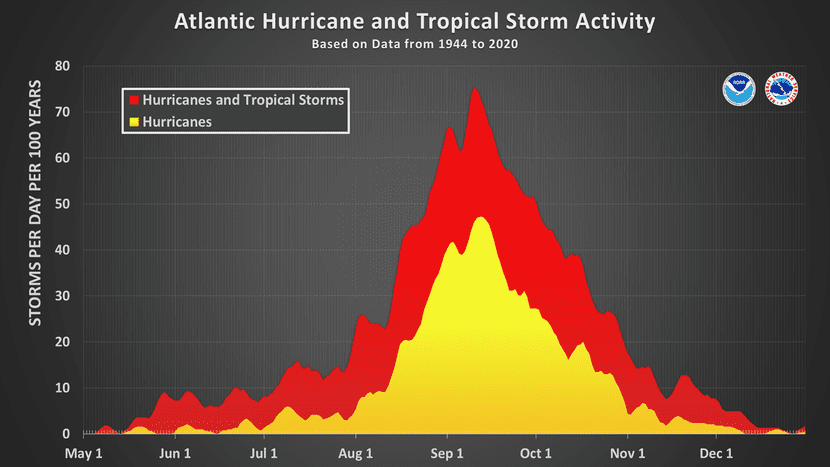 The National Weather Service has issued a flood watch for the entirety of Puerto Rico and the U.S. Virgin Islands from 2:00 p.m. AST on Friday, November 4, 2022, through 6:00 p.m. AST on Monday, November 7, 2022. Flash flooding is possible due to excessive amounts of rain.
A polar trough (an area of low pressure) will combine with an area of moisture to the south, resulting in unsettled weather over the U.S. Virgin Islands and Puerto Rico, including rain, thunderstorms, and strong winds. This system's rain may bring flooding, flash-flooding, and mudslides to both U.S. territories. The heaviest precipitation is currently expected to be concentrated on the eastern half of Puerto Rico, the islands of Culebra and Vieques, and the USVI.
"Excessive runoff may result in flooding of rivers, creeks, streams, and other low-lying and flood-prone locations. Creeks and streams may rise out of their banks. Flooding may occur in poor drainage and urban areas. Low-water crossings may be flooded," according to an update from the NWS in San Juan, Puerto Rico. (It's important to remember to never try to drive through a flooded roadway.)
This weekend there will be rough seas of 7 to 10 feet and south-southeasterly winds at 20 to 25 knots. Accumulations of three to six inches of rain are possible across portions of the islands, with locally higher amounts.
The 2022 Atlantic Hurricane Season Ends on November 30, 2022
The 2022 Atlantic Hurricane Season ends on November 30, but tropical development is possible until then, and tropical activity has been busy this month. Two systems, Lisa and Martin — the 12th and 13th named storms of the 2022 Atlantic Hurricane Season, respectively — intensified into hurricanes in November, with Hurricane Lisa making landfall on the coast of Belize on Wednesday, November 2, 2022. Hurricane Martin is expected to become a post-tropical cyclone in the north-central Atlantic soon.
Residents and visitors in the USVI are encouraged to stay updated on weather systems on the V.I. Source Weather page and sign up for alerts from the National Weather Service and the Virgin Islands Territorial Emergency Management Agency.