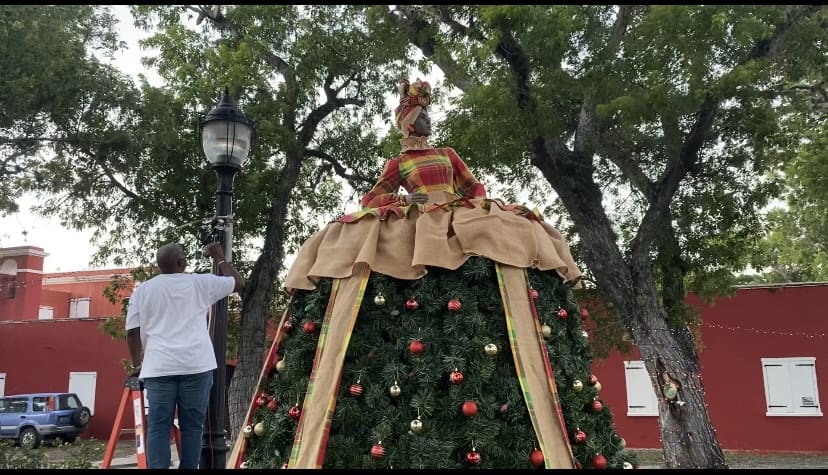 The town of Frederiksted celebrated "Unity and Hope: Frederiksted Festival of Lights 2021" on Sunday night. Non-profit organization History, Culture and Foundation, Inc. and friends helped spread Christmas cheer by lighting Buddhoe Park in an old-fashioned tree lighting. A crowd of about 100 people came to the park to observe the lighting, listen to some music, and enjoy a cool evening.
There was a Santa fire truck motorcade, drive-thru giveaways, and a countdown to the lighting of a different type of Christmas Tree, a culturally decorated tree dressed in madras with a mannequin on top to create the vision of a female quadrille dancer.
Emile A. Henderson III, one of the volunteers who assisted with the decorating of the park, said, "We decided to do this event again. We did it last year, and it was the first year to bring some joy to the town of Frederiksted."
This year, the History, Culture, and Tradition Foundation celebrated a little bigger than last year by incorporating Santa Claus. "We wanted people to come out and just have a good time, especially the town of Frederiksted so that they can really feel the Christmas spirit."
Gregory Richards, president of the History, Culture and Tradition Foundation, said, "The town of Frederiksted has been through a lot in these past years since the hurricane, especially. Even before that, this organization, History, Culture and Tradition Foundation, decided to pick up an old-time tradition which was something I remember when I was young."
Back then, Richards said they were giving out bags of Kool-Aid, and whatever they could. It was a tradition the organization wanted to bring back to Frederiksted.