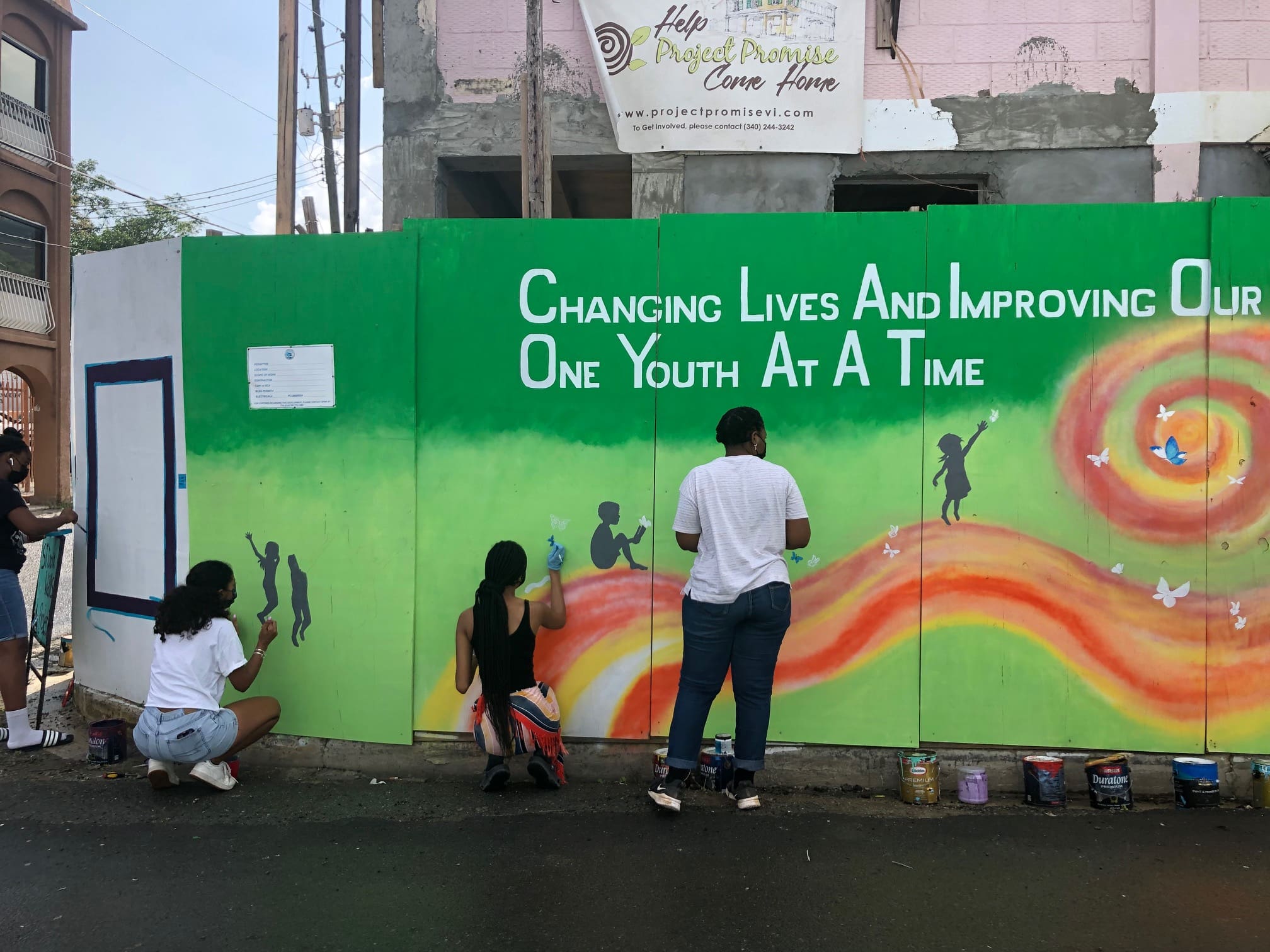 A handful of students volunteering for the St. Croix Walls Project are painting a colorful street mural that announces the new home in Christiansted of the youth organization Project Promise.
"We're telling a story in a painting," Claudia Hodges, the lead artist, said.
Hodges drew caterpillars and butterflies – which have special meaning for Project Promise – as the focal points on the temporary wall keeping pedestrians safe while construction continues. Artists were enlisted from St. Croix Country Day School to fill in Hodges's larger drawings and free-hand their own whimsical flowers and creatures.
The refurbishing of the old house, purchased by Project Promise founder and director Resa O'Reilly on Queen and King Cross Street, began late last spring.
Since then, the non-profit organization has received cash donations and in-kind services from St. Croix Trading Company, Haugland Engineers, contractor Anthony MacLorrain and others. Humanitarian Experience for Youth donated $25,000 and provided volunteer labor all summer.
Since June, a new roof has been installed, the second floor was rebuilt entirely, and rooms have been framed. Due to supply chain delays, windows should reach Miami on Dec. 22 and be delivered to St. Croix in January. Until the windows are installed, no other work can be completed.
O'Reilly hopes to have the building finished and occupied by the beginning of the next school year.
Project Promise Need Funds to Finish Rebuilding a New-Old Home
Project Promise started in 2016 and works with at-risk youth from grade school through high school and into college. The students are called caterpillars who emerge as butterflies at the end of the program. The original class is now in high school.
Throughout the program, students meet daily with mentors after school and learn life skills. They are mentored in school subjects, receive personal wellness instructions and guidance about careers and creative expression. In addition, they become aware of cultures and take on a major community service project every year.
When the new home opens, there will be classrooms, a kitchen, bathrooms, laundry, and conference rooms. The 13 caterpillars, including a new class, will share the central location for their daily meetings. O'Reilly said other students would also be invited to use the community center.
The St. Croix Walls Project was begun in 2016 by Glenda Smith, and the first projects were murals in Cotton Valley, Williams Delight, and Sunshine Mall.
Smith also orchestrated the Heart of the Turtle project with ten artists who created turtle sculptures to place in sponsor/business locations around the island for the public to enjoy. The turtles were built by woodworker Chris Lima from salvaged wood from the 2017 hurricanes and reclaimed rum barrels. The artists then covered the heads and shells with paint, wire, tiles, and glass.
Smith said the smaller pieces of Project Promise street art be sold after the wall is removed.