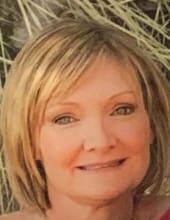 Neisha Kay Zahn, 52, tragically passed away Monday afternoon on February 15, 2021, along with her husband Daniel Yannone and son Tyler Yannone.
Neisha is resting with her heavenly father now.
Neisha was born in Lubbock Texas on April 1 of 1968. She grew up at Buffalo Springs Lake, attended Roosevelt High School and graduated Texas Tech University with an accounting degree. She arrived in St. Thomas in 1991 and married Daniel Yannone in 1994, whom she met at Club Z. She had many jobs before she opened Beep Business in 1995. Later she opened a boutique called Nolas on the island. Neisha is an active member of the St. Thomas Reformed Church and attends Buffalo Community Church when visiting Lubbock. She has been a great comfort to her mom since the passing of her father. Neisha's soft spirit and loving presence will be missed by many.
She was preceded in death by her father Ronnie Zahn. Paternal grandparents Mille and Pete Zahn. Maternal grandparents Earl and Johnny Dawson.
Survived by her mother Lana Zahn, brother Kyle Zahn and wife Amy, nephew Alan Zahn and wife Allie, niece Rachel and husband Kleat Smith, nephew Nick Zahn, and her half-sister Gay Lynn Lee. Along with other numerous Aunts, Uncles and Cousins. Neisha was always drawn to the water.
In lieu of flowers donations can be made to Saint Thomas Reformed church or Buffalo Community Church.