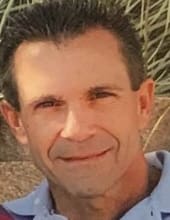 Daniel R. Yannone 54, tragically died alongside his wife Neisha and son Tyler on Monday, February 15th, 2021.
Daniel is now resting in eternal peace with our Lord.
Daniel was born in Youngstown Ohio on March 13th, 1966.  Though he was born and raised in Ohio, Daniel resided in St. Thomas for the past 30 years and considered the island his home, and everyone he encountered to be part of his extended family.  Daniel and Neisha were both very passionate about and committed to the community which they supported through a variety of endeavors. They were proud owners of Beep Business Services, involved members of St. Thomas Reformed Church, engaged parents at Antilles where Tyler was a graduating senior and generous contributors to a variety of social causes close to each of them. Daniel's energy, passion for life, generous spirit and sense of humor will be sadly missed.
Daniel was preceded in death by his paternal grandparents Anthony and Carmel Yannone and his maternal grandparents Theresa and Ralph Argenziano. He is survived by his parents Richard and Mary Yannone, sister Lisa Rosati (Paul), brother Tony Yannone (Kit) and sister Michele Nespeca (Ryan), nieces Victoria and Natalie Rosati and Tessa and Erin Yannone and nephew Brian Yannone.
In lieu of flowers, donations can be made to Saint Thomas Reformed Church.