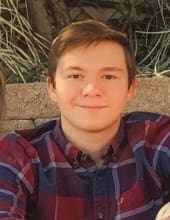 Tyler Dawson Yannone tragically passed away Monday afternoon on February 15, 2021. He went to be with his heavenly father along with his parents Daniel Yannone and Neisha Zahn at the age of 18.
He was born in St. Thomas Virgin Islands on October 31, 2002. Tyler was a miracle since birth. He had a strong passion for the Lord, and he was devoted to his church family. He enjoyed many things like outdoor adventures, scuba diving with his dad, and sailboat camping with friends. Tyler had a fondness for everything astronautical. He went to many space camps and learned so much about the stars in the sky and had a star named for his girlfriend AnaPia. He was set to graduate in May 2021 and he was going to continue his education at Embry Riddle in Florida to become a professional pilot. His dream was to return to St. Thomas Virgin Islands and open his own charter flight business. He was an avid photographer and was always up-to-date with the latest technology gadgets.
Tyler was preceded in death by his maternal grandfather Ronnie Zahn.
He is survived by paternal grandparents Richard and Mary Yannone, aunt Lisa and uncle Paul Rosati, uncle Tony and aunt Kit Yannone, and aunt Michele and uncle Ryan Nespeca. Maternal grandmother Lana Zahn, uncle Kyle and Amy Zahn, and cousins, Alan and Allie Zahn, Rachel and Kleat Smith, and Nick Zahn.
In lieu of flowers donations can be made to St. Thomas Reformed Church.