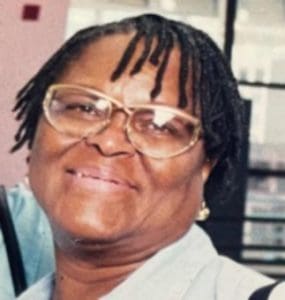 The funeral service for Ena Consuelo Harley-Spencer, who died on Dec. 17, will be held Wednesday, Dec. 30.
She was preceded in death by her siblings: Randolph Harley and Sybil Rhymer; and children: Anthony Spencer, Ena V Spencer.
She is survived by her siblings: Era Joseph, Gerda Rhymer, Bernard Harley and Christian Harley; children: Randolph Spencer, Nathaniel Spencer, Anjannette Aubain, Natalie Joseph and Vernon J Forbes; and grandchildren: Tiffany Spencer, Martina Spencer, Randolph Spencer, Nathaniel Spencer, Keith Spencer, Quintin White, Nathaniel Spencer, Tanisha Spencer.
She is also survived by more grandchildren: Christopher Spencer, Charles Sanders Jr., Tashaunna Spencer, Shahiem Spencer, Thoron Augustin, Taijanae' Augustin, Derick Greaves Jr., Jaleel Morton, Shanai Morton, Kaloni Thomas, Amoi Dore, Kandace Forbes and Aaliyah Forbes; daughter-in-law, Antionette Spencer; sons-in-law: Thomas Augustin Jr. and Alston Dore; and many nieces, nephews and great-grandchildren too numerous to mention.
The service will be at 10 a.m. on Wednesday, Dec. 30, at Nisky Moravian Church.