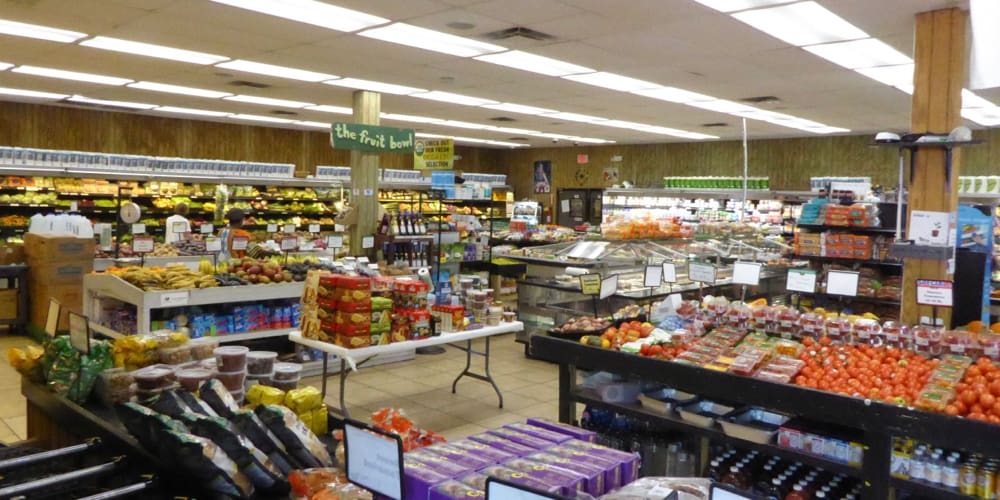 Surviving hurricanes, fires, supply chain interruptions and even being shot, Fruit Bowl founder and owner Marty Goldberg has seen the grocery store he started 45 years ago triple in size, thrive and become a community gathering place while feeding the community without fail – through every natural and man-made disaster since.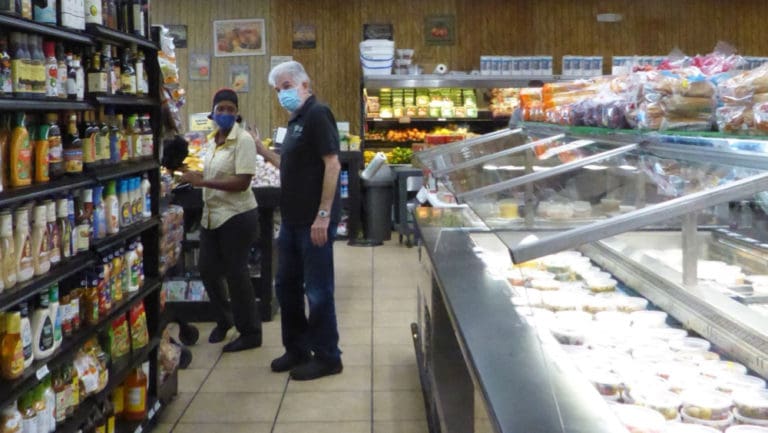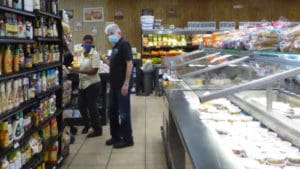 Fruit Bowl's doors opened on Dec. 13, 1975, and with very few exceptions have remained open every day since.
"I love this community," he said recently, adding there's no place else like it.
Three days after Hurricane Irma in 2017, St. Thomians weary of wind and rain, the ones able to get out of their homes and past the downed trees and power lines, found the lights on and fresh food on Fruit Bowl's tables and shelves. And less than three weeks later, after Maria dumped record-breaking water on the islands, same thing.
Goldberg is almost reluctant to say too much about the lucky star that seems to always have hovered over the Wheatley Center store. He didn't want to "goat mout" – which means jinx in the local vernacular – the store's good fortune.
But it is hard to tell the story of 45 years without noting the store's fortuitous history.
"Five days after Maria, David Warner [his next-door neighbor at the shopping center] burst into the store shouting, 'I've got power!'" Goldberg didn't believe him. But sure enough, when he went into the back of the store, there was his WAPA meter running.
He said he didn't realize he was on the same underground feeder as the Roy L. Schneider Hospital, a stone's throw away.
But that's not the only good fortune Goldberg and other long-time management personnel have noted.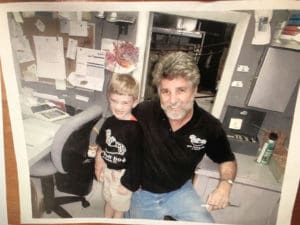 Surviving being shot four times on Halloween weekend in 1977 after leaving the store with his two children – an attack Goldberg still cannot categorize – stands out as an extraordinary stroke of good luck, along with immediate first aid from a "medical missionary" who happened to be in Pizza Hut, just a few feet away.
Goldberg says the outpouring of love from the community after the incident was a primary reason he has continued to keep the store open through thick and thin.
He shared a letter from the woman who helped him that night – "you were covered with so much blood you were not recognizable," Marie-Louise Cullum wrote. "I also happened to be there earlier this year when you and your family were celebrating the third birthday of your son, David."
She went on to write at the end of a two-page handwritten note, "I hope that the memory of this evening will fade very fast, to be replaced by all the happy and wonderful memories coming to you and your family."
To hear him tell the story, the wishes conveyed in that missive came to pass, and not only for him.
Goldberg has employed generations of Virgin Islanders and provided a training ground for heaven-only-knows how many teenagers who have worked part-time at the store in the Wheatley Center Shopping Mall after school.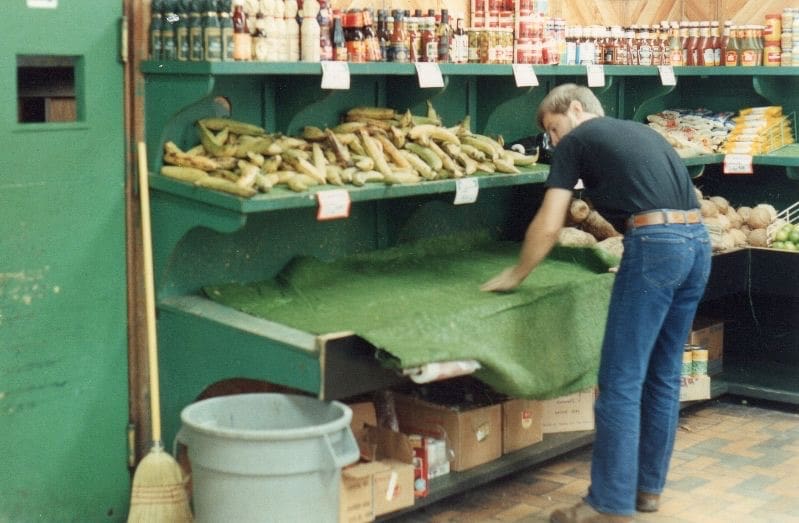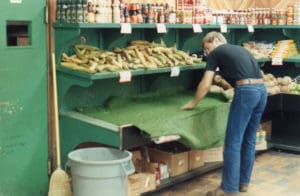 He recalled a story of one young man in particular who walked up to him in the store one day and said, "Do you remember me?"
Goldberg replied, "Vaguely."
"I'm Joseph," the young man said. "You gave me my first job; I didn't even know how to get to work on time until you made me."
But Goldberg is clear that he could not have survived without a whole bunch of people – part-time after schoolers included.
General manager James Clark, who has been with Goldberg and the Fruit Bowl since 1982, was a youngster back then, too.
Three of his friends from college had been living on St. Thomas. It seemed like a fun place to be.
"So, I packed a duffle bag and moved," he said.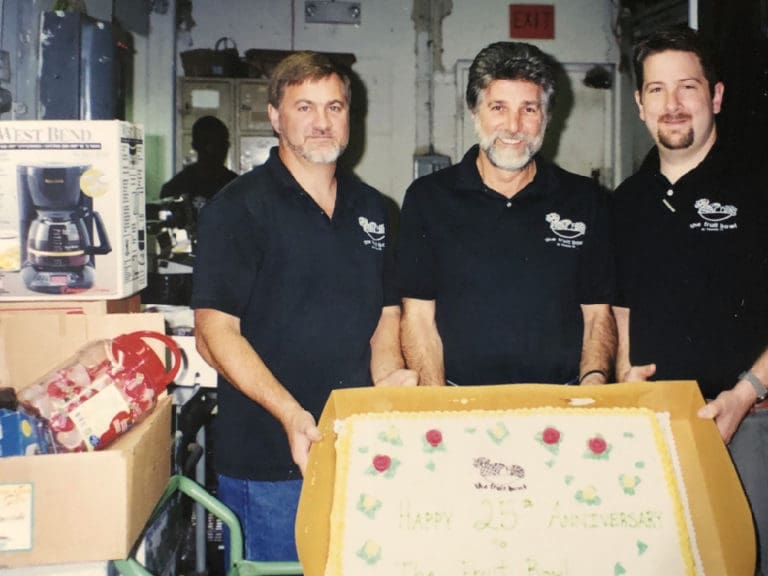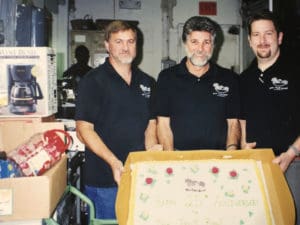 When asked if he had experience with grocery stores prior to coming to St. Thomas and Fruit Bowl, Clark, who is notable for his friendly but business-like demeanor as he stocks the produce tables and supervises and advises the employees, said, "Only as a shoplifter," he laughed. "That's what makes me so good at loss prevention."
The position as a shelf stocker, after a brief stint at The Fishery, which was just a few bays west of Fruit Bowl back in those days, Clark says was his "personal rehabilitation."
Clark has had his own share of miracles during the 38 years he has grown with the company and, like Goldberg, found a new love for the community through it all.
After a near-fatal motorcycle accident while on vacation in the states in 2010, Clark was put into an induced coma. Some time after he was conscious again, a nurse came into his room carrying what Clark described as a box the size of a banana carton full to the brim with get well cards and letters from customers and friends he has touched over the years.
"She looked closely at me and asked, 'Are you somebody?' It was heartwarming and made me become less of a cynic."
Having once been one, Clark's commitment to helping the young employees learn new skills comes through when he talks, as Goldberg does, about encounters with some of them.
"I was at a local business," Clark said, "and the owner said, 'You don't remember me.'"
The businessman reminded Clark that he had worked at Fruit Bowl under Clark's tutelage, adding that at times Clark had been less than easy to work for, using an expletive that begins with an A and ends with an E to describe how he saw Clark back then. The businessman then said to Clark, "Now that I have my own employees, I understand."
Fruit Bowl has been a training ground for family members, too.
Goldberg's brother, David, worked at the store first in 1978 on spring break from college.
"It was small back then – 600 square feet," brother David Goldberg said. "We only had one cash register."
Also, the store carried only fresh fruits and vegetables that were flown in from New York three times a week. The store didn't even have coolers in the retail area – though there were refrigerators in the back. Eventually, they began to bring in stateside milk as an alternative to St. Thomas Dairy's reconstituted milk. That was when the coolers began to appear up front.
Marty his brother David, as well as Clark and Marty's son David, who is the store manager today, all expressed surprise that the majority of their customers have always been local St. Thomians.
"We always had community support," brother David said. "Our customers were our neighbors and friends."
He recalled when he was competing in the only Iron Man ever held on St. Thomas, running down Raphune Hill when someone hollered from the roadside. "I thought at first they were cheering me on."
But no.
"'When's the container coming in,' was what the guy was shouting from the sideline."
It was not cheap to fly food in from the states, but brother David said they tried to keep the costs down as much as they could. Expensive though it was to bring in produce, the store thrived and grew because, according to current manager David Goldberg, Marty's son, "We were able to provide the best quality at the best prices, while keeping up with the demands of our customers."
Part 2: Fruit Bowl expands
Fruit Bowl's Goldberg Presents Check on Shop's 45th Anniversary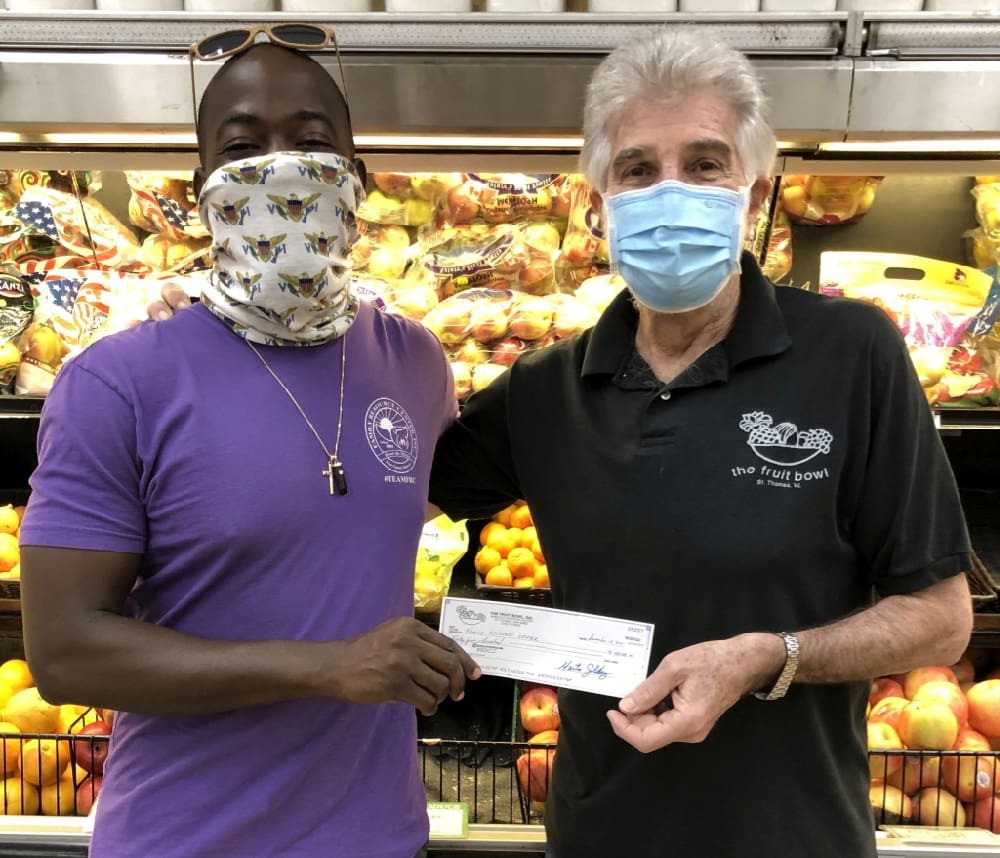 On Sunday, Dec. 13, 2020 – Fruit Bowl's 45th anniversary – Marty Goldberg presented a check for $4,500 to Vernon Araujo, development director of the Family Resource Center, as a part of the store's ongoing commitment to the community.
Araujo said the gift came at a time when the agency, which offers support services and shelter to survivors of domestic violence, was in particular need.