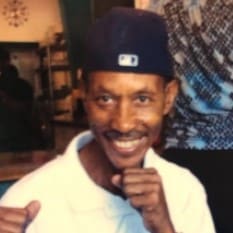 Edward E. Dalmida died on Tuesday, Sept. 8.
He was preceded in death by his mother, Glover Amanthis Dalmida; father, Emanuel Alexander Dalmida; and grandson, Corey Dalmida.
He was survived by his significant other, Dahlia Rojas Hyndman; son, Lester Dalmida; daughter, Lisa Dalmida Jones; son-in-law, Arthur Eugene Jones; grandchildren: Tyson and Aaron Jones, Chantele Dalmida, Ray Black, Ashmore Hyndman III, Ashani Hyndman, Akino, Amarie, Aniya, Asha, Adahlia and Aria Hyndman, Somaya Lettsome, and Amalia and Nikayla Richardson; and brothers: Alvin Dalmida Sr. (wife Sonia), Franklin Dalmida (wife Claudette), Cyril Dalmida (wife Charlene), Myron Dalmida (wife Marcia) and Carl Dalmida (special friend Altagracia).
He is also survived by aunts: Elfreda Wheatley-Jackson, Esmie Wheatley-Stevens, Ida Wheatley, Dr. Valeria Wheatley and Marissa Wheatley; special friends: Mavis Moorhead-Flemming and Roan Flemming, Ruth Vanterpool and Roy Vanterpool, Jimmy James and Headie Henry, Aaron Shelford and the entire WAPA family, especially the Water Department.
The first viewing will be from 3-5 p.m., Friday, Oct. 2, at Turnbull's Funeral Home. The second viewing will take place at 9 a.m. followed by a funeral service at 10 a.m., Friday, Oct. 3, at Turnbull's Funeral Home. Interment will be at VA Crypts in Smith Bay.