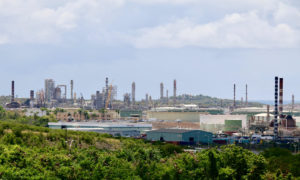 Asked Monday what it would take for the territory to go back to the "safer at home" restrictions, Gov. Albert Bryan Jr. said the most important thing now is to contain the outbreak spreading from the Limetree Bay refinery.
Failing that, after continued monitoring, the restrictions could be limited to St. Croix until the number of cases dies down.
"This situation, unfortunately, confirms our worst fears, but it is another example of how very real this virus is and the importance of our adherence to the health guidelines that have been put in place," he said at his weekly news briefing.
An additional 16 positive cases were confirmed Monday night – which Bryan talked about during the news conference – bringing the overall positive count up to 217 positive tests in the territory. Of that number, St. Croix has had 148 positive cases with 83 now active, while St. Thomas, St. John and Water Island have had 62 positive cases, of which 19 are now active.
Breaking down what's going on at Limetree Bay, the governor said of the 2,685 contractors there, 1,386 have been tested so far. Of that amount, 69 people, or 4.9 percent, have tested positive since July 1, which breaks down to 40 people who are living outside the refinery's Village housing community, and 29 inside the camp. These numbers do not include the 16 additional cases announced Monday night, which Bryan said were also related to Limetree.
Overall, about 985 contractors live inside the Village housing community at Limetree, while 1,700 live outside. Of those, 850 are St. Croix residents.
"As Limetree has increased testing now to over 300 people a day, the percent of positives has dropped from 10 to 5 percent," the governor said, adding that Limetree continues to test 100 percent of its population, is not allowing any new contractors to travel in, has temperature scanners at all entrances to the facility and housing and is continuing to contract trace throughout the community.
With government offices and businesses – including three restaurants on St. John – shutting down to clean after potential exposure to the virus, testing is also ramping up throughout the territory, with 670 tests conducted since Friday.
"In one single weekend we have tested almost one percent of our population," the governor said. "It took us three months to get to 2 percent, starting from March to the end of May."
From those tests, the positivity rate is 9.55 percent, which Bryan said puts the territory "on the boundary" of what the Centers for Disease Control deems "acceptable" for reopening.
Meanwhile, he said the influx of visitors into the territory continues and while there has been little spread as a result, the list of states whose passengers will be affected by local travel restrictions has grown, with Puerto Rico, Idaho and Kansas added. Travelers above the age of 15 from those states and territories must present test results showing they have tested negative for COVID-19 within 5 days of their arrival into the territory or face a possible 14-day quarantine if they do not test negative while here.
While Bryan described the cases as "manageable," especially with the additional equipment, ventilators and hospital beds added since March, he said government efforts will not be effective "without a community that works with us."
"You have to keep doing that to slow down the spread," he added.
Residents who believe they are at risk for the virus can reach out to the Health Department at 340-712-6299 or 340-776-1529.