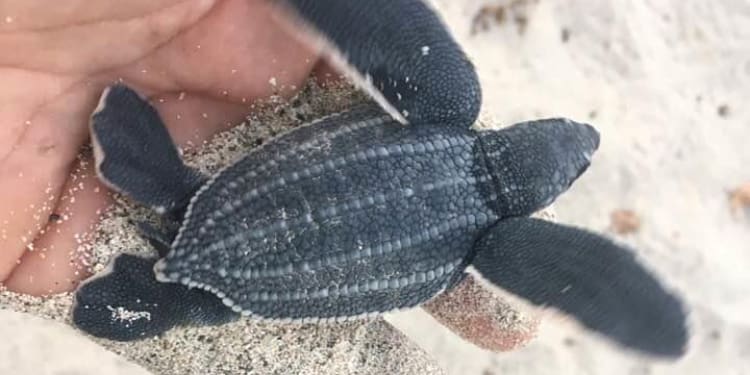 Baby sea turtles face many obstacles to their survival, and it was no different for the 50 leatherback hatchlings that emerged from a nest on July 1 at Hull Bay beach on St. Thomas.
About half of them were discovered early that morning by fisherman Mark Bistarkey, who posted photos on the What's Going on St. Thomas Facebook page with the note, "Found about 2 dozen that took a wrong turn with 10 of them under a streetlight. All made it to the ocean safely."
The hatchlings were disoriented by a bright streetlight on the beachfront road and instead of being guided by the moon to the sea, were drawn across the road to certain doom had they not been found by Bistarkey.
"I was shocked by how bright that light was. There was no way those turtles were not going to get lost," said Erica Palmer, a veterinary technician with Coral World Ocean Park and St. Thomas first responder with the nonprofit Sea Turtle Assistance and Rescue. Palmer excavated the leatherback sea turtle nest on July 2, collecting genetic samples for further research.
Nicole Angeli, director of the Department of Planning and Natural Resources' Division of Fish and Wildlife, said her office is aware of the problem.
"We're going to be coordinating on that with WAPA. We definitely think that's one of those areas that is a trouble spot," she said.
In fact, red LED lights were installed at eight locations in the territory deemed to be important nesting areas in a pilot program by the Virgin Islands Water and Power Authority, Fish and Wildlife and Coastal Zone Management in 2017, said Angeli. The lights are used so nesting mothers and baby sea turtles do not mistake them for the light of the moon.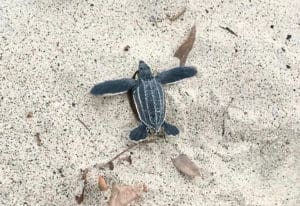 Seven of the LED light installations are on St. Croix, which each year boasts the largest number of sea turtle nests in the territory. One exists on St. Thomas, at Brewers Bay, though WAPA has targeted more locations – including Hull Bay. The others are Coki Point and Lindqvist beach, as well as Coral Bay and Cruz Bay on St. John.
The program was interrupted by the 2017 hurricanes, Irma and Maria, WAPA spokesman Jean Greaux Jr. said, but he added that the utility is committed to protecting the environment and will investigate installing a red light at Hull Bay to help protect future turtle hatchlings once it hears from DPNR.
"We are fully supportive of that effort," he said, as long as the lone road into and out of the beach remains safe for residents.
While some might fear that installing such lights could threaten human safety, a public information brochure produced by WAPA in 2019, "Keeping the USVI Sea Turtle Friendly," notes that "although we feel safer, the evidence suggests that brighter lighting on streets has no effect on violent crime." The brochure cites two studies: Steinbach et al., 2015. Journal of Epidemiology and Community Health, and Davies and Farrington, 2018. Criminology & Criminal Justice.
While there currently are no laws governing lighting and sea turtles in the territory, the turtles are designated as either threatened or endangered under the U.S. Endangered Species Act and the U.S. Virgin Islands Endangered and Indigenous Species Act, and it is illegal to harass them, said Angeli.
"Bright lights are considered harassment," she said, and beach-area homeowners and businesses are urged to angle or orient their lights so that they do not attract hatchlings.
From the time they hatch, the turtles have about 72 hours of energy reserves to make it out of the nest and to the deep ocean where their food sources are, Palmer said. "If they end up going the wrong way, by the next day if they haven't been found, they would be exhausted and spin in circles at the bottom of the light and bake in the sun."
"Lighting is a hazard, and we need to be conscious of it," said Palmer. "You don't have to sacrifice safety to deal with it. You can find that balance. It can be done."
Sea Turtle Information
According to the nonprofit Sea Turtle Assistance and Rescue, here is what you should do if you encounter a hatchling sea turtle:
– Do not interfere with their crawl to the sea;
– If the hatchling appears disoriented by beachfront lighting, place yourself between the hatchlings and the light source and ask for the lights to be turned off;
– Never photograph hatchlings;
– If you find hatchlings wandering in the daylight, place moist sand in a dry container, shade it, place the hatchling inside and call STAR at 340-690-0474;
– Report any violations or stranded, injured, trapped, disoriented or dead turtles to STAR at 340-690-0474 or the Virgin Islands Police Department at 911.