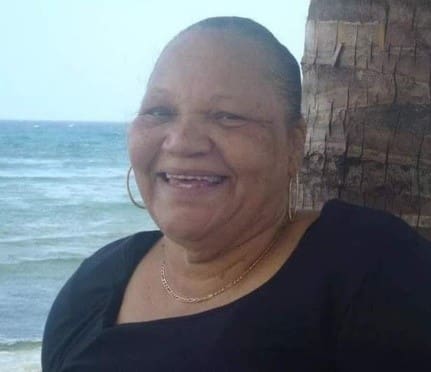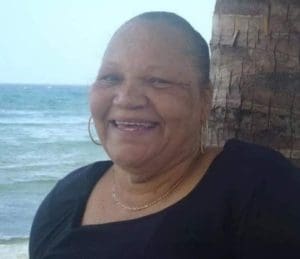 Daphne M. Bough of Estate Franjipani died on April 2.
She was preceded in death by her parents: Leroy and Ingerborg Blackwood; and brothers: Chester and Teddy Blackwood.
She is survived by her spouse, Eric "Larry" Bough; daughters: Dana and Danielle Rodriguez, and Desni Rodriguez Simmiolkjier; sons: Rasheld, Eric A. and Wayne Bough; eight grandchildren to include: Daniel and Desi Rodriguez, Lamont Adams, James Bennerson III and Tyler Bough; 10 great-grandchildren to include: Zion and Zurie Bennerson, Razaih Buntin and Damais Rodriguez; sisters: Veronica Blackwood and Elvira Dandridge; aunt, Janet King; and sisters-in-law: Angela Issac, Joyce Llanos and Suzette Bough James; daughters-in-law: Sonia Bough and Bridget Roseborough; and son-in-law, Victor Simmiolkjier;
She is also survived by close friends and relatives: Asta Evans and family, Elwood and Ruth Canton and family, Audrey King, Henrietta Lyle and family, Eleanor Barlow and family, Loretta and Adelle LaFranque, Phylis Pamminper, Esperanza Benali and family, Floyd Webb, Claire Roker and the V.I. Talented Teen family, Henry Schuster and family, Genevieve Allen and family, Richard Dorsey, Gloria Joseph, Judy Baker, Lorraine Gibbs, Charles and Audrey Farrell, Lorna Penn and family, Aileen Roebuck Biggs and family, the Solitude Beach Easter Camp family, Patricia Frorup and family, Dr. Olaf Hendricks and family, Mercedes Moorehead and family, Eulalie Pedersen and family, Linda Williams, Sheryl Jackson, Elroy Bascombe Sr. and family, Lucy Bough and family, Linda Bough and family, Wilfred "Bomba" Allick, Colin and Cleoda Moorhead and family, Germaine Armstrong and family, Shelley Thomas, Rowena Stridiron, Jane John, Lorraine Roumo and family, Pastor Williams and the Congregation of Lord God of Sabaoth Lutheran Church, Blackwood family, King family, Williams family, Henneman family and Hendricks family.
Other survivors include adopted daughters and sons: Radia James, Natalie Moorehead, Donna Ventura Benjamin, Donovan Remy, Lionel Williams Jr., Bevorn Goodwin, Orlando Gerard, Tremaine Seales, Leroy Edwards Jr., Elroy Bascombe Jr. and Juan "Pocholo" Concepcion; as well as other relatives and friends too numerous to mention. Special thanks go to Dr. Danté Galiber and staff, Dr. Angel Lake and staff and Juan F. Luis Hospital nurses.
A graveside service and burial will be held at 10 a.m., Friday, May 29, at Christiansted Cemetery. The family respectfully requests that attendees wear a face mask and adhere to the social distancing requirements.