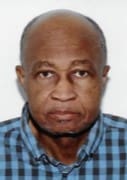 Conrad C. E. Ambrose, affectionately known as "Connie," died on Monday, May 11, at his residence. He was 62 years old.
Conrad C. Ambrose is survived by his children: Patrice Ambrose-Jones, Kadeem J. Ambrose, Aaliyah K. Ambrose, Calida' A.C. Ambrose and Matthew Ambrose Dottin; mother, Vernice Francis-Jarvis (Antigua); life partner, Jacqueline P. Francis; grandchildren: Kamiya and Karissa Ambrose; brothers: Everton Jarvis (Fla.) and Ras Ran Amon(N.C.); sisters: Sandra Jarvis-Lang (N.C.) and Norma Williams (Antigua); nephews: Sheldon and Llewellyn Lewis Jr. and Brandon Jarvis; and nieces: Kia Whitaker, Angie Jarvis and Isis Amon.
He is also survived by special cousins: Barbara Ambrose and Hilroy "Roy" Francis, and the Ambrose, Francis, Tonge, Wynter and Barnes families of Antigua; numerous other nieces and nephews, and a host of cousins and family-in-love; friends and extended families: Pastor Leroy Luke, Elmore " Tamo" Charles, Jerome "Jack" Hypolite, Earl King, Ivan Mills, Clifford Callwood, Patrick Williams, Charles and Daisy Hamilton, and many others too numerous to mention.
There will be a viewing held from 9-10 a.m., Friday, June 5, at Turnbull's Funeral Home. The funeral service will follow at 11 a.m. The body will be cremated. In lieu of flowers, donations can be made to Calida's and Aaliyah's education fund. Donations may be mailed to P.O. Box 305866, St. Thomas, V.I. 00803.