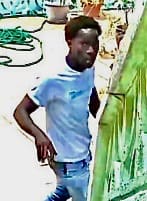 The V.I. Police Department and agents of the federal Bureau of Alcohol, Tobacco, Firearms and Explosives are searching for Nijohntea Walker, who is wanted for federal firearms violations.
There is a $5,000 reward for information leading to his arrest.
Walker is a 19-year-old male with black hair and brown eyes. He is known to frequent Jah Yard and the Hospital Ground area. Police warned that Walker is considered armed and dangerous.
Anyone with information can contact the VIPD Criminal Investigation Bureau at 340-774-2211 or the ATF at 202-702-7219.