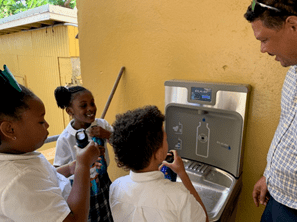 The Department of Planning and Natural Resources (DPNR) has launched the "Refill Bottles, Not Dumpsters" initiative. The initiative seeks to place water bottle fill stations in schools across the territory and provides outreach to students on how small actions have positive impacts on the reduction of waste heading to the landfill.
On Friday, Feb. 28, DPNR officially began the initiative with All Saints Cathedral School. In partnership with My Brother's Workshop, as well as a private donor, Kristina "Kitty" Edwards, who is the education and outreach coordinator for the Division of Coastal Zone Management, DPNR was able to provide every student with a reusable water bottle. It provided outreach on the role the students play as individuals in reducing single-use plastics from the waste stream.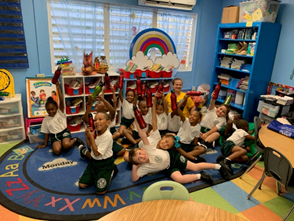 "I'd like to thank Mr. Hugh Arnold and the whole All Saints family for their partnership on this program. We are seeking to mirror this in all schools throughout the territory and look forward to working with each school to assist in their journeys to become more environmentally friendly and learn about waste reduction," said Commissioner Jean-Pierre Oriol.
Eligibility for this initiative requires certification as a V.I. Clean Coasts property, which includes elimination of polystyrene products from use on campus as well as a pledge to implement other environmentally friendly programs on campus.
For more information on the "Refill Bottles, Not Dumpsters" initiative or the V.I. Clean Coasts initiative, contact Edwards at 340- 774-3320 or by email at Kristina.edwards@dpnr.vi.gov.