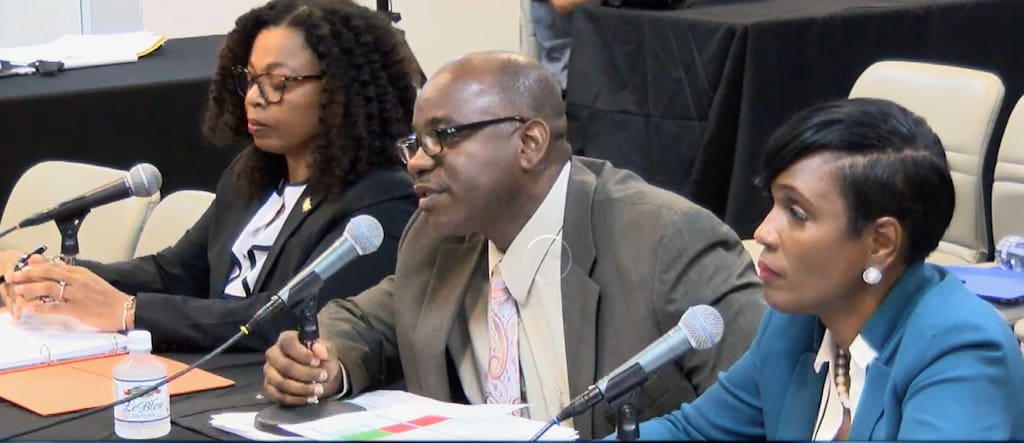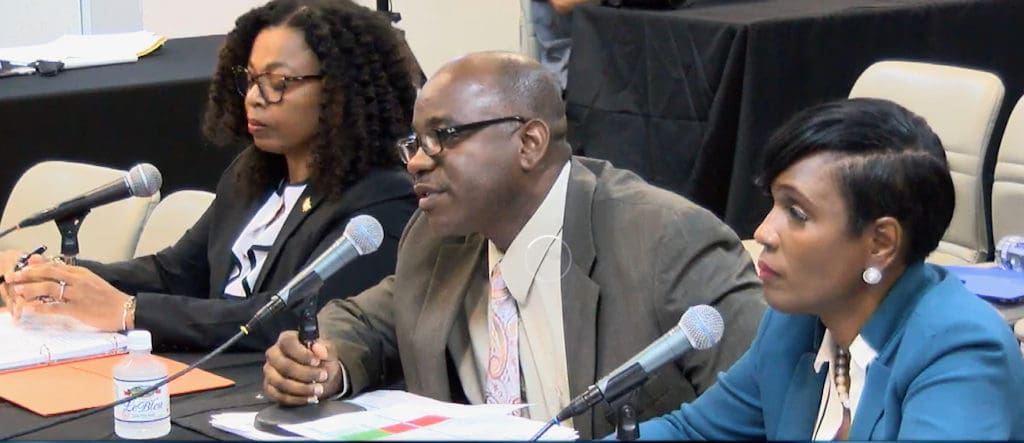 Attorney General Denise George once played a pivotal part in the Justice Department's White-collar Crime Unit when it was active and, reportedly, effective. However, as head of the Justice Department, her efforts to bring the unit back, have run up against demands from the Senate.
George made her first plea for the unit at her confirmation hearing, then followed with another effort at her agency's budget hearing. The funds she had in her budget proposal for a White-collar Crime Unit were cut.
Tuesday, she appeared before the Senate Finance Committee, testifying in support of a bill that would add an appropriation to her budget to form the unit at half of what she proposed in the original budget. But even at the lower amount, the bill did not go anywhere. It is stuck in committee because senators said they did not have the information they needed.
Sen. Kurt Vialet, who sponsored the bill, repeatedly asked how much recent pay raises in the department were costing the government but did not receive an answer with which he was happy.
Sen. Donna Frett-Gregory said she was "concerned about the numbers."
Sen. Janelle Sarauw said, "We are leaving here without knowing what you need and that is unacceptable."
Besides the question of pay raises, senators had questions about how many vacancies had been filled, how many were open and what savings might come from vacancies being open.
The effort, however, does not look dead. Vialet said it was up to the attorney general if it would move forward. He indicated he was willing to call a Finance Committee meeting an hour before the next Rules and Judiciary Committee meeting if the needed financial information was available.
George told senators the effort would help maintain integrity in government.
"In short, should today's measure be adopted, I would assure to this committee that I would make every effort to ensure that this division becomes the hallmark for promoting and maintaining integrity and honesty in government. Specifically, I would utilize the proposed funding to initially employ three prosecutors, two special agents and two litigation specialists, in addition to the existing director of white-collar crime," she said.
"For the past few years, this division has been virtually nonexistent. The staff previously assigned to this division either retired, transferred or they were fired," George said. "White-collar crime and public corruption can be devastating to our territory."
"If our public officials are not held accountable, then who is to say what disastrous impact that may have on public contracts and funding regarding our territory's roads and infrastructure, our public schools and institutions of higher education," George said. "The public health facilities and hospitals relied upon by our young, aging and ill residents; and, in general, the public perception as to how the Government of the Virgin Islands conducts its affairs."
Jenifer O'Neal, director of the Office of Management and Budget, testified that the 2020 request for the establishment of a white-collar unit was $1.7 million. She continued that her office and Justice had worked collaboratively "to have come to the point where an additional appropriation of $853,201" would work. This would take Justice's budget for the year from $12 million to $12.9 million.
Two other appropriation requests were attached to the bill to form the white-collar unit. There was an appropriation of $170,000 to conduct the 2020 Virgin Islands Health Care Insurance and Access Survey.
The second request is for $200,000 to cover a housing and services inventory that would review residential services provided to youth and adolescents, persons with disabilities and/or homeless, those requiring behavioral health and/or substance abuse services and elder care, which O'Neal said is important.
"The government needs a residential care facilities action plan; however, we must complete an inventory and assessment of what we currently have," she said.
Attending the hearing were Sens. Alicia Barnes, Marvin Blyden, Allison DeGazon, Novelle Francis Jr., Frett-Gregory, Oakland Benta, Kenneth Gittens, Sarauw and Vialet.