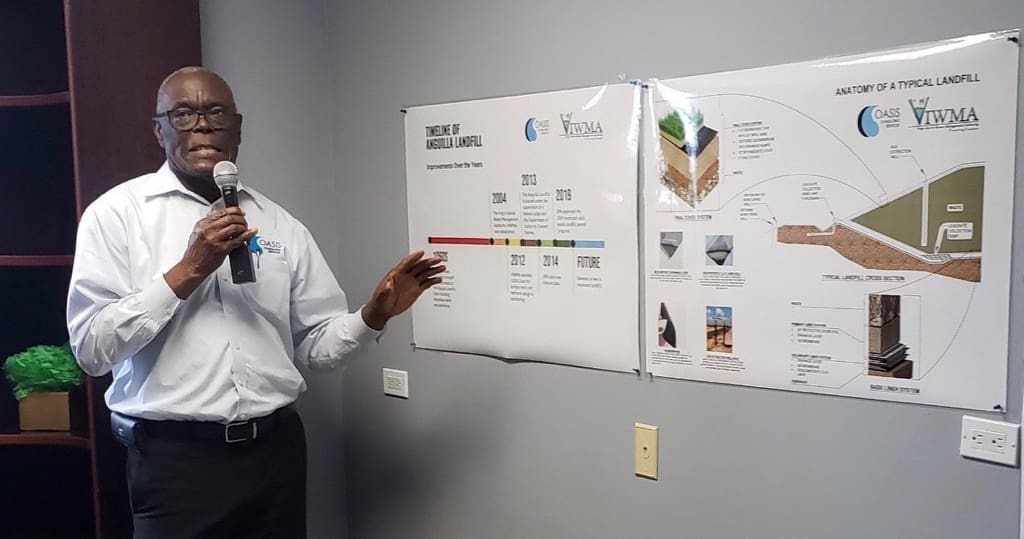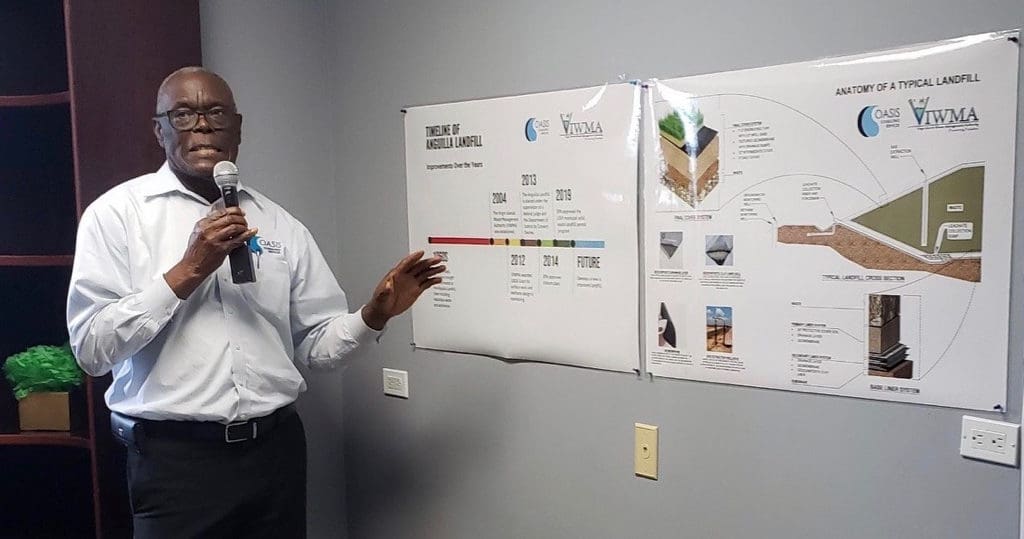 The V.I. Waste Management Authority has hired Oasis Consulting Services to design and help with closing Anguilla Landfill over the next year or so, while identifying and preparing a new St. Croix landfill location.
While Waste Management had identified land in Estate Pearl to use for the new landfill, Oasis plans to test several locations, to make sure it meets environmental requirements, company officials told reporters at a news conference in Estate Glynn on Tuesday.
The timeline, final location and funding source are to be announced.
The Anguilla Landfill opened in the 1950s and was run by the Department of Public Works until the Legislature created the Waste Management Authority in 2004. For more than 20 years, the Federal Aviation Administration has had issues with potential risks to planes from birds attracted to the landfill, which is very close to the St. Croix airport. Back in 1997 the FAA started an enforcement action, threatening fines and the loss of federal funds for airports unless the territory started baling trash and planning to shut down the landfill. The Environmental Protection Agency went to court for violations of the Clean Water Act and the landfill has been under court order to close since 2006.
The closure has been pushed off repeatedly, mostly due to lack of funding.
The Waste Management Authority gets most of its funding from the V.I. government. It reported a $44 million shortfall for the year during budget hearings in 2019.
Bond funds fell through in 2016 when lenders balked and declined to buy a U.S. Virgin Islands bond issue. Twin hurricanes in 2017 threw another wrench into the works – as well as a lot of waste into the landfill. That also brought a lot of potential federal funding.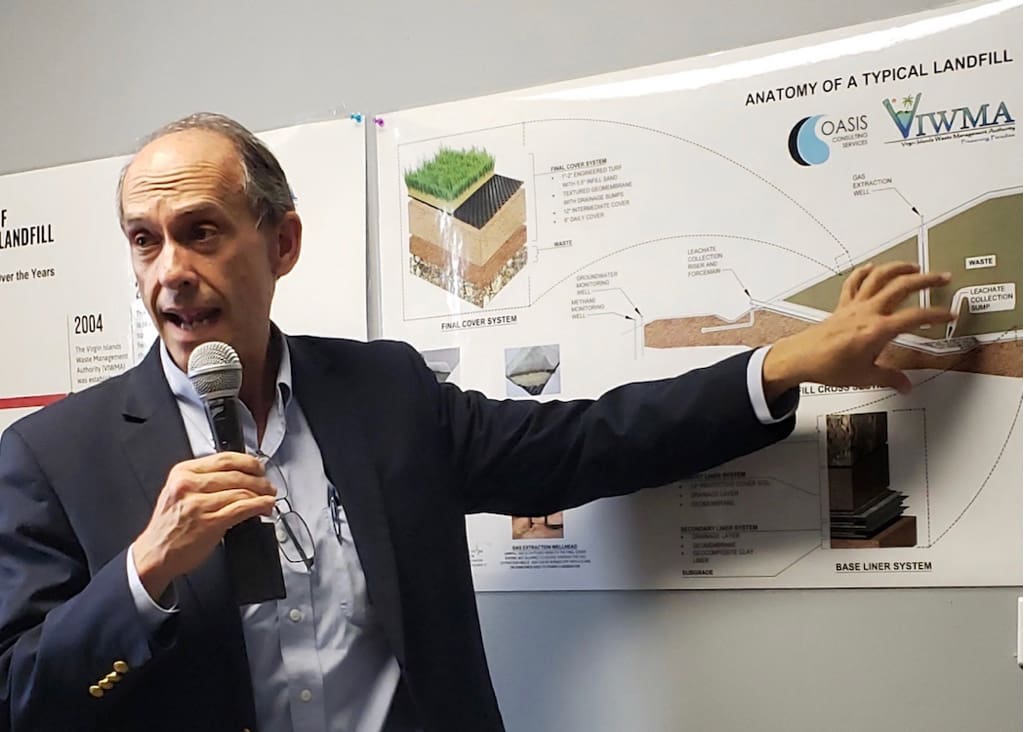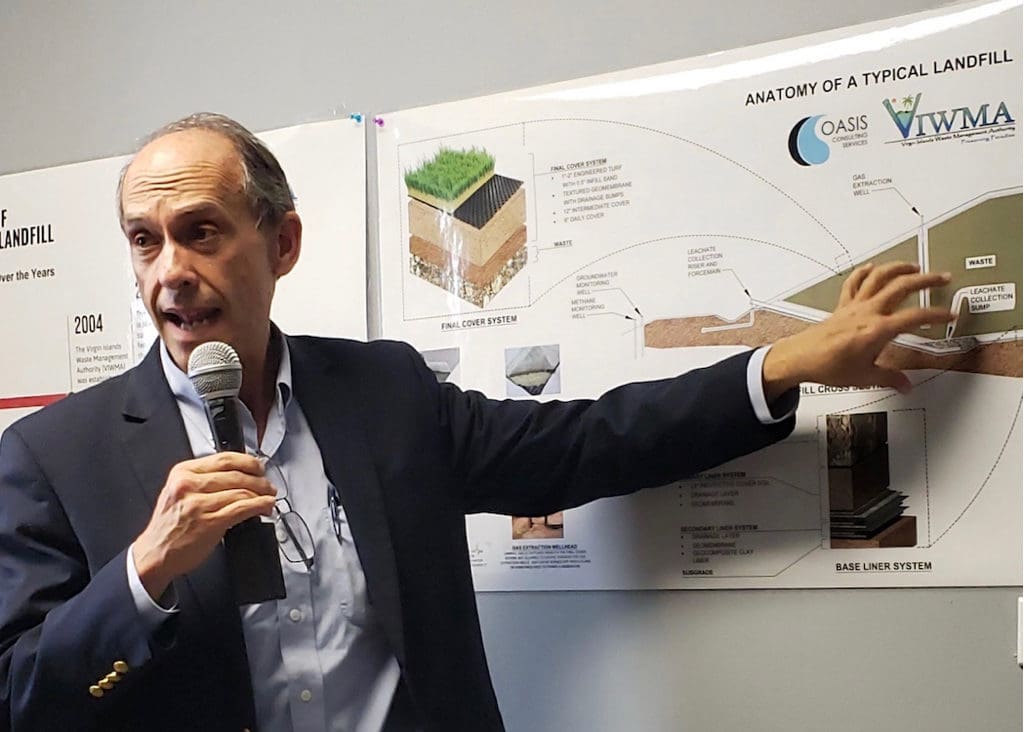 WMA officials gave no specific answers when asked about the funding source for the new closure and new landfill project.
Anguilla was supposed to close on Sept. 30, 2018, according to a court order.
Bovoni Landfill on St. Thomas is also slated to close.
Oasis Senior Vice President Glenn Wallace said the company came to the territory around 2013 to help with the landfill's bird problems and to eliminate chronic fires. According to Wallace, they have worked on more than 85 landfills in the USA, Puerto Rico and other locations.
The EPA approved a plan for closure in 2014, but there was no real action nor clear authority on permitting a new landfill, he said, until 2019 when the EPA gave that power to the territory's Department of Planning and Natural Resources.
According to Wallace, the design for closing the landfill calls for a two-foot soil cap on the landfill, topped with a synthetic barrier to stop rainwater from permeating it. He said it would be topped with "synthetic grass" which would "look beautiful" and give it some "esthetic value." The waterproof top would channel rainwater into sedimentation ponds. It will have a methane gas collecting system on top.
After closure, the plan is to open a new landfill.
"We have looked at some of the possibilities, like taking it off island," but the cost is prohibitive, he said. The island produces about 300 tons of trash per day and it costs about $280 per ton to ship it away for disposal, which would cost nearly $3 million per month, he said.
Griffin Wasdin, a senior geotechnical engineer at Oasis, said the first step is a study of potential sites, looking at factors like proximity to airports, surface features like sinkholes, existing ground faults and such.
Once a site has passed the initial requirements, Oasis will do a series of soil bores, drilling 70 to 80 feet down, looking at ground supportive strength, water permeability, seasonal variations in the water table and more, Wasdin said.
He said they will survey nearby wells and calculate how fast, in a worst-case scenario, a contaminant could potentially spread to drinking water.
"Now we are not going to let that happen," Wasdin said. Underneath the new landfill they will place two, redundant 16-mil vinyl barriers, each able to stop liquids from flowing. The landfill will drain to a sump, pumping to the nearby Anguilla wastewater treatment plant. Then under one vinyl barrier there will be a secondary pump system that will alert Waste Management there is a leak. Below that is the second vinyl barrier. And below all of it will be a layer of bentonite clay, which Wasdin said would swell up "just like kitty litter" and self-seal if liquids hit it.
They will also install monitoring wells, to regularly check for contamination in the groundwater, he said.
Before any work begins, the location and the plans will go through the local permitting process and there will be a public comment period, Oasis officials said.
When asked about a timeline, Michael Monteleone, vice president of strategic business development at Oasis Consulting, said Anguilla is "very close to closure in terms of the amount of material that can go in there." But he added "we don't have an exact timeline."
The site suitability study is "going forward at this point," he said.
"We know we are on a very tight timeline and so it will have to be wrapped up pretty soon," he said.