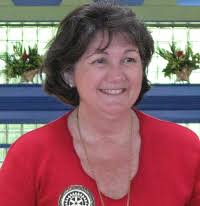 At its August annual meeting in Austin, Texas, the Council of State Archivists recognized the disaster response leadership of Susan Laura Lugo, the retired territorial archivist of the U.S. Virgin Islands, following hurricanes Irma and Maria.
The council, whose membership consists of the heads of the state and territorial government archives of the 56 U.S. states, territories and the District of Columbia, announced that Lugo was presented the Council of State Archivists' President's Award in appreciation for her disaster response and recovery work with archives, libraries, museums and other cultural heritage organizations in the U.S.V.I. in the aftermath of the 2017 storms.
Lugo served as the assistant director and territorial archivist in the Division of Libraries, Archives and Museums of the Virgin Islands Department of Planning and Natural Resources before retiring in June 2017. After the storms, she provided voluntary consultations, professional guidance and educational resources to the Virgin Islands community of heritage collection caregivers and custodians. Eventually, Lugo was hired by the Federal Emergency Management Agency (FEMA) as its Heritage Emergency National Task Force (HENTF) liaison for Virgin Islands disasters and served in that role for a year.
In announcing the award, Council President John Dougan, Missouri State Archivist, noted the importance of Virgin Islands cultural heritage to residents and to the nation; he underscored the special preservation challenges of island environments, which require particular vigilance.
"In every respect, Susan Laura Lugo understands these challenges," said Council Executive Director Barbara Teague. "She can mobilize efforts and offer expertise and encouragement. She is a consummate professional."
The Council of State Archivists also awarded A President's Award to Lori Foley, administrator of the national HENTF program, co-directed by FEMA and the Smithsonian Institution, for her remarkable and dedicated post-disaster cultural heritage work in Puerto Rico and the U.S. Virgin Islands, and to FEMA for its recognition of the importance of state and territorial archives and other cultural heritage resources in its federal disaster planning, response and recovery efforts.