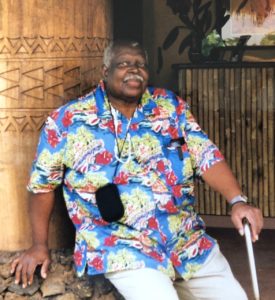 Cecil George, affectionately known as "CG," died on June 5 at Schneider Regional Medical Center. He was 92 years old.
He is survived by his son, James "Ricky" George; daughter: Dr. Nathalie George Johnson; son-in-law, Dr. William Johnson; grandson, Ahki Johnson; granddaughter, Noelani Johnson; granddaughter-in-law, Ife Johnson; brothers: Roland George and Raymond George; sisters-in-law: Betty George, Diane George; and nieces: Clarice Marchena, Beverly Vessup, Teryle Turnbull, Roslyn Henry, Yulette George, Lynne Dorsey and Dr. Jeannine George.
He is also survived by nephews: Ruel Vessup, Roland Henry, Reuben George, Jermaine Jede George, Galen George and Sadeo George; and great nieces: Yanique Hodge Swan, Tameka DeWindt Vanterpool, Shaneil Turnbull Johnson, Lynnique Hodge, Courtney Henry, Mariama Henry Law, Chanell Mc Cants, Celine Robinson, Nyah Robinson, Jordan Dorsey, Sydney Richardson, Janelle George and Sia Enamarie George.
Other survivors include great nephews: Garnett Hodge, Franklin Hodge Jr., Tiant DeWindt, Tavis DeWindt, Jaren Turnbull, Roland Binky Henry, Steffon George, Dakari George, Jaire Dorsey, Jaelen, Shemaiah George, Sadeo T. George and Nunu George; other family: David, DeGraff, Francis, George, Johnson, Vessup, Moolenaar, Dossett, Morales, Battiste, Duran, VanBeverhoudt, Millin, Moron and Delagarde families; as well as many treasured cousins and valued friends, Ruth E. Thomas and the Nisky Moravian Church Family.
Relatives and friends are respectfully invited to the viewing at 9 a.m. to be followed by the funeral service at 10 a.m., Friday, June 21, at Nisky Moravian Church. Interment will be at Western Cemetery No. 1.
Arrangements are under the care of Dan Hurley Home for Funerals and Cremation Center of St. Thomas, St. John and St. Croix.
For online directions and condolences, please visit us at www.hurleydavisfuneralhome.com