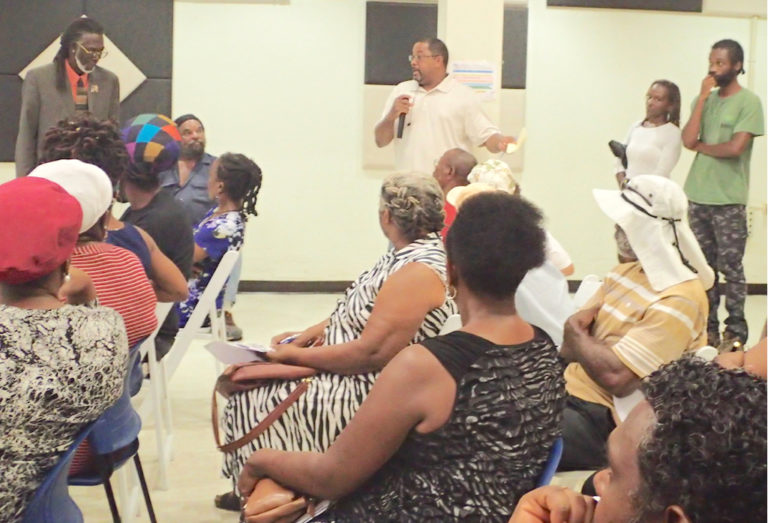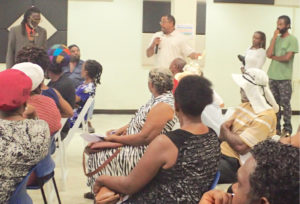 After introducing the managing staff of the V.I. Department of Agriculture Tuesday evening, Commissioner designee Positive T. A. Nelson listened to farmers voice their concerns, and tasked the department with finding solutions for some of their perpetual problems.
The meeting for farmers at the University of the Virgin Islands Great Hall on St. Croix drew an audience of around 100 participants. The event will also be held Thursday on St. Thomas from 6 p.m. to 8 p.m. at the Small Business Development Center.
Cattle farmer Edward Schuster was the first member of the audience to speak listing challenges he and others face. He first asked whether or not the water in the island's ponds was safe for his cattle to drink. He is concerned that two years after the hurricanes, rainwater continues to back up septic tanks and eventually flows into the animals' water sources.
Nelson was not able to assure him that was not the case. In fact, Nelson said he plans to talk to the Legislature about a bigger problem – the possibility that refuse from septics may be flowing into the sea, as well.
Schuster complained that dams have not been cleaned in 50 years and his pasture is being contaminated with weeds when it is mowed by the Agriculture department staff who don't clean the blades.
He also asked what is being done about the red boas populating the west end of the island, and about stray dogs that kill livestock. Nelson said the V.I. Department of Planning and Natural Resources has a program to take care of the snakes.
More than one farmer said they also have been plagued by dog packs, and Wayne Osborne said, "Cattle are terrorizing my place."
Other questions were about pollution, applying for grants and getting high quality mulch on the island.
Nelson started the forum saying the department's goals include increasing the food supply, monitoring water sources and getting young people interested in the profession.
"I hope to make you feel inspired again – to make a serious effort in the food supply of the Virgin Islands," he said.
Diana Callwood, assistant commissioner-designee, added goals of providing training and technical assistance for farmers.
Roberto James, property manager, talked about leaseholder responsibilities, funding opportunities and education.
"We're going to blaze a trail and provide all the training you need," James said.
Dr. Bethany Bradford is the DOA veterinarian and a farmer. She said that one acre of pasture can support one cow, 10 goats or 10 sheep. She suggested steps to prepare for a dry season, including fencing livestock, castrating and selling animals that the farmer can't care for.
"Starving is not OK. Cut down the herd before they are too skinny to slaughter," Bradford recommended.
After the 2017 hurricanes, the crop farmers couldn't get back on their feet because there were so many horses, sheep, pigs and cows running loose, Bradford commented.
Billy Abraham of the marketing division said his goal is to get farmers producing crops on a schedule so there is a continuous supply. His department has paid as much as $3,000 for a consistent weekly supply of cucumbers.
Along with training programs, the marketing division manages a WIC program that paid farmers $44,000 last year for fresh produce for mothers of infants under the V.I. Human Services program.
Produce for the Gov. Juan Luis Hospital cafeteria, bee keeper training and composting are additional planned activities, not yet launched, Abraham said.
Louis Hilgemann, head of the forestry division, encouraged non-profit organizations, government agencies and schools to apply for federal grants up to $20,000 for "anything related to trees." His personal wish is for someone to replant trees along Centerline Road that were destroyed during the storms.
Hilgemann said the trucks currently crossing the island cutting trees are only supposed to remove dead branches. Anyone that sees a tree coming down should call the department.
Other DOA managers who spoke about their divisions were Victor Murray, who talked about land preparation services, Cardinal Richardson, who gave abattoir prices and hours, and horticulture's C. Farrelly, who said there are seedlings, soil, fertilizer and feed for sale once again.
Velda Hendricks, of the schools and satellite farms division, asked agriculturalists to consider adopting a school and making their farms available for school tours.
Nelson also introduced Amy Dreves, manager of UVI's pest safety education program, who invited people to call her about pests and pesticides.
At the end of the DOA presentation, Nelson encouraged farmers to "turn it up," and asked people who want to be considered for members of the Agriculture board and fair board to contact him.