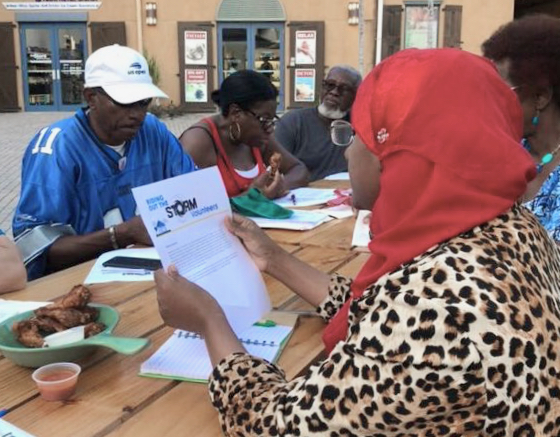 Imagine living on the mainland and wondering if your family or loved ones on the ground in the territory have made it safely through a hurricane. How do you communicate with them when the lines are down? How can you help get them to safety if you're not here?
A new non-profit group aims to bring families peace of mind by assembling a group of volunteers that will literally "ride out the storm" with senior citizens and residents with disabilities living on island. According to organizers, that also means helping to plan out food for those with dietary needs, assembling medications or working out evacuation plans if necessary.
Each volunteer will also be equipped with a FirstNet phone to allow for communication with first responders in case of emergencies.
According to organizers and AT&T, FirstNet is the nationwide public safety communications platform dedicated to U.S. first responders. The public-private partnership brings together the First Responder Network Authority and AT&T, and the platform allows for communication across a separate, dedicated frequency that would give the group access to the emergency services each resident needs.
Organizer Bruce Flamon says the group's non-profit paperwork was filed this week, which would allow for volunteers to have access to the FirstNet phones. Two meetings have so far been held on St. Thomas to recruit volunteers, and Flamon said that so far, partnerships have been formed with the Federal Emergency Management Agency, the V.I. Emergency Management Agency, officers within the V.I. Police Department who will conduct background checks on all volunteers and local churches, which could serve as larger outposts for groups of elderly and residents with disabilities.
Flamon and organizer Shareena Smith also explained that VITEMA would train the volunteers, along with Julien Henley, the territorial Americans with Disabilities Act coordinator. VITEMA has a three-day course that offers training in CPR and emergency response, and Flamon said each volunteer would be required to participate.
"We've had great turnouts at both meetings so far," Flamon said after a gathering Tuesday night at Yacht Haven Grande. "We even had volunteers and organizations call in from St. Croix who want to make this a territory-wide effort, so we're working to see how we can make that happen."
Flamon said the group is also looking at how to make possible a recommendation from VITEMA, which suggested that the group's services also be expanded to include women who are pregnant.
"We're putting everything in place and trying to keep the 'pedal to the metal' because we know that a storm can come out of nowhere and we want to be ready," he said.
Those interested can get more information or volunteer by calling 340-513-4041.