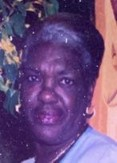 Rehenia Almira Fredericks Monsanto Latortue died on March 9.
She is survived by her children: Vance, Eugene, Vernon, Raymond and Ruby Monsanto-Bloice; sisters: Gertrude, Ida, Bernice and Vera Fredericks; daughter-in-law, Francis Monsanto; son-in-law, Sylvunus Bloice; and granddaughters: Kim Monsanto-Ferdinand, Kisha Monsanto-Johnson, Kema Monsanto-Carty, Ambi Monsanto-Blyden, Ebony, Rina Di', Verna, Vinell, Venise, Vernise, Elisha Monsanto, Tiffany Claude and Shetalia Miller-Carter.
She is also survived by grandsons: Roland, Kraig, Kory, Kyle, Jon, Vance Jr., Vern, Vince, Claudell, Timothy Sr., Ambo Sr., Emile, Roshan Sr., Eugene Monsanto Jr., Rudel Hart Sr., Charles Todman Jr. and Kasey Harvey; and great-granddaughters: Harmoni Baron, Jeminie Niles, Makema and Ma'Lanja Carty, Rudisha and Runieq Hart, Deja, De'Janae and Shamora Todman, Keithra Evans, Jh'nell Jackson, Te'Naisha Shoy, Ty'Eisha, Tae'Jah and Ty'Asia Mills, Kimya Carter, Monae' Blyden, Kianna, Ki'Niqua, Alyson, De'Avian, A'Myia, Jsenai, Kaela and Kyla Monsanto.
Other survivors include great-grandsons: Henry Baron Jr., Kaleed, Kimoi and Michael Ferdinand Jr., Craig Joseph, Kaleem Moolenaar, Tyriq Mills, Kasim Upchurch, Sheyden Carter, Shamar, Jahkoi, Rocoy and Rudel Hart Jr., Malachi Flucker, Zeff Blyden Jr., Tasheem, Elijah, Jahkoy, Timothy Jr., Andrae, Roshan Jr., Deshan, Ra'Zaan, Ambo Jr. and Emile J. Monsanto; and great-great-grand kids: Hajari and Hajani Baron, Raelyn and Kennedi Evans, A'Niyah Moolenaar and Josiah Joseph.
The first viewing will be held at 5 p.m., Thursday, March 28, at Turnbull's Funeral Home. The second viewing will take place at 8:30 a.m. followed by the funeral service at 10 a.m., Friday, March 29, at New Herrnhut Moravian Church. Interment will be at Brookman Cemetery.