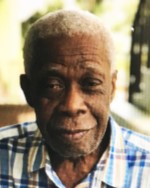 Valentine "Patchy" Hodge was born June 28, 1940, and he was called home on March 2.
The first viewing will be held from 5-7 p.m., Friday, March 22, at Turnbull's Funeral Home and Crematory Service. The second viewing will be held at 9 a.m., followed by a funeral service at 10 a.m., Saturday, March 23, at Christchurch Methodist Church. Interment is at Western Cemetery No. 2.
He is survived by his sister, Valberg Reovan; son, Frederick Hodge; daughter, Angela Thomas; grandchildren: Byron and Qiana Thomas; and great-granddaughter, Imani Homer.