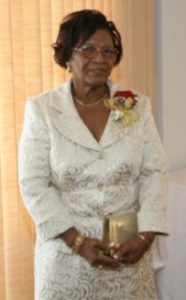 Joyce Juanita Battiste Clarke, age 86, of St. Thomas, U. S. Virgin Islands died on Tuesday, Feb. 26, in Florida.
Joyce Juanita Battiste Clarke was predeceased by her husband, Clarence A. Clarke.
She is survived by her stepmother, Muriel J. Battiste (Ga.); cousins: Leona B. Wheatley and Leonard "Brother" Bonelli; daughters: Stephanie Richards, Elma "Lulu" Brunson, Merle Herbert-Sasso, Beverly Clarke-Hodge, Fern P. Clarke and Joycelyn "Erie" Petersen; sons: Rudolph "Rudy" Clarke, Edwin "Mugabe" Clarke and Clarence "Junie" Clarke; adopted sons: Reynold Fraser and Keith "Mawuli" Benjamin; sons-in-law: Elvin "Lockhard" Hodge and Will "PeeWee" Petersen; and grandchildren: Donne, Kareem, Shamoi, Anwar, Ebony, Tiffani, Rossi, Erin, Kandi, Tamara, Will Jr., LaToya, Carla, Kyshma, Kyche'le, Dae'Shaun, DaeVaughn, Dae'Trel, Amelia, David, Keith, Khalief, Kha'liyah, Kha'lisha, Kha'Mari, Kyra, Raven, Karima and Sadejah.
She is also survived by 25 great-grandchildren; great-great-grandchild, Sharmol "Joe;" 14 sisters: Beryl Battiste, Delphine Lewis, Luella LaFranque, Louise Felix, Leonile LaFranque, Eugenie LaFranque, Madeline Bloice, Lillian Ishaan, Rose Moore ,Dolores Colman, Marie Battiste, Amy VanderBreggen, Leona Marks, Deborah Battiste-Mallory; two brothers: Leon Battiste Sr. and Alvin "Al" Battiste; sisters-in-law: Eleanor Battiste, Nieta Battiste and Patricia Battiste; brothers-in-law: Emile Lewis, Leroy Bloice, Levi Moore, Kenneth VanderBreggen, Randolph Marks and Michael Mallory; a host of nieces, nephews, great nieces, great nephews, great-great nieces, great-great nephews, cousins, godchildren, children of Idalia Richards, the Sanjurjo family, friends, members of We From Upstreet and Party Hardy Carolers.
The Celebration of Life and Funeral Service of Joyce Juanita Battiste Clarke will take place on Saturday, March 16, at Reformation Lutheran Church, Anna's Retreat, St. Thomas. The viewing will take place at 8-10 a.m. with services to follow immediately afterwards. Burial will be in Western Cemetery No. 2.