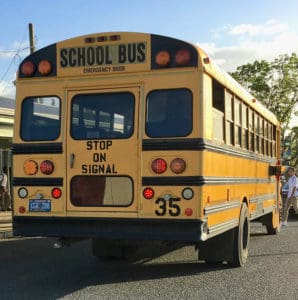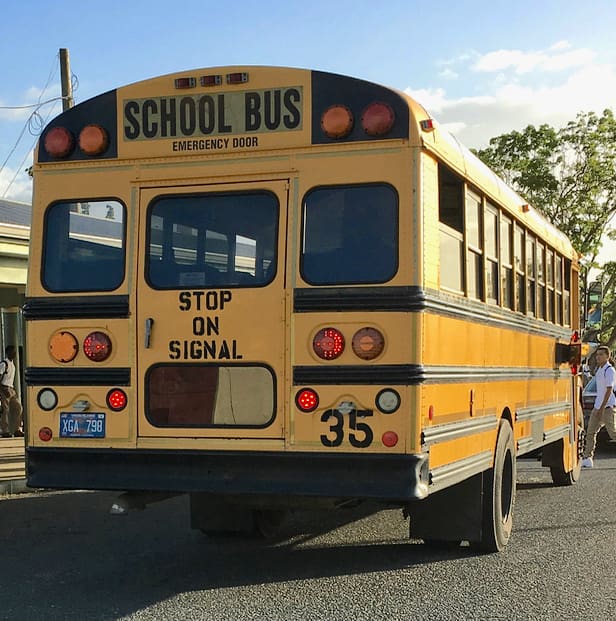 Staff and students of both John H. Woodson Jr. High School and Arthur A. Richards Jr. High School, which is temporarily housed on the Woodson campus, went home Wednesday due to complaints of a foul odor and will stay closed until around Jan. 16 pending air testing.
"It was affecting students, faculty and staff. With a majority of complaints we just wanted to take precautions. If the students and staff are that uncomfortable we want to take heed and make sure their needs are met," Education Department spokesperson Keva Muller said in a phone call Wednesday.
There were complaints of an odor and skin irritation.
Wednesday afternoon, the Education Department issued a statement saying acting Education Commissioner Dionne Wells-Hedrington directed the campus to be closed for testing after a walk-through with school, Government House, and Education officials and a representative from ADCON Environmental. Services.
Test results for air quality, mold spores, chemicals and other possible airborne allergens are expected seven days later, around Jan. 16. According to the Education Department, the Woodson campus will be sanitized over the weekend as an extra measure of safety.
Acting Insular Superintendent of the St. Croix District Maria Encarnacion and acting Deputy Superintendent Ericilda Ottley-Herman will hold informational meetings for parents of both junior high schools on Saturday, Jan. 12 at the following locations:
– Arthur A. Richards Jr. High School parents: 10-11 a.m. at Alexander Henderson Elementary School auditorium.
– John H. Woodson Jr. High School parents: 12-1 p.m. at Alfredo Andrews Elementary School auditorium.
On Friday, Jan. 11, Encarnacion and Ottley-Herman will hold informational meetings for Woodson and Richards staff at the Ricardo Richards Elementary School auditorium:
– John H. Woodson Jr. High School staff: 11 a.m. – 12 p.m.
– Arthur A. Richards Jr. High School staff: 12:30-1:30 p.m.
The schools are preparing educational materials, which will include online resources for students to access in order to remain engaged in the learning process during the closures.
This is the latest in a long series of school and government offices closed due to odors. A search of V.I. Source archives found St. Croix schools have closed around 10 times as often due to odor than St. Thomas schools, with repeated closures of St. Croix Central High, a few closures of St. Croix Educational Complex and, more rarely, closures of Woodson, Charles H. Emanuel Elementary and Alexander Henderson Elementary.
But on Dec. 8, 2014, Bertha C. Boschulte Middle School was dismissed "due to a foul odor in the surrounding area." And other government offices close for odors at more similar rates.
St. Croix Educational Complex employees and students went home for a day in April due to a "gassy smell." Complex also sent employees and students home in December 2017 for the same reason. No hazard was located or identified in either case. A worker at the school who spoke on the condition of anonymity said there have been gassy smells on campus at least three times this school year, with the smell coming from the east.
In August 2017, the St. Croix Elections Office closed for awhile and temporarily relocated after complaints of fumes from a generator being cleaned. The generator was not in the elections office but in a shed behind a neighboring business that remained open.
The office remained closed until ADCON Environmental Services performs an air quality check and determined the air was safe.
Alexander Henderson Elementary School in Frederiksted closed for over a month in 2015 due to musty smells.
Three times, in 2015 and early 2016, police officers who work at the Alexander A. Farrelly Justice Center in downtown Charlotte Amalie on St. Thomas complained of a foul odor in the building. The facility remained open. The federal Occupational Safety and Health Administration investigated the most recent incident and identified clogged toilets as the culprit.
A stench produced by rotting seaweed prompted the Division of Fish and Wildlife to temporarily move its offices on St. Thomas in 2017.
Seaweed stenches have caused problems on several occasions on St. Thomas and St. John, but did not cause the closure of any offices.
St. Croix Central High was dismissed repeatedly in 2014 and had numerous students go to the hospital for treatment after reports of fouls odors and noxious fumes. Hovensa had ceased operations by this time. Extensive and repeated investigation by the Department of Health, Department of Planning and Natural Resources and U.S. Environmental Protection Agency found low levels of sewer gas from cracked, stagnant sewer pipes in the area to be the only potential source. There were concerns about a potential propane leak and a minor leak was found and repaired.
On one occasion, a large number of students and school employees went to the hospital for treatment, with reports of burning eyes, nausea and vomiting. A Source reporter sent to the scene on that day was able to detect a faint whiff of a sewer smell and on the day of another school closure could not detect any smell. As students boarded buses to leave one student, who did not want to be named, told the reporter the smell was noticeable but not severe and had dissipated, but that students and staff just wanted to leave. Others said the smell had been more severe earlier.
A government task force found smelly – and potentially dangerous – hydrogen sulfide gas leaking out of a buried sewer line not far from the school. According to the task force's report, investigators tracked hydrogen sulfide through the system, finding it in places inside the sewer higher than 600 parts per million. While no one would normally be in the sewer, the report found over 50 parts per million in the nearby V.I. Superior Court building on St. Croix, which is well above U.S. Occupational Health and Safety Administration guidelines, which rate amounts higher than 100 parts per million as "immediately dangerous to life and health." Amounts between 5 ppm and 30 ppm may be "moderately irritating to the eyes."
In October 2013, Frederiksted Health Care closed twice due to odors. The first time, the smell was attributed to a possible propane leak a few blocks away. The second time, "inspectors searched both he building and surrounding area for the source of the smell, but the odor had dissipated and officials were unable to trace it," the Source reported at the time.
On May 13, 2011, three St. Croix schools closed due to an odor. The next day, 12 St. Croix public schools, 10 Head Start classrooms and many Human Services offices were closed closed on a Friday when fumes affected areas including Frederiksted and much of the central part of the island. No cause was identified but many blamed the Hovensa refinery. Private businesses remained open.
In June 2010, St. Croix's Charles Harwood Complex, a medical facility of the V.I. Department of Health, shut down for two and a half days due to "a malodorous episode exacerbated by last weekend's power outage on that island."
The Florence Williams Library in Christiansted closed for an indefinite period starting in September 2009 due to the smell of hydraulic fluid from a mechanical problem in its elevator.
In July 2006, DPNR offices on St. Thomas closed due to a "chemical smell" from the air conditioning vents, then again in October due to a sewage smell from a nearby sewage treatment plant.
In November 2003, the St. Croix Bureau of Motor Vehicles closed for a day due to "chemical-diesel smell."