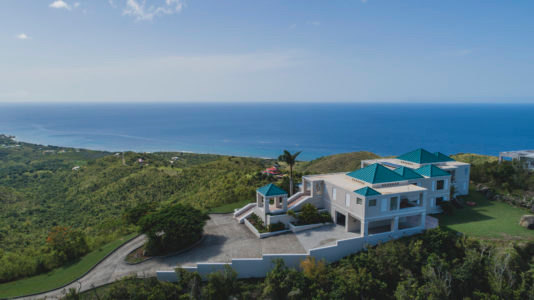 The Virgin Islands real estate sales market is healthy and back to normal after taking a temporary hit from the 2017 hurricanes. That's the word from several industry veterans, across the territory.
In general, "the market has been very, very, very strong," said April Newland, a St. Thomas-based Realtor. "A lot of people have been buying."
From St. John, where Elissa Rock Runyon has been doing property appraisals for decades, "It looks good. Houses are selling very well. Prices are holding."
"We are as busy as we were the day before the storm hit," said Chris Hanley of Chris Hanley Real Estate on St. Croix.
The big island had suffered in the mid-2000s after the Hess Oil Virgin Islands refinery closed, but Hanley said, "The market was on the upswing when the hurricanes hit" in September 2017.
Some people predicted it would crash in the wake of the storms because of a paralyzing fear of future disasters. Others thought there would be a lot of sales as people rushed to pick up damaged property at bargain prices. Neither happened in a significant way, according to Hanley.
"The market just sort of went sideways" for about six months, he said. There was very little happening. With electricity out, communications down, and government offices closed, it was hard to find a lawyer to handle a sale and impossible to pay a stamp tax, process deeds or record a transaction. The industry was pretty much at a standstill. But as the islands began operating again, "the market revealed itself. … It picked up where it left off."
Housing prices are robust in part because the market is not overloaded.
"There's not a lot of inventory, that's it," Newland said.
Unlike after Hurricanes Hugo in 1989 and Marilyn in 1995, Newland said homeowners aren't over-anxious to sell so they can flee the territory. Instead, they are fixing up their homes and staying put.
Hanley and Runyon described similar situations on their home islands.
"We had damage," to many properties, Runyon said, "but people were not just going to give it away."
Hanley said home sales on St. Croix are most active in the low to mid-price range, up to $750,000.
"Once you get up to a million, it dies off pretty quickly."
Newland said on St. Thomas she's seeing strength in sales across the economic board. In the last 12 months, there were 132 houses sold, ranging in price from $214,000 to $3.1 million, and 102 condominiums, ranging from $53,000 to $800,000. She also reported 45 lot sales. Commercial property sales, she said, are lagging; there were only nine in the past 12 months, and their prices ran between $50,000 and $2.4 million.
On St. John, "land is not selling" Runyon said, but that has been the case for many years and she attributes it to many factors that are not necessarily storm-related: Building costs are high, it's difficult to get materials into the island and the building permit process takes a long time.
Overall, real estate sales are surprisingly good, she said.
"Restoration is doing pretty well," and that makes for a healthy environment.
While the storms seem to have had limited long-term impact on home sales, both Newland and Hanley said there has been a notable change in the housing rental market due to the influx of building contractors and of FEMA workers from off-island.
Currently there are 135 FEMA workers from the mainland living and working in the Virgin Islands, 103 of them on St. Croix and 32 on St. Thomas, according to FEMA staffer Sharee Ross. The FEMA per diem rate on St. Croix is $247 off-season and $299 in-season – that is, the winter tourism months. On St. Thomas, the rates are $249 and $339, respectively.
The per diem rates were based on average, per night, hotel rates on the two islands. But there aren't enough hotel rooms available, and enterprising home owners are devoting parts or all of their property to short-term rentals to accommodate the FEMA workers.
Some have even purchased houses to convert them into rentals. Newland gave an example of a person who bought a five-bedroom house for $1.3 million, put in a sixth bedroom, and rented it out to multiple workers.
"They're getting $50,000 a month," she said. If you take the daily rates, times six renters, it comes to a little more than that even, but a house may not bee 100 percent full every day, every month.
"We're seeing a crazy increase in rental prices," Hanley said, adding "that's another windfall for some property owners" although he noted that landlords are also taking a bit of a risk. The rates apply only while a FEMA worker actually occupies a space. If, for instance, a worker goes to the mainland for the holidays, he doesn't pay for the time he is off-island, whether or not the landlord holds the space for him.
"We've got a lot of money coming in here," Newland said. The downside, both she and Hanley noted, is that short-term residents who are not FEMA employees – such as bartenders, waitresses, and some teachers – are being squeezed out.
"We've lost some people who can't afford to pay the rents," Hanley said.
"A lot of renters left," Newland said.
The situation is not caused solely by FEMA per diem rates. On St. Thomas "We've got a lot of contractors" and they'll be working for several years, rebuilding schools and hospitals, Newland said. On St. Croix, an influx of some 1,200 workers is expected when the refinery opens, Hanley said, and the camp that is supposed to house them isn't ready yet.
Eventually, Hanley predicted, rental prices will resettle, but he predicted it could take at least a year.
Correction: The price of the example home was initially incorrect. It was purchased for $1.3 million.