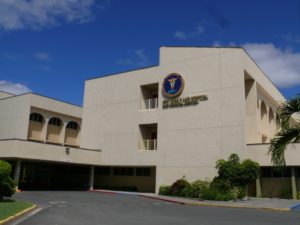 With only three board members and three new acting administrators at the Gov. Juan F. Luis Hospital, positive energy dominated Monday's board meeting, although they face formidable challenges to get St. Croix's only hospital back on its feet after last year's hurricanes, and lack a quorum to take actions.
The new executives have been on the job two weeks and were put in place by the Territorial Board suddenly, after the board fired Chief Executive Officer Wanda Rubens and Chief Financial Officer Deepak Bansal. (See Related Links, below.)
The Territorial Board named Dyma Williams acting CEO, Shenel Moorehead as CFO and reactivated the position of chief operating officer, naming Angeline Ravariere to the post. Although "acting" administrators, they will have "all the privileges and rights of the position," Vera Falu, chairwoman of the board, said.
Williams graduated from the University of the Virgin Islands and was a registered nurse for 18 years. She also earned a healthcare risk management degree from Loyola University in 2012 and was vice president of JFL corporate compliance at the time of her appointment.
Moorehead, born on St. Thomas, earned degrees in accounting and finance and worked at the V.I. Public Finance Authority before going to work at JFL in January 2018.
Acting COO Ravariere has worked in several departments at the hospital, including patient safety, change management and as director of clinical interface and accreditation.
During her CEO's report, Williams said the temporary hardened-structures, or mobile OR units, are on site but waiting for installation, which was delayed, along with construction materials, by Tropical Storm Isaac. Some dialysis trailers have been delivered and are expected to be up and running by Oct. 7, when the dialysis patients return home after spending the last year stateside for treatment.
Boarder clients, or patients who have no where to live, continue to be a financial and logistical problem and Williams said she is making arrangements with Herbert Grigg Home for the Aged to house nine patients who have nowhere to go.
Moorehead, acting chief finance officer, reported the hospital has received $21 million of a $42 million community disaster loan. All funds are being used for current operating expenses, she said. The September appropriations from the Virgin Islands government are being delayed pending legislative action on an amendment to balance the substituted budget for fiscal year 2018.
The hospital's payables are more than $66 million. Moorehead said they are trying to "pay as many past due invoices as we can while still remaining financially solvent." Likewise, payments are being made to the V.I. Bureau of Internal Revenue according to a payment plan, and to the V.I. Water and Power Authority.
Williams added that $3 million has been paid to the Government Employees Retirement System.
"At this point all 2017 and 2018 has been paid in full to GERS," she said.
Ravariere reported on some of the repairs being made to the building, including new roofing membrane and ceiling tiles, elevator repair and improving the air circulation in the kitchen.
There was no discussion of the former administrators at Monday's meeting. The territorial board will hire an executive recruiting firm to fill the positions permanently, Falu said.
Despite loosing two members and thereby lacking a quorum, the remaining St. Croix board members will continue to hold monthly meetings and refer all action items to the territorial board for a vote, Falu said. The resignations of Aida Bermudez and Theresa Frorup-Ali are not official until they send a formal letter to the governor.
The last time the hospital's board was without a quorum was four years ago, from July 2013 to September 2014, while the hospital was struggling to meet the requirements of the Centers for Medicare and Medicaid Services. Without CMS certification the hospital would have been unable to take part in the federal healthcare programs, which would have added significantly to the hospital's financial problems – possibly enough so that the doors would have to have been closed.
Lack of a board that could take actions was one of the problems CMS cited in its list of deficiencies.
During Monday's regular meeting, a resolution was drafted by Falu, Aracelis Walcott and Dr. Anne Treasure – the remaining trustees – to notify the territorial board they will be called on to approve resolutions until the governor appoints new board members.