In an unusual move, the Legislature's Finance Committee voted Tuesday to hold a proposed commercial lease of government property in Sub Base Tuesday pending more information on the current renters, who would be evicted if the lease is approved as is.
The committee approved four other leases – for an asphalt company, an electrical company, a bakery and a farm.
Under V.I. law, the Legislature must give approval whenever the government leases out government property, but not when the government leases property from private interests. The Department of Property and Procurement handles leases of government land but not government leases of private land.
At issue was a 20-year lease of a 42,000-square-foot property at Parcel Nos. 51 and 51A Sub Base St. Thomas to Industrious Auto Repair. The property is currently the location of Bryan's Welding.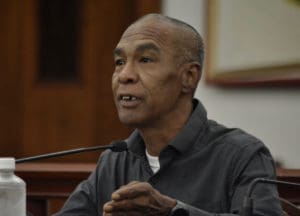 Prospective renters and Property and Procurement officials testified in support of the four approved leases but there was no testimony on the lease that was held.
At the end of the hearing, Sen. Tregenza Roach (D-STT) moved to hold the lease "pending a report from Property and Procurement and Industrious Auto Repair regarding the lessees currently at the property."
Finance Committee Chair Kurt Vialet (D-STX) said it had been brought to the committee's attention that "Bryan's Welding is also a lessee at the property and has been there some seven years. It has been given a notice to vacate the premises."
Vialet said senators were concerned about evicting a functioning business.
"Right now there exists no written agreement with the welding shop and Industrious," Vialet said. He said the committee believes some agreement is needed first.
"When we grow one industry we want to make sure we protect the next," he said.
The lease itself contains a provision that it does not start if a "prior lessee" or anyone else is still in possession of the space.
Reached at his workplace after the hearing, Lance Bryan of Bryan's Welding confirmed the situation but said he doesn't "want to stir up any pots."
Bryan said he and another business are tenants of the property and that he has been there for seven years. He said he rents from Property and Procurement "on a month to month basis."
Bryan said he was grateful the senators held up the lease to find out more.
The committee sent the four other leases to the Rules and Judiciary Committee. Each of the lessees intend to improve the properties and will get a reduced rent during construction.
It sent on a 20-year-lease for Charles Electrical Services for a 1,143-square-foot space at Parcel No. 100 Submarine Base, No. 6 Southside Quarter, St. Thomas, The company wants to renovate the spot and use it as an office and warehouse. The annual rent is $10,143.
"There is a clause in the rent abatement of 36 months. However, in the original agreement, the rent abatement was for 18 months. Can you expound?" Roach asked. Property and Procurement Deputy Commissioner Vincent Richards said it was a typographical error. He said rent is reduced for 36 months while the company pays to clean up the property, which was severely damaged in Hurricane Marilyn in 1995. Once the building is in use for business, Property and Procurement will collect rent from the tenant, he said.
It also sent on a lease for ERK Corporation, a family bakery run by Emerson and Goldvine Knight, for a 6,677-square-foot property at Parcel No. 48 Estate Nadir, No. 2 Red Hook Quarter, St. Thomas. The property will be used to operate a catering service business. Rent is $12,553, annually, once construction is complete.
The committee also sent on a lease with Quality Paving for 4.5 acres at Parcel No. 149 Rem. Submarine Base, No. 6 Southside Quarter, St. Thomas, Virgin Islands consisting of 4.51 U.S. Acres, or 196,645 square feet. The property will be used to operate a paving company, asphalt plant, aggregate storage, offices, and a concrete plant. Rent is $48,000 per year, but if the company exercises an option to expand, adding a concrete plant, it will increase to $96,000 per year.
Last, the committee sent on a lease of farm land on St. Croix to Ricardo Barnes. Barnes is renting 4.7 acres at Plot no. 22-1 Estate Plessen, St. Croix to raise fruits, vegetables and culinary herbs.
All votes were unanimous.
Present were Vialet, Roach, Sens. Nereida Rivera-O'Reilly (D-STX), Neville James (D-STX) Marvin Blyden (D-STT), Dwayne DeGraff (I-STT) and Brian Smith (D-At Large).