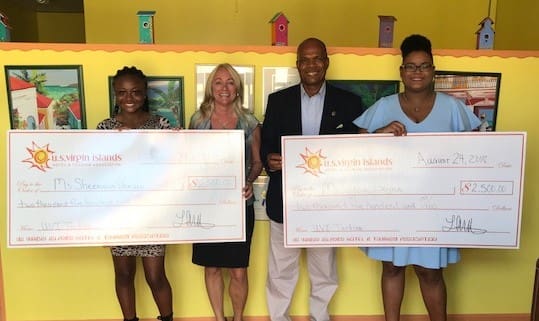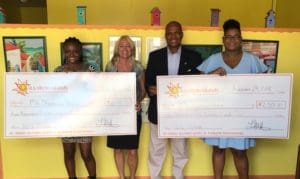 The USVI Hotel and Tourism Association, via the association's Education and Training Fund, awarded $5,000 in scholarships to Sheeniqua Venzen and Rysa Bryan during a ceremony in August. Both recipients are attending the University of the Virgin Islands and each received $2,500 to put toward tuition.
"The Virgin Islands Hotel and Tourism Association is committed to ensuring that young people are given opportunities to fulfill their educational goals," said USVIHTA Education and Training Committee Chairman Samuel Rey. "As an association, we are committed to seeking creative ways and means to not only expose young people to the hospitality industry, to build our hospitality leadership teams with local talent, but to seek financial means to assist them in that endeavor."
Due to the impact of hurricanes Irma and Maria, the association was unable to raise funds through its Annual Holiday Party and the USVI Culinary Team as it typically does. However, the USVIHTA board and members recognized the importance of offering financial assistance to exceptional students and used reserve funds to award the scholarships.
"The association is honored to continue to provide this valuable resource for students. It is more important now than ever before to support students who are passionate about hospitality. The scholarship recipients have witnessed firsthand the devastation and recovery of our tourism product, and will be able to use that knowledge to build a more resilient future for the tourism industry," said USVIHTA President Lisa Hamilton.
To be eligible for the scholarship, students must meet the requirements for admission into the hospitality/restaurant management program or business administration program at UVI or other USVIHTA approved hospitality schools. The applicant must be a U.S. citizen or permanent resident and a resident of the U.S.V.I. for at least five years. Applicants must also submit documentation from their high school, including transcripts and recommendations, as well as an essay.
The USVIHTA Education and Training Fund was established over two decades ago to aid youth who are seeking higher education with a concentration in hospitality. In 2014, the scholarship was posthumously named in honor of Lorette Resch, honorary member on the USVIHTA Board of Directors and a scholarship contributor.