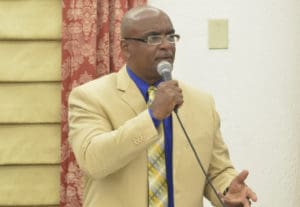 With 67 days to go before the general election and a structural budget deficit of around $200 million, the Legislature passed a property tax cut for veterans and senior citizens and a pay raise for government employees, during its session Friday.
The bill partially undoes legislation enacted last year to try to shore up the territory's finances. In early 2017, the territory was facing ongoing structural deficits of around $170 million. Bond ratings agencies had downgraded the territory's debt several times.
In March 2017, the Legislature enacted several unpopular measures aimed at reducing the ongoing deficit, raising taxes on liquor, tobacco and sodas, and putting a floor on property tax exemptions so that a property owner who would owe more than $360 before exemptions for a homestead, being a veteran, a senior citizen or person with a disability, exemptions would not lower the tax below $360. Those with taxes below $360 without exemptions would still pay less than $360 – but could not reduce the tax further with exemptions.
In May 2017, five senators sponsored legislation to repeal the property tax floor the Legislature had enacted two months earlier. Seven months later, the new property tax floor took effect, on Jan. 1.
Senators special ordered the repeal during Friday's session, the last planned legislative session before the Nov. 6 election.
Several senators raised concerns about cutting taxes while the territory continues to struggle with budget cuts and ongoing deficits. They ultimately voted to cut the floor to $180 instead of removing it altogether.
"We don't want tax increases but we still want roads fixed," Sen. Novelle Francis (D-STX) said.
Sen. Kurt Vialet (D-STX) said after the Legislature passed the Fiscal Year 2017 budget "we found out there was a $130 million budget deficit" He said the territory was unable to borrow because it was "lumped in by creditors with Puerto Rico."
"Instead of sending home individuals, instead of instituting a four-day workweek, we enacted measures to make it so the government could work," Vialet said.
"There ain't no manna from heaven. … The easy thing is to pass a measure that doesn't fix anything and leave it to someone else. … At some point it has to stop. At some point you have to stop making decisions to get votes," Vialet said.
All three major bond rating agencies have repeatedly cited the territory's unresolved structural deficits, ongoing reliance on borrowing to meet current operating expenses and lack of political will to address the problems. In September 2017, S&P Global Ratings put the territory on notice for potential further downgrades, with agency officials saying the V.I. government stopped providing financial information. The ratings agencies have not publicly cited proximity to Puerto Rico as a major factor. (See Related Links, below.)
Sen. Nereida Rivera-O'Reilly (D-STX) proposed cutting the floor to $180 instead of eliminating it.
Sen. Dwayne DeGraff (I-STT), one of the bill's sponsors said there was "no formula" to explain the original amount and no formula to justify the lower amount.
"It's not right," he said, adding that property owners "who are not wealthy" would be subject to the tax.
"I totally understand the objector and his sentiments. I'm sure it is his intent to bring relief to those affected by this measure. Unfortunately there is no money tree in our backyard. … And there is a cost to providing government services," O'Reilly said. She also said last year's hurricanes "brought an unusual and added financial burden to residents" so that "some relief is needed."
One of the bill's sponsors, Sen. Alicia "Chucky" Hansen said she no longer supported it because it no longer completely removed the property tax floor.
Voting for the bill as amended were: Francis, Vialet, O'Reilly, Sens. Jean Forde, Neville James, Marvin Blyden (D-STT), Myron Jackson (D-STT), Janelle Sarauw (I-STT) and Brian Smith (D-At Large). Voting no were: Hansen, DeGraff, Sens. Janette Millin Young (D-STT) and Tregenza Roach (D-STT).
Sens. Sammuel Sanes (D-STX) and Positive Nelson (ICM-ST) were absent.
Senators also passed legislation codifying part of an executive order from Gov. Kenneth Mapp setting the minimum government salary at $27,040 per year.
Budget officials estimated that part of a package of pay raises will cost about $6 million per year or so. The proposed FY 2019 budget projected wages and salaries of $251.2 million and taxes and benefits of $122 million, before these pay increases.
Like the tax cut, the pay raise legislation was proposed more than a year ago. On July 26, a week before the Aug. 4 Democratic Party Primary, Democratic Sens. Jean Forde, Kurt Vialet and Marvin Blyden issued a press release announcing legislation for a $5,000 increase to the base government salary, bringing it to $25,000 per year. The pay raises were to take effect in October, right before the election.
Four days later, Mapp, who is running for as an independent for a second term as governor, held a press conference trumpeting a slightly larger increase to $27,040 and an array of other government pay raises. Those larger pay raises started taking effect sooner, at the beginning of August.
Aug. 27, the Finance Committee voted to send the Legislature's pay raise bill out of committee after amending it to match Mapp's larger increase. Mapp issued a press release the same day again trumpeting his larger package of pay increases.
During hearings on the pay raise, Budget Director Julio Rhymer said the territory had an unresolved, ongoing structural deficit of about $200 million per year. But he said federal and private spending on reconstruction after last year's hurricanes, combined with hoped-for but uncertain revenues from a hoped-for but not guaranteed restart of the St. Croix oil refinery, could generate "about $170 million in revenue growth" in the short term. Reconstruction funding will stop in two to three years.
All senators present voted for the pay raise. Sanes and Nelson were absent.