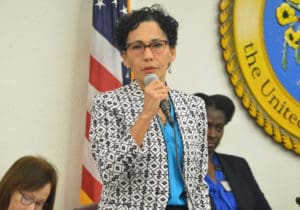 The Senate approved three bills Friday to bring the territory's oversight of insurance more in line with uniform stateside laws and bringing it closer to compliance with National Association of Insurance Commissioners' expectations for accreditation.
Bills impacting hurricane-damage lawsuits, optometry and dentistry were also approved Friday.
Legislation dealing with pay raises, tax cuts, emergency powers of the governor and other topics were also approved and are discussed at length elsewhere in the Source.
One insurance-related bill (32-0232) deals largely with re-insurance, which is insurance purchased by primary insurers to cover their own potential losses. It sets capital requirements and rules for being accredited in the territory. It mandates when and how re-insurance companies are to report their finances and regulates how they can leave the business or sell their portfolios to other insurance entities.
Another bill (32-0233) provides for annual audits and financial reports from insurance companies and sets up rule for carrying them out.
The third insurance-related bill (32-0234) requires insurers to have an appointed actuary prepare an actuarial report and allows the V.I. insurance commissioner to hire an actuary at the insurance company's expense to review that report.
When the bills were first heard in committee, Sen. Kurt Vialet (D-STX), the Finance Committee chair, said many of the territory's laws governing insurance have not been amended since 1968. During Friday's session, Vialet said all 50 states and Puerto Rico are NAIC accredited – a point he raised when the bill was heard in the Finance Committee and again during the Rules and Judiciary Committee hearing that considered the measures. The bills, if approved, will join more than half a dozen updates to the territory's banking and insurance laws since 2016 that were all aimed at matching stateside standards.
If two other bill approved Friday are signed into law, optometrists, not just medical ophthalmologists, may treat glaucoma, and dental therapists may be allowed to perform simpler, less risky treatments formerly reserved for licensed dentists. A third bill would exempt private urgent-care facilities from the requirement of getting a certificate of need and mandating that these entities must accept MAP, Medicare and uninsured patients. All three measures were sponsored by Sen. Nereida Rivera-O'Reilly (D-STX).
The Senate also approved a measure, introduced during session, to extend to two years the time for people having a dispute with their insurance companies over damage compensation. The current statutory time-limit is one year. There are at least four lawsuits currently between Virgin Islands property owners and insurance companies over settlements for damage in the September 2017 hurricanes.
Each of these measures were approved 13-0. Sens. Positive Nelson (ICM-STX) and Sammuel Sanes (D-STX) were absent.