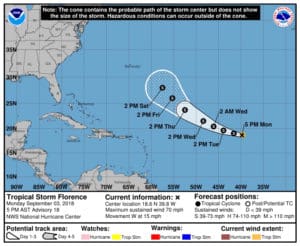 Tropical Storm Florence continues to move westward across the Atlantic, but is expected to be turned north, the National Hurricane Center reported Monday.
According to the 5 p.m. AST Monday report from the NHC, Florence appeared a little better organized than earlier Monday. The NHC measurements indicate the storm's wind speed is around 60 knots, or nautical miles per hour, making it a strong tropical storm.
The storm is being steered westward at 13 knots by a subtropical ridge to its north. But the global models all show a persistent weakness in the subtropical ridge during the which suggests Florence will gradually turn northwestward with a slight reduction in forward speed during the next several days.
Little change in strength is expected through tonight as Florence remains over marginally warm waters and in moderate wind shear conditions, the NHC forecast says. However, nearly all of the intensity models show a slow weakening trend during the next few days in response to a gradual increase in southwesterly or westerly wind shear.
Beyond a few days, however, the shear is expected to decrease and Florence will be over much warmer waters. Therefore, slow strengthening is shown in the three- to five-day period. This forecast is slightly higher than the previous one at the longer range, but is otherwise unchanged.
Shared content for Virgin Islands Source and St. John Tradewinds.