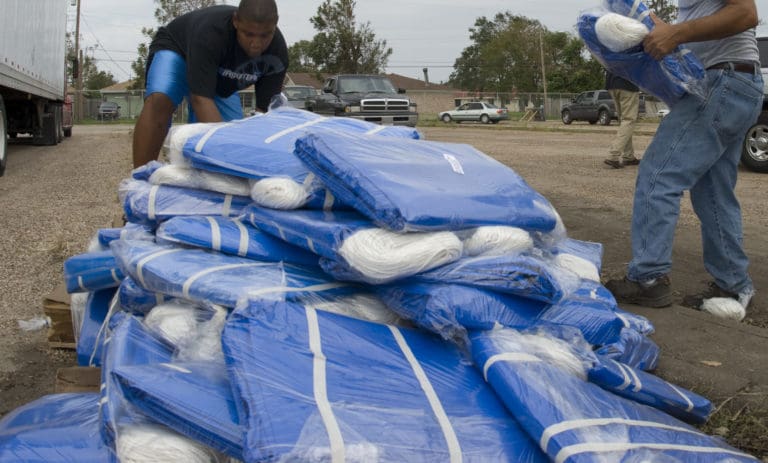 St. Croix nonprofits suffered a lot of damage in last Fall's hurricanes and are not yet fully rebuilt, but demand for their services has increased and donations decreased, according to a recently released survey conducted by the St. Croix Foundation for Community Development.
Another St. Croix Foundation survey found many residents cited water, food and generators among their unmet needs in the first few months after the storms.
The St. Croix Foundation released two reports that summarize the data collected in two surveys conducted post Hurricanes Irma and Maria: the Nonprofit Disaster Recovery and Capacity Assessment and the Individual and Household Needs Assessment.
The report on nonprofits was launched on St. Croix three weeks after Hurricanes Irma and Maria to try to determine the immediate needs of local nonprofits.
"Our work with St. Croix's nonprofits has taught us that our civic sector plays a critical role in our community," St. Croix Foundation Senior Program Officer Lilli Cox said in a statement about the two surveys.
"After the storm, the Foundation witnessed countless nonprofit organizations mobilize to serve children and families, the elderly, and residents who had medical needs and who were unable to receive help from government agencies. We knew we needed data about the sector's capacity to fulfill the increased demands for their services in order support them and get them fully functioning," she said.
The report provides data indicating that 4.5 to 5.5 months after the storm 73 percent of organizations polled were still operating on a limited basis or not at all, yet almost 70 percent of organizations had seen an increase in demand for their services or programs.
Among the 57 nonprofits who submitted surveys, more than 90 percent of those who answered the question had damage to their facility as a result of the storms. More than half (52.7 percent) of nonprofit respondents experienced damage ranging from severe to a total loss.
At the time of the survey, five months after Hurricane Maria, only 14 percent of nonprofit survey respondents with facility damage from the storms indicated that the damage to their facility had been permanently repaired to pre-storm conditions or better. Forty-four percent indicated that the damage to their facility was not yet repaired, and 28 percent had temporary emergency repairs, i.e. blue roofs.
Looting impacted 12.7 percent of nonprofits, adding to the loss of equipment or other property.
Most nonprofits (69.6 percent) reported an increased demand for program services, yet 72.8 percent of nonprofit survey respondents were still operating on a limited basis or not at all, 22.9 percent were operating with fewer staff because they had been forced to lay off all or some of their employees, and 28.6 percent were still operating out of temporary facilities.
Forty-two percent reported decreased donations from individuals and 32 percent reported decreased corporate or business contributions.
As a bright spot, 44 percent indicated that the disaster has provided an opportunity to connect with new donors or reconnect with lapsed donors and 54 percent indicated that their organization has had new grant opportunities as a result of the disaster.
The St. Croix Foundation also surveyed 1,047 residents about their immediate needs after the storms. The interviews were taken at convenient times and places and over-represent heavily impacted neighborhoods with a high concentration of low to moderate income families, so the percentage figures represent general trends more than precise measurements of the St. Croix population.
"The data from this report helped the Foundation to make over 350 referrals that resulted in residents receiving targeted public assistance. This information was vital and quickly helped the Foundation steer agencies in the right direction in terms of long term planning," Executive Director Deanna James said.
The survey found 93 percent of respondents said their homes were damaged and 76 percent had roof damage. Many – 72 percent of residents surveyed had no homeowner's insurance. Of those with insurance, only 27 percent felt their insurance coverage would be sufficient to cover the full cost of damages. Only 25 percent of respondents with insurance reported they were able to afford the deductible.
While households with seniors aged 65 and older were slightly more likely than the general population to carry homeowner's insurance (31 percent households with seniors compared to 28 percent all households), they were much less likely to say that they could afford to pay their deductible (17 percent households with seniors compared to 25 percent all households).
The majority – 58 percent – of survey respondents own their home, 32 percent were renters, and 10 percent live in public housing.
In households in which a member had special medical needs, 26 percent indicated that they did not have access to the medicine or medical equipment needed to keep them healthy after the storm.
Sixty-five percent reported they had mold in their homes.
Asked about their critical unmet needs right after the storm, drinking water was the most frequent response at 45 percent. Also, 36 percent needed food, 25 percent needed a generator, 20 percent needed household water, 13 percent needed medications, 8 percent needed a tarp, and 6 percent needed medical equipment.
As power returned to the island, fewer reported a need for water and food.
According to the St. Croix Foundation, in the early days after the hurricanes, its CARE Fund facilitated the shipment and distribution of hundreds of thousands of pounds of food, water, clothing, baby supplies and medical supplies and sponsored the shipment and security of over 117,847 pounds of critical relief supplies.
The CARE Fund which funded the data collection is made possible by countless local and national individuals, corporations, grassroots movements, and foundations such as the Kellogg Foundation, Newman's Own Foundation, Johnson & Johnson, AARP Foundation, Limetree Bay Terminals and Crucian Gold among many other generous philanthropic partners who support the Foundation's operations to ensure the sound development and administration of its own programs.
For more information on the St. Croix Foundation and to read the Nonprofit Disaster Recovery and Capacity Assessment Summary and the Individual and Household Needs Assessment Summary, visit the Foundation's website at www.stxfoundation.org or contact the St. Croix Foundation directly at 340-773-9898.