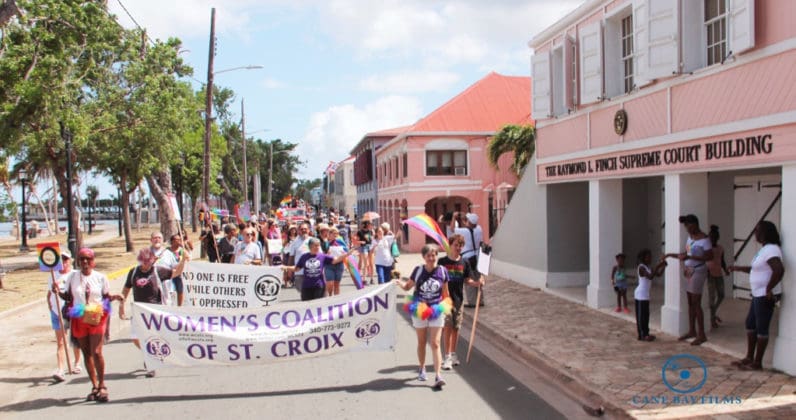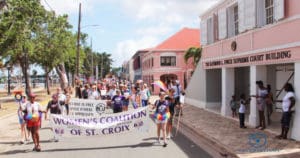 Pride month on St Croix has come to an end after nearly twenty events were held in June. Some of those events met controversy, but supporters say they hope barriers were broken and minds were opened.
Pride events began on Sunday, May 27 with a blessing at the Jewish Community Center. Organizers said the goal was to outreach to the LGBTQ community and ease feelings of disconnect.
On the evening of June 1, St. Croix hosted its first ever Pride launch party for North America at Point Udall, the eastern most point of the United States. Carambola Zipline offered a shuttle service to the event starting at 10 p.m. and KDM Productions set the scene with multicolored lights showcasing the Millennium Monument Sundial.
Glow sticks, CoralFire performers and DJ Fyah Coral lit up the full moon sky until 2 a.m. with the Cruzan Inclusion food truck offering food and drinks.
"It was breathtaking. I'll be back next year for sure," said one partygoer.
June 2 was Pride Island Floatopia, sponsored by Caribbean Sea Adventures. Groups were transported to Buck Island via catamaran to enjoy a full day of sun and relaxation on massive unicorn and pegasus floats.
On Sunday, June 3, Java Joes Cafe held a Pride brunch. The venue was decorated in multi rainbow colored curtains for the event.
The Pride Film Festival kicked off at Shupe's on the Boardwalk with a showing of "To Wong Foo, Thanks for Everything! Julie Newmar." The movie is about small town drag queens' struggles with discrimination.
On June 8, Peachcan Gallery held a Pride art exhibit addressing queer identity. It included culinary, visual, performance and spoken word art.
History was made as St. Croix held its first ever Pride parade in Frederiksted, but not without moments of controversy and opposition. In the days leading up to the event, a picture from a Pride parade in a larger city circulated on social media and incited rage, discord and even threats against the gay community.
One comment, which was later removed, called for the use of AK47's to "gun them down." The V.I. Police Department was notified by concerned citizens and the police made it known there would be a heightened police presence at the parade.
Organizers said they wanted St. Croix residents to know the history behind the parade and why they were marching.
"Today isn't about half naked men walking the streets of St Croix. It's about equal rights for humans all over the world and a celebration of love," said one parade participant.
Pride Month was sparked by a police raid of the Stonewall Inn, a Manhattan gay bar, in June 1969. Members of the LGBTQ community rioted shortly after. The following year, pride parades took place in New York, Chicago, Los Angeles and San Francisco to commemorate the riots.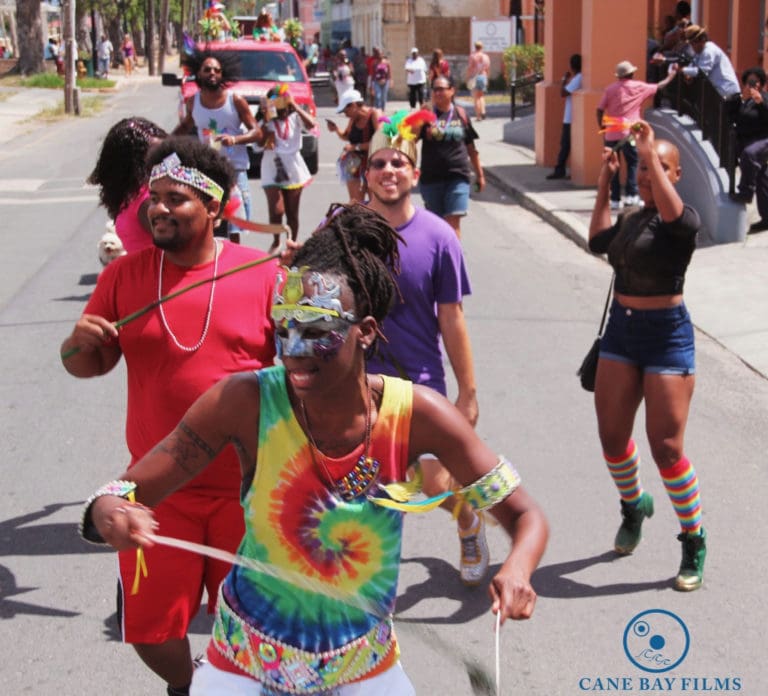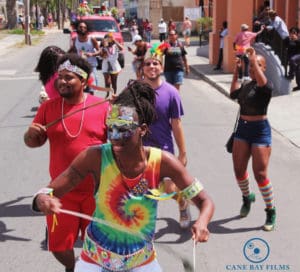 On St. Croix, festivities began at 10 a.m. Participants marching and driving in cars said "Love Is Love!" while rainbow flags large and small were waved. Tears were shed, hugs were offered and received, and Strand Street appeared filled with solidarity from young and old.
The route of the parade ended at Sand Castle on the Beach with a brunch and beach party. Diane Butler, St Croix Chamber of Commerce President, was in attendance and spoke about her views as both a business owner and a lesbian.
"I personally support every type of person on the island of St. Croix and I also respect anyone trying to do something positive here as well," she said. "Today is an example of the community coming together to show their support for a Pride parade, not a gay parade."
A second film showing, featuring  "Moonlight," was also held at the Caribbean Museum Center for the Arts. The movie highlights the plight of an African-American man struggling with homosexuality.
June 13 was a Pride Ride hosted by Cruzan Cowgirls. The horses and guides donned rainbow costumes complete with socks. Riders toured the rainforest and received demonstrations on various plants before finishing up by the beach and diving off the horses into the Caribbean Sea.
Another first for St. Croix was a Friday night drag show at Louie & Nachos.
The LGBTQ community also threw a "dress red" party celebrating their allies, which was hosted by The Fred and Liberty Hall. The party was sponsored by Stoli vodka, and Chef Digby Stridiron rolled out a sit-down dinner for all those in attendance. Guests were asked to wear red and be creative in their dress. The party was also a fundraiser promoting HIV awareness. The Claire Rooker Award was presented to Holland Redfield II, DJ on 93.5 Caribbean Country and former senator, for being a loyal ally to the LGBTQ community. Redfield was given a necklace from Crucian Gold.
Drag queen and artist Sasha Adams Sanchez took the stage again at Louie and Nachos for another Pride Brunch on Sunday.
On June 23, Cane Bay Dive Shop hosted an "equality dive" at the Frederiksted Pier. Scuba divers immersed themselves in the coral and sea life while carrying a Pride flag into the depths of the ocean.
Located across the street from the pier, Tap Deck Bar and Billiards held a screening of the cult film "The Rocky Horror Picture Show." Viewers who had never seen the film had their foreheads marked with large V's for "virgin," and full audience participation was encouraged including the use of props, singing and dancing.
On June 24, Common Cents Pub featured buy-one-get-one cocktail sale for the final brunch of Pride month.
Peachcan Gallery concluded the art segment of Pride with an interactive exhibit allowing the artists to speak about their work.
The finale of Pride month included a fireworks display and a beach party at Sand Castle on the Beach, owned by Chris Richardson and Ted Bedwell.
American Airlines, where Bedwell works as a flight attendant, flew in three drag queens who are also employees of the airline, to provide entertainment for the evening. Richardson and Bedwell said they have worked hard to become an inclusive workplace and support the LGBTQ community.
In attendance at the party was Bob Palmatier, president of STX Pride Inc. The first pride event of St Croix was held in his yard five years ago as a potluck, he said.
"This has been a historic moment where LGBTQ people and their allies have come together, even with dissent, we made something work," said Palmatier. "But most important, we proved to those dissenters that what they anticipated didn't happen."
Christopher Swanson, owner of The Fred and STX Pride Board Member summed up his feeling on Pride, "Stick a feather in your hat and be happy."