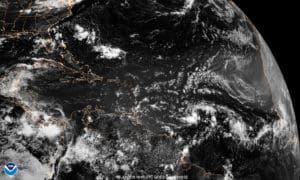 Early Friday, Beryl became the first hurricane of the 2018 Atlantic Hurricane Season.
According to the National Hurricane Center's 5 a.m. update, Beryl is about 1,100 miles east of the Lower Antilles and moving west at about 12 knots.
Beryl is a small hurricane, with a well-defined mid-level eye about five kilometer's wide. Hurricane-force winds extend outward as far as 10 miles from the center and tropical-storm-force winds extend outward up to 35 miles.
For roughly the next day Beryl is expected to continue developing within very low vertical wind shear conditions and over water with surface temperatures of 78 to 80 degrees.
But upper level wind shear is expected to increase significantly late Saturday or early Sunday, causing the very small tropical cyclone to quickly weaken.
The hurricane center also cautioned that because of its small size, Beryl is harder to predict with any certainty. The updated NHC forecast shows Beryl reaching the Lesser Antilles as a tropical storm, but it is possible that the system will have degenerated into an open trough by that time.
The uncertainty also extends to the storm's track. Most models suggest it will pass just south of the U.S. Virgin Islands, while others show it swinging far to the south.
In any case, the center's meteorologists warned, the system will likely bring bring strong gusty winds and locally heavy rains to portions of the Lesser Antilles Sunday and Monday.
"While Beryl is still to forecast to quickly weaken or dissipate as a tropical cyclone on Monday before reaching the Lesser Antilles, there will likely be some rain and wind impacts on those islands early next week," the forecasters warned, urging people in the Caribbean to monitor local weather forecasts through the weekend.