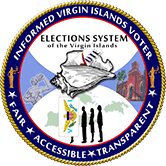 The Trump administration's 'zero tolerance' practice of separating children from their parents at the southern border is inhumane and an atrocity.
Amnesty International stated, "This is nothing short of torture. The severe mental suffering that officials have intentionally inflicted on these families for coercive purposes means that these acts meet the definitions of torture under both U.S. and international law."
As images of caged children and audio of young people wailing for their parents have circulated widely, the Democratic Party of the Virgin Islands wants it clearly known that we are the party of diversity and welcome people from every persuasion and every religious denomination. We are a nation and territory of those who were immigrants, by force or by choice, at one time or another.
Trump has no plans to reunite some 2,300 children separated from their moms and dads. Instead, POTUS has placed the children, some toddlers and babies as young as one month old, in cages.
We, the Virgin Islands Democratic gubernatorial candidates are united in support of "Family Unity," and support the law that prohibits "Family Detention Centers."
Dozens of governors and attorneys general, state-elected officials, have condemned Trump administration policies that have broken up migrant families, with Republican governors among those vowing to stop aiding the federal government.
The executive order issued on June 20, 2018, by Trump, rescinding the 'zero tolerance' policy is a sham. POTUS is giving all people "a 6 for a 9," and the policy can be reinstituted in 20 days.
Two lines from the Virgin Islands Anthem, "Uphold the right and right the wrong, Where only peace and love belong," sum up our call upon the Mapp-Potter Administration to issue an executive order that no territorial resources, funds or the Virgin Islands National Guard will be expended or deployed in support of Trump's "zero tolerance" immigration policies.
In the event that the Mapp-Potter Administration fails to issue that executive order, we the Virgin Islands Democratic Gubernatorial Teams are united, and when elected, pledge that on the first day of our administration, so order.
Signed (alphabetically):
Albert J. Bryan Jr./Tregenza Roach
Angel J. Dawson/Marise James
Allison "Allie" Petrus/Sammuel Sanes