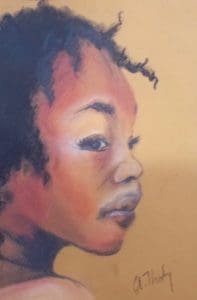 Mango Tango Art Gallery will unveil the Mandy Thody Exhibition from 5:30-8:30 p.m., Friday, June 29. Guest sculptor Courtney Devonish and guest painter Isah Chinnery will also present their work.
Mandy Thody's first exhibited with the gallery 17 years ago, including paintings and drawings of the faces of the people of Zulu Land, South Africa, where she had spent her formative years, as well as the faces of the people of the Caribbean, where she now lives. She later expanded her figurative works in clay, both table top and wall hanging. Her mastery of ceramics has garnered her a loyal client base.
Master wood sculptor Courtney Devonish has a special place in the heart of gallery owner Jane Coombes, who said, "Thirty years ago I visited Anguilla and was astounded by the quality of art sold in his gallery, found both in his wooden sculpture and the paintings of others. His gallery inspired me to open Mango Tango."
Sculpting in mahogany, Devonish offers timeless hearts that can be held in the palm of one's hand, nudes, birds, fish and his signature abstract forms.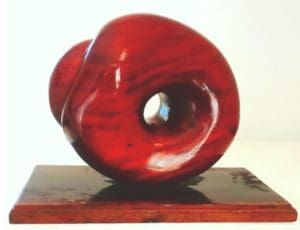 Isah Chinnery spent his early years in Jost Van Dyke, home of his father. A few years later he moved to St. Thomas with his mother. In school he excelled in a range of artistic fields, as well as science. When he moved to the states, he began with the intention of attaining a degree in biology and then switched to interior design and culinary studies. Degreeless, he instead acquired knowledge in a variety of artistic disciplines.
A family tragedy brought him back to St. Thomas in 2010. In 2012 he started a successful art enclave in Jost Van Dyke. For visitors looking for quality crafts, he painted gourds, and for more discriminating visitors, he created engaging paintings.
Hurricanes Irma and Maria have destroyed his art business in Jost Van Dyke. Chinnery, who has been greatly influenced by Pita Gonzales and Francis Rutnik, joins the gallery for the first time.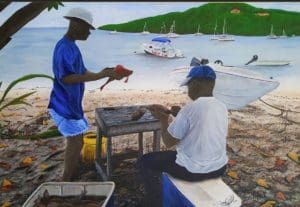 Thody joined a group of concerned Virgin Islanders to help Haitians near Petite Gouave after the earthquake in 2010. Their efforts contributed to the making of the non-profit organization The Good Samaritan Foundation of Haiti. She spends a couple of months a year in Haiti continuing to offer assistance. The rest of the year, she works tirelessly to raise funds for the Haitian people in the Perite Gouave region, especially for the education of the children there.
A portion of the proceeds from the current show will be given to The Good Samaritan Foundation of Haiti.
Mandy Thody and Isah Chinnery will be at the rum punch opening reception. Music will be performed by harp virtuoso Jesus Zamora.
The show will continue for one month. For information, call 777-3060.